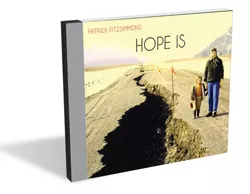 (Malletts Bay Records, CD, digital download)
Everyone goes through a slump from time to time, and Patrick Fitzsimmons is no exception. Facing a creative block last winter, the Vermont-based songwriter and former member of 1990s folk-rock outfit From Good Homes spent a week writing one song a day. He promised, regardless of what came out, to share his daily ditties with his long-distance girlfriend via Skype. The results of that self-imposed pressure became the foundation of Fitzsimmons' sixth full-length album, Hope Is.
While not quite a diamond, Hope Is sparkles. The record finds Fitzsimmons in a cheerier mood than he was on his last effort, 2008's So Beautiful So Blue, and the optimism of the new album's title manifests immediately. Stylistically, the bouncy strains of album opener "Here for You" are similar to the upbeat folk-pop fare Fitzsimmons has long served up. The singer sounds reassuring as he coos the song's titular sentiment at the chorus.
As we've come to expect from Patrick Fitzsimmons, the album is immaculately produced, buffed to a sheen by the Samples' Tom Askin and FGH vet Dan Myers. The pair also capture the heart-on-sleeve romanticism of Fitzsimmons, who is accompanied here by well-regarded players such as Greg Ryan of Vermont's They Might Be Gypsies.
Still, some cuts feel a little too perfect, like airbrushed scenes from an L.L. Bean catalog. "Mountaintops," for example, bristles with alt-country twang, but lacks the urgency that makes that style compelling. "I Found You" is grating, adult contemporary schmaltz.
But more often, Fitzsimmons finds his groove, especially in the record's less triumphant passages. "If You Want Me" simmers with subtle intensity. The spare "Beautiful You and Me" is a sleepy love song that communicates the quiet glory of finding love. With little more than a ukulele and some other strings, it's exponentially more effective than the overblown "I Found You."
It's those smaller moments that reveal the soul of Hope Is. In the subtler songs, you can picture Fitzsimmons baring his heart to the love of his life from half a world away. It's those moments that give the record emotional ballast and — dare I say it — hope.
Patrick Fitzsimmons releases Hope Is with a show at FlynnSpace in Burlington this Saturday, October 27.