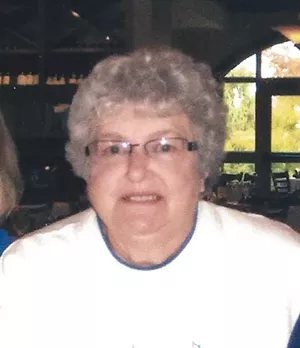 Patricia (Moody) McDonald Decarreau
Patricia (Moody) McDonald Decarreau, 77, died Monday, March 23, 2015 at the University of Vermont Medical Center with her loving family by her side.
She was born in Burlington on August 18, 1937, the daughter of James and Rose (Vezina) Moody. She graduated from Burlington High School and Champlain College.
She was married in Burlington in 1955 to Ralph McDonald until his death in 1982. She later married Francis "Deke" Decarreau of Winooski. He predeceased her in 1993. She was employed by the Burlington School District for several years. She was then employed by Key Bank (formerly Burlington Savings Bank and Bank of Vermont) for several years until her retirement.
She is survived by her four children, Ralph "Buz" McDonald and his partner Peggy O'Neill of Lake Oswego, Oregon, Robin and her husband John Aruzza of South Burlington, Vermont, Jody and his wife Roxanne McDonald of South Burlington, Vermont, Wendy Letourneau and her husband Mike Crouchley of Essex, Vermont; seven grandchildren, Nicole Mann (Eltee), Megan Zamorano (Airto), Shane, Tyler, and Ryan Aruzza, Ashley and Kyle McDonald; five great-grandchildren, Hayden Letourneau, Levi Zamorano, Jaxson Mann, Ellyanna Mann, and Sofia Zamorano; three sisters, Doris Dame, Marilyn "Bunny" Conger, and Susan Sabine; two brothers, James Moody and Michael Moody; daughter-in-law Barbara McDonald of Lake Oswego, Oregon; best friend of 45 years, Ernestine Pratt; several nieces and nephews; and her faithful companion, Maggie.
She was predeceased by her parents; two husbands, Ralph McDonald and Francis "Deke" Decarreau; three sisters, Dorothy Couture, Leona Kirby, and Jacqueline Billings; and several brother-in-laws.
In lieu of flowers, donations in her memory may be made to the Vermont Children's Hospital, Mailstop 461OH4, 111 Colchester Avenue, Burlington, VT 05401, or to the COPD Foundation, 3300 Ponce de Leon Blvd, Miami, FL 33134.
The family would like to thank the staff on Baird 4 and Shepardson 4 for the wonderful care they provided to our mother, and our family, during this difficult time. They would also like to thank Dr. Allen Repp for his compassion and guidance, and Dr. Marie Sandoval for the wonderful care she has provided to our mother through the years.
Visiting hours will be held on Friday from 4pm-7pm in LaVigne Funeral Home, 132 Main Street, Winooski. A Christian Mass will be held Saturday at 9:00am, at St. Francis Xavier, in Winooski. Online condolences may be shared with the family at lavignefuneralhome.com.