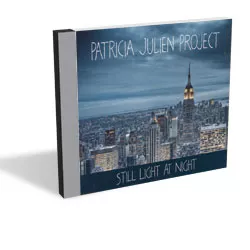 Patricia Julien Project, Still Light at Night
(Self-released, CD)
When last we heard from flutist Patricia Julien, she was leading a local supergroup of sorts, Fragile Zoe. That band's 2010 record, Frame Problem, was a promising, if at times frustrating, exploration of jazz-funk fusion. While the band's elite pedigree was impressive, the album suffered from a strange listlessness that overshadowed otherwise sparkling performances and compelling compositions.
Julien is back with her own band, the Patricia Julien Project, and a new album, Still Light at Night. The PJP feature a similar lineup to FZ, but the results here vastly outstrip Frame Problem, as the band delivers a heady blend of jazz, swing and even a little prog rock that bristles with playful energy. Oh, yeah, and jazz flute.
The album opens on "Sinster Nostalgia," penned by Julien's husband and fellow FZ alum, Alec Julien. The guitarist's composition lives up to its name, with a doubled electric guitar and flute theme that winds devilishly around a proggy backdrop. The juxtaposition of pure flute tone and fuzzy guitar is initially a little jarring. But as the band settles into a groove, that pairing adds character and intrigue.
Equally intriguing is Patricia Julien's swinging spy-themed romp, "Brooklyn." The songs sneaks and struts like a grinning Matt Helm — or maybe Derek Flint — at a cocktail party in the 1960s.
"Joquina," written by bassist Jeremy Harlos, begins as a brooding, ethereal number with no real time signature or meter. The tune meanders restlessly as flute, guitar and bass jostle for space, never quite finding resolution. It's the most artistically adventuresome cut on the record.
Alec Julien's "Ten Suggestions" is next and drastically alters the mood with frantic electric swing that finds the two Juliens alternating flashy, hair-trigger solos over a walking bass line and drummer Caleb Bronz's insistent beat. Not to be left out of the showy fun, Bronz tosses in a series of quickie drum solos.
"Proximity" is one of the more melodically compelling pieces on the record and finds flute and guitar in perfect union. At times on Still Light, that relationship feels a little antagonistic, with each player vying for attention. But here the Juliens play off each other well, each leaving space for the other to stretch out, and for some excellent solo work by Harlos. That balance holds true on the following cut, "86," which highlights a feisty Bronz.
Still Light at Night closes with "Lovely Would Be Nice," a gentle jazz ballad that tugs at the heartstrings and provides a fittingly sweet finish to an intriguing record.
The Patricia Julien Project play Red Square in Burlington on Tuesday, June 26.