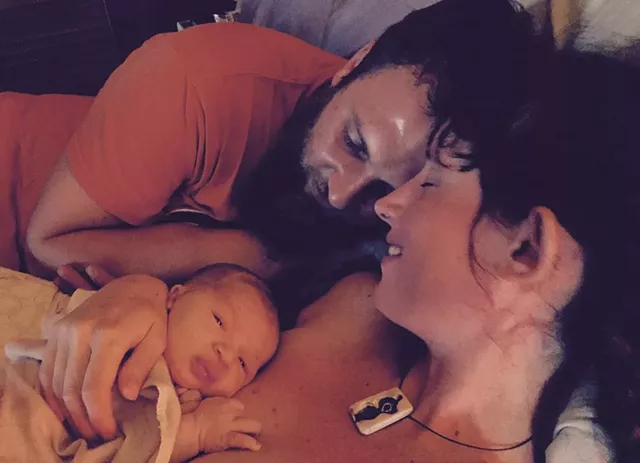 Courtesy of Julia Alter
Julia Alter, partner Chris Conway and baby Theo
In other cultures and languages, there are specific words for the feelings women experience during childbirth. In Swedish, the word is värkar. In Swahili, the phrase is maumivu ya uzazi.
But in the English language, we customarily describe the intense sensations of labor with the same word we use to describe the sensation of having a broken bone or a broken heart: pain. That one word encompasses all of the negative and unpleasant sensations we feel.
Why does this matter? As a childbirth educator, I've heard from many women who are terrified to have a baby because they are anticipating how much pain they will be in. Hollywood movies validate this fear, portraying women in childbirth as screaming and hysterical, or miserable and defeated. The portrayal suggests that women have few options when it comes to childbirth and that no matter what they choose, it will be awful.
But childbirth has come a long way since the days of our mothers and grandmothers. In 2018, there are many tools to help women through labor. While 32 percent of U.S. births in 2016 were via cesarean section, according to the Centers for Disease Control and Prevention, women giving birth vaginally — and those who labor before a C-section — can now choose from a variety of pain-management techniques. These include nonmedical interventions, such as birth balls, hydrotherapy, breathing and movement techniques, massage, aromatherapy, acupressure and hypnotherapy; and medical ones, such as epidurals, nitrous oxide and narcotics.
I tell the women I work with that going through labor is as much a mental feat as a physical one. I explain that our mind-sets and our belief systems have powerful influences on our bodies. For example, in midwifery circles, contractions are described positively as "rushes" or "surges." I believe that disassociating the negative connotation of pain from childbirth will make having a baby feel more natural and less scary.
To illustrate some of the pain management options available, I talked with three Vermont women willing to share their birth stories. One had a home birth using hypnobirthing techniques; another used nitrous oxide — which has made a recent resurgence — to take the edge off; and the third had an epidural to help with a long and exhausting labor. Each managed the pain of labor in the way that felt right to her, embracing the process of birth in all its hard-won glory.
Julia: A Home Birth
Courtesy of Julia Alter
Julia and Theo
On an intuitive level, Julia Alter of Burlington knew she would prefer to give birth at home: She has always been terrified of hospitals. Alter says she wasn't naïve or casual about it, though. "I wasn't like, 'Oh yeah, birth is just this beautiful, flowy thing,'" she explains. "I had seen two births and knew it was pretty rugged, so I did a lot physically, mentally and spiritually to prepare myself to have a home birth."
Giving birth outside of a hospital is rare, but on the rise. A 2016 study from the Maryland Population Research Center found that between 2004 and 2014, out-of-hospital births — either at home or in birthing centers — rose from less than 1 percent to 1.5 percent nationally. According to the Vermont Department of Health's Vital Statistics Report, out of 5,903 babies born in Vermont in 2015, 145 babies — or around 2.5 percent — were born at home. That year, Vermont tied Oregon for the highest percentage of home births in the country.
Alter read books including Birthing From Within by Pam England and Ina May's Guide to Childbirth by Ina May Gaskin, and she watched The Business of Being Born, a documentary about the maternity care system that shows a home birth. She practiced breath work and created "a really powerful birthing space." For her, that meant making a birth altar that included crystals, birth art she created during her pregnancy, and a bead bracelet friends made for her Blessingway — a traditional Navajo ceremony that celebrates the rite of passage to motherhood — which has been adapted as an alternative to a baby shower.
Alter admits that all of this may sound "granola," but she insists that these preparations allowed her to have an amazing home-birth experience. "I was trying to be as prepared as I possibly could, which for me meant on a spiritual level," Alter says.
Part of that work involved a hypnobirthing class with Carolyn Lewis at Wellspring Hypnotherapy Center in Essex Junction. Hypnobirthing, Lewis explains, is "a process of deep physical relaxation and mental focus." Practicing ahead of time makes it easier to slide into a relaxed, calm, focused state during labor, she says. In her class, women learn to take suggestions like "The stronger my contractions, the deeper relaxed I become," or "My breath is like a mist of anesthesia that goes where it is needed and lets sensations become far, far, away" and turn them into reality.
Though Alter says she didn't use the technique during labor, it helped relax her prior to and after the birth.
When her labor started — around 8 p.m. on May 17 — she and her partner, Chris Conway, employed techniques they had been practicing, such as the double hip squeeze. This involves the support person squeezing either side of a laboring woman's hips to relieve pressure that comes from the baby's head bearing down on the pelvis. Alter and Conway also used massage, breathing exercises and affirmations, and they listened to a relaxing birth playlist Alter had created.
They spent the early morning hours slow dancing, and with Alter rolling her hips on the birth ball. At 8 a.m., when Alter was in active labor, they called their midwife, Peggy Cohen of Full Spectrum Midwifery in Burlington. Cohen was out of town, so another midwife and midwife apprentice from the practice arrived at 10:30 a.m. to assist with the birth.
At this point, Alter was laboring in the tub. Though submerging herself in water didn't relieve all of her discomfort, Alter says the warmth of the water was a helpful, calming distraction.
Cohen explains that laboring in a tub can be helpful because studies show that "if you have alternative sensations on your nerve endings, you will help quiet the sensations of your uterus." Being in the shower, using a cold washcloth on your forehead or a hot compress on your back while applying light pressure to the hips, or submerging yourself in hot water can create "the environment where a woman can go inward and tap into her internal balance and use her breath," Cohen explains.
Such techniques are part of the gate control theory of pain, which asserts that non-painful input "closes the gates" to painful input. While the pain in labor doesn't go away by using comfort measures such as massage, music, cold packs or heating pads, the theory, developed in 1965, suggests that your brain is so busy processing the nonpainful stimuli that it can't pay as much attention to the painful sensations.
Alter found that her breath work and her partner's hands-on support got her through the end of the first stage of labor. The pain management techniques she used made for a birthing experience that made her feel "powerful and capable," she says. "The intensity keeps getting ratcheted up, and you just keep meeting your body where it's at."
By the evening of May 18, after 19 hours of labor, baby Theo came out in one intense burst, in the midst of a massive hailstorm, followed by a rainbow.
Kelly: A Turning Point, Then Nitrous Oxide
Courtesy of Kelly Locke
Kelly Locke while pregnant with Russell
When she was 36 weeks pregnant, Kelly Locke lost her mother in a tragic car accident just blocks from her Johnson home. Her midwives told her that trauma of this sort often leads to an extended pregnancy and that her baby would likely come late.
But early on December 14, 2017 — one week after her due date and two days before she was scheduled to have labor induced — her water broke.
About two and a half hours later, around 7:30 a.m., she and her husband, Dean, went to Copley Hospital in Morrisville, even though she wasn't yet feeling contractions. The midwives were eager to get her labor started because, when a woman's water breaks, the risk of infection increases as time passes.
Midwives administered Cervidil to soften her cervix. Contractions started, but, every hour or so, they would slow down and stop. Midwives administered a second round of Cervidil, but the pattern continued. So later that evening they started Pitocin, a synthetic form of oxytocin administered through an IV, to start contractions.
That night, Locke's contractions sped up, then slow down. At some points, they were a minute apart, and at others, 15. "It was really inconsistent," she says. "And so the next morning, after about 24 hours of going through contractions, I was done.
"In the moment, you don't think about what your birth plan says, and so I said, 'I want an epidural,'" she explains. An epidural is pain medication administered through a catheter inserted in a woman's back to partially or totally numb her lower body. Once it is placed, a laboring woman is confined to bed.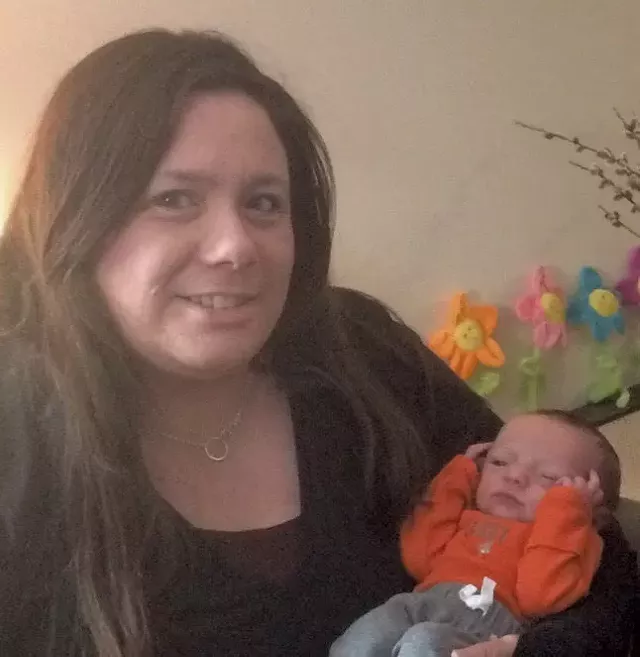 courtesy of Kelly Locke
Kelly and Russell
"The midwives came right in and said, 'Let's talk about this. Let's talk about what's in your birth plan; you don't want an epidural. You don't want these things. One thing you did say we could talk to you about was nitrous,' because I knew that they did nitrous here," Kelly says. Unlike an epidural, nitrous doesn't involve an IV, and women can stay mobile while it's administered, as well as afterward.
"They said, 'Why don't we start there. Why don't we try that. And then if you still want an epidural, then we'll go that route.'"
That was the turning point for Locke. She would labor for 12 more hours before her son, Russell, was born. But, she says, "it was amazing."
The nitrous oxide took the edge off so that Locke could get through each contraction. And because the mixture of gases — half oxygen, half nitrous oxide — is administered through a face mask and mouthpiece, Locke was able to control when she used it. Instead of feeling "the sharp arc of the contraction," Locke says, "it was more of a level contraction, where you could feel it slightly going up and slightly going down, but it wasn't as much of a mountain as it was just a hill ... It also helped me to regulate my own breathing because you need to think about inhaling and exhaling and being proactive for the contraction."
Once a common labor pain management medication in the United States, nitrous oxide use waned in the 1970s due to the popularization of the epidural. Since 2011, there has been a resurgence in its use. Today, more than 400 hospitals and birthing centers offer nitrous oxide, including four in Vermont: Copley, Northeastern Vermont Regional, Brattleboro Memorial and North Country hospitals.
Kipp Bovey, a midwife at Copley, says the gas "can decrease anxiety during transition" — the time between the first and second stages of labor when the cervix is almost fully dilated, and the baby is descending into the birth canal. It can also help women stay calm and lessen pain during postpartum repair procedures like stitching up a tear in the perineum.
Copley has only been offering nitrous oxide to laboring women for about a year, and the number of women who use it varies widely, says Bovey, ranging from 16 percent to 57 percent per month. The University of Vermont Medical Center's Birthing Center does not offer nitrous oxide to laboring women due to the obstetric anesthesia department's concern over staff exposure and environmental pollution from the gas.
Locke says she's glad that nitrous oxide was an option for her. Considering that her contractions had stopped while she was lying down, she wonders if getting an epidural would have led to a cesarean section in her case.
"I really feel thankful that I didn't have to explore that," Locke says.
Julie: Reluctant, but Grateful, to Have an Epidural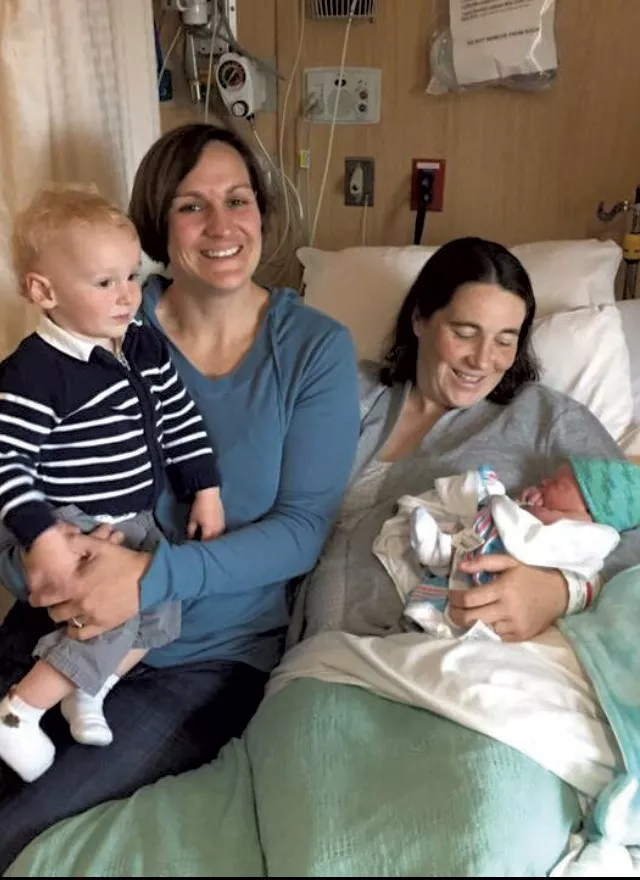 Courtesy of Julie Sloan
Julie Sloan (right), holding baby Owen, with her wife, Amy Welch, and son Lucas
A half hour after she went to bed the night of May 24, 2017, Julie Sloan's water broke.
She and her wife, Amy Welch, headed to the birthing center at the UVM Medical Center near midnight, but Julie wasn't in active labor yet. They were given the choice to go back home to Jericho or spend the night in the hospital. They opted to stay.
At 8 a.m., a cervical exam showed that more of Sloan's amniotic sac had broken, indicating labor was progressing. Sloan hoped to have a water birth with no pain medication.
However, once her labor kicked into high gear, she started having back pain that never let up. From 10 a.m. to 5 p.m., "it was just intense, intense pain," she says. Most likely, the baby was in the occiput posterior, or OP, position, with the back of his head rubbing against her sacrum. About half of all babies begin in this position, but most rotate to the anterior position during labor.
Amy had given birth to the couple's first son, Lucas, less than two years earlier. "I remember my wife going through labor and watching her have these peaks and valleys of contractions and watching her get to the peak and come down and breathe and kind of being in a meditative state of calmness," Sloan says. "And I was just in the peak zone for five hours and was never able to come down and relax."
She initially tried to manage the pain without medication. She spent time in the bath and "the water was just transformative," she says. She sat backward on the toilet, which helped; she stood in the shower and sat in the tub while her wife sprayed water on her back; and she changed positions often. She gazed out the windows at the mountains, which she says, "was pretty meditative."
Despite all of her efforts, the pain didn't ease up.
Hours of painful back labor can cause women to become fatigued. The neuromatrix theory of pain states that physical and emotional factors can increase labor pain. Those factors include hunger or thirst, muscle tension and exhaustion, and feeling anxious or powerless.
Sloan's mom stopped by the hospital in the afternoon and, when she saw her daughter suffering, she told her, "This is not bearable. You can't go on like this." She told Sloan to give herself permission to use pain medication.
Sloan agreed that the situation wasn't sustainable. "I wasn't against the epidural," she says. "I was so driven to have a water birth that I thought I could do it without an intervention, but once I was in it, the whole idea of a water birth wasn't even in the forefront anymore."
Once she decided to get the epidural, her mind-set changed. "I'm going to have a different experience now," she told herself.
Epidurals are the most popular form of pain relief for childbirth at UVM Medical Center and nationwide. Between 65 percent and 70 percent of women who give birth at the center have an epidural, says Dr. Lydia Grondin, the hospital's director of obstetric anesthesia. According to the Centers for Disease Control and Prevention, the range is similar nationally.
The American College of Obstetricians and Gynecologists and the American Academy of Pediatrics have stated that, among all options for medicated pain relief, the epidural is the most effective for reducing pain while allowing the woman to stay alert and actively participate in her labor.
Sloan got her epidural around 5 p.m. "I had five hours of still-intense contractions, but they were much more manageable," she says. "And it might sound odd to say it was enjoyable, but I was understanding the process of what my body was doing."
Sloan believes that her baby couldn't move, and without the epidural or some other type of intervention, he was never going to rotate and drop into the birth canal. Once her body relaxed, she thinks he was able to naturally turn and descend.
Sloan continued to use her breathing and relaxation techniques, and the baby moved down faster than anyone, including her doctor, expected. "He was hanging there waiting for everyone else to be ready," says Sloan. The doctor didn't even have time to put on her gown or her gloves. Out came baby Owen, ready to greet them.