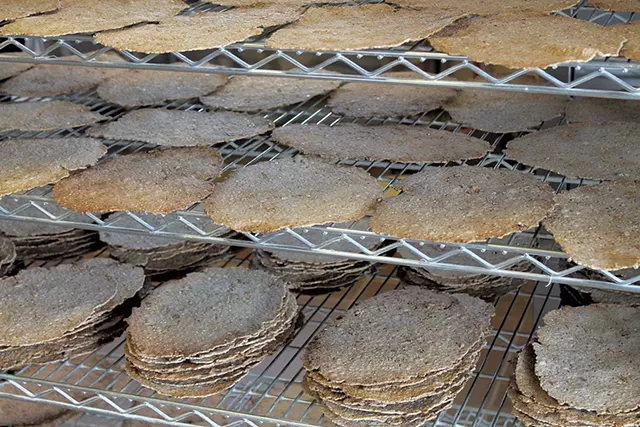 Julia Shipley
Matzos
On the day before Passover in 2011, Charlie Emers was rushing to get ready for his holiday dinner guests when he found himself staring at an empty grocery shelf where the matzo should have been. The store had sold out. "Now what?" Emers recalls wondering. Then the owner of Patchwork Farm & Bakery in East Hardwick had a brainstorm: "Well, I am a baker, so I can probably figure this out."
At the time, Emers had already been baking bread commercially for a decade in a two-story former vegetable storage barn located next to his home. But to celebrate the eight-day annual Jewish Passover, the baker needed to cut out a key ingredient — yeast.
By forgoing "the staff of life" — leavened bread — observers pay tribute to the Jews who fled Egypt thousands of years ago. According to Exodus, they left in such haste that their bread had no time to rise and was baked flat by the sun's heat as they traveled, producing the first matzo.
To make his own first batch, Emers recalls, he rummaged through cookbooks and found a basic flour and water recipe for unleavened bread. "It was OK," he says of the make-do effort he baked and served that Passover, "but not great."
Six years later, 55-year-old Emers is baking his 11-ounce packages of Everyday Matzoh twice a week, all year long, and delivering them to food co-ops and specialty stores throughout Vermont. His matzo production has doubled over the past three years, he says. It's one of his top-selling products and can be found at such retailers as City Market/Onion River Co-op in Burlington, Healthy Living Market & Café in South Burlington, Hunger Mountain Co-op in Montpelier and Formaggio Kitchen in Cambridge, Mass. Emers has shipped his matzo to Chicago, Japan, Texas and Alaska. Closer to home, it appears on cheese plates at Hill Farmstead Brewery in Greensboro and Lost Nation Brewing in Morrisville.
Emers isn't the only Vermont matzo baker cooking up a storm for Passover. Down in Middletown Springs, Naga Bakehouse produces its Vermatzah for markets as far away as California. The two bakeries share an interest in ancient grains: Vermatzah is made using local wheat and emmer, a 14,000-year-old wheat species native to Iran.
Inspired by his last-minute matzo, Emers (no connection to emmer) began to research ingredients that might have been used in the original version. While he wasn't able to find definitive answers, he says, he invented a recipe. His Everyday Matzoh contains rye, spelt — a grain almost as ancient as emmer — and three kinds of seeds: flax, sunflower and sesame. Unlike boxed matzo, which comes in rectangular sheets with stamped perforations, Emers' version is "ovalesque and rough around the edges — probably like what the first matzo looked like," he says.
With the Passover holiday starting on the evening of April 10, Seven Days visited Emers' bakery to see how the man with SOURDH (for "sourdough") on his van's license plate concocts his only yeast-free product.
Regardless of which ingredients the original matzo did or did not contain, one thing hasn't changed in thousands of years: speedy production techniques. While the first matzo was essentially unrisen dough cooked swiftly by the Egyptian sun, Emers' matzo making — aided today by employees Anne Tondu and Jazzy Jacquelina — involves the use of machinery to produce greater quantities at a brisk clip.
Certainly there were no electric industrial mixers to produce a malleable dough thousands of years ago; nor was there a spiffy dividing machine that turned out identically sized, ball-shaped portions of dough. Ditto efficient "sheeting" machines that squashed the hamburger-patty-size balls into flat, ovalesque, noodle-thin tissues in a matter of seconds.
To maximize efficiency, Emers premixes his dry ingredients in tubs. Jacquelina gets another batch of dough under way in the mixer, while Tondu operates the divider and feeds the dough patties through the sheeter. Then she arranges the raw matzo on trays. Jacquelina uses a peel (which looks like an oar with a squarish paddle) to insert the matzos into the 400-degree oven and extricate them to cool on racks. All of this activity — from bins of dry ingredients to hot matzo — transpires in less than 15 minutes.
Emers calls his bakery career "an accident that worked out." Born in Rhode Island, he came to Vermont in 1981 to study art at Johnson State College and, except for a six-year stint in Massachusetts, has lived here ever since.
In Vermont, Emers spent three decades working jobs that, he reflects, familiarized him with the movements of being a baker: hefting bags of raw materials, mixing substances and carrying finished products on trays. At G. Scatchard Lamps (then based in Underhill), those bags contained clay that he turned into lamp bases. At Riverside Farm in East Hardwick, where he began working in 1990, he schlepped ingredients for potting soils, cubed them with a soil-blocking machine and carried them to the greenhouse.
In 1995, Emers bought a few acres from his employer. After briefly operating a market garden, he built a brick oven that he named Smaug after his favorite dragon in J.R.R. Tolkien's The Hobbit. Later, he acquired a deck oven that he called the Master Cylinder after a robot antagonist in the 1960s-era TV cartoon "Felix the Cat."
Since then, Emers has been lugging bags of flour, mixing dough and carrying trays of loaves. He and his three part-time employees produce 30 different varieties of bread, including baguette, bialy, knish, ciabatta and pita, baking as many as 600 loaves a week and frequently relying on the wood-fired Smaug. His matzo, however, is almost exclusively baked in the Master Cylinder, which has a larger holding capacity.
"It's not just for Passover; that's why we called it Everyday Matzoh," says Emers of his interpretation of the holiday staple. The substantial, nutty-tasting crackers have earned him a following, as well as occasional awkward interactions. At a Hunger Mountain Co-op Food and Wellness Fair in Montpelier last fall, he says, a woman told him, "It's not real matzo." Her reasoning: "It has extra ingredients."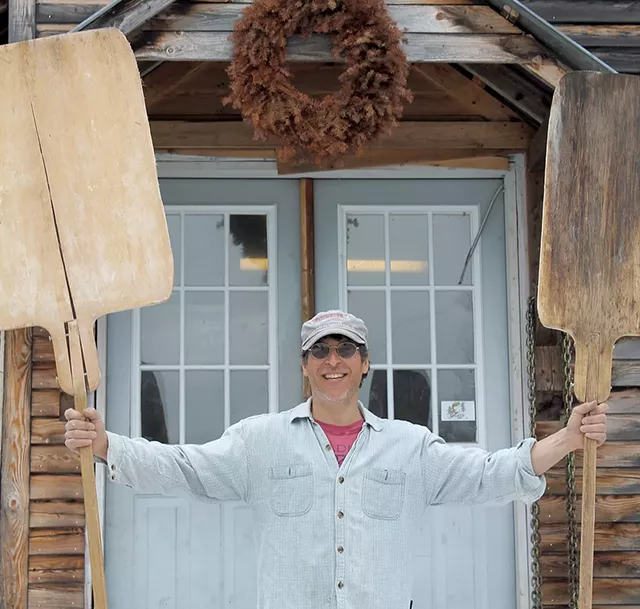 Julia Shipley
Charlie Emers
Emers recalls a recent conversation with a rabbi who asked him, "Is it kosher?" When he said no, the rabbi clarified, "Is it kosher for Passover?"
"All the ingredients are kosher," Emers says he explained. "But our kitchen is not. So, no.'
Though Emers has considered kosher certification for his bakery, the $2,000 annual fee is prohibitive, he says. High costs are also one reason he doesn't pursue organic certification for his bread, even though he uses organic ingredients.
Recently, Emers says, another customer complained of Everyday Matzoh, "It tastes too good." Why the backhanded compliment? "You're supposed to suffer for Passover; eating matzo is supposed to be a hardship," Emers explains. Ultimately, he notes, the conflicted customer resolved his quandary, saying, "I'm going to eat it anyway."