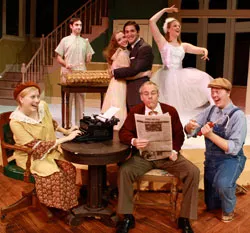 "Money can't buy happiness," the saying goes. Playwrights Moss Hart and George S. Kaufman convey this truism over three antics-filled acts in You Can't Take It With You (1936). Debuting during the Great Depression, their endearing exercise in escapism resonated instantly, running 838 performances on Broadway and garnering the 1937 Pulitzer Prize for Drama. Frank Capra's film adaptation won the Oscar for Best Picture in 1939.
Since its premiere, the show has remained a perennial stage fave. The script provides a theatrical smorgasbord, with 19 eccentric roles, vaudeville-inspired action and witty dialogue. In the current production at the University of Vermont, student thespians gleefully chew the scenery, fashioning crowd-pleasing performances from the tissue-thin plot.
At the heart of You Can't Take It With You is a simplistic, slightly snooze-worthy story. Girl (Alice Sycamore) falls in love with boy (Tony Kirby); incompatible families collide; romance hits the rocks. Will there be a happy ending? Two hours of obstacles serve to entertain the audience more than truly threaten the charming couple's future.
Although the tale takes place in New York City during the economically troubled 1930s, Alice's clan gets by just fine, living together in a large, slightly ramshackle mansion. Sycamore family patriarch Grandpa Vanderhof quit the business rat race 35 years earlier, and encourages people in his orbit — both family members and visitors to his lively home — to pursue passions instead of professions. The contrast with Tony's straitlaced 'rents is stark. Mr. Kirby is a prudish paragon of Wall Street; Mrs. K., a denizen of upper-crust society's stuffiest stratum.
Except for Alice, all the Sycamores occupy themselves with incredibly odd hobbies, such as making fireworks, collecting snakes, composing xylophone music and (gasp!) writing plays. They have a blast following their bliss. "I know they do rather strange things," Alice explains to Tony. "But … there's a kind of nobility about them." When the Kirbys show up for dinner chez Sycamore, a calamitous clash of values ensues. It seems impossible for Grandpa V. to convince the uptight Mr. K. to chill. "You've got all the money you need," Grandpa says. "You can't take it with you."
To help tell the story at UVM, scenic designer Jeff Modereger and his 26-person crew give the actors an elaborate set. The Sycamores' expansive living room, where all the action unfolds, bustles with period furnishings and props. It features gently faded colors and textures — creamy taupe and dull green; worn leather, velvet and wood — that make it feel lived in and well loved. John B. Forbes' lighting falls unevenly on a few scattered parts of the large space, however, which detracts slightly from director Sarah E. Carleton's skillful movement of her performers around the playing area.
The major technical flaw, however, is the production team's failure to address the Royall Tyler Theatre's acoustical deficiencies. Sometimes a few words — or even entire lines — vanish into the rafters. Considering the constant motion required in many action-heavy scenes, the actors project fairly well. Nonetheless, nuggets of the script still go missing.
The show contains many bold, broadly comic roles that work best when the actor goes "over the top." (Kaufman often wrote for the Marx Brothers.) The members of the UVM ensemble embrace their quirky characters exuberantly.
As Russian dance instructor Boris Kolenkhov, Samuel A. Durant Hunter electrifies every scene he is in. He radiates a cartoonish zeal delivering lines such as "Life is chasing around inside of me, like a little squirrel." Wearing Boris' artsy duds with panache, he tosses back a scarlet-lined black cape with a flourish and raises an eyebrow suggestively under a rakish beret. Martin A. Thaler's costumes, rich in period detail, add zest and color to every character.
Equally funny is Tommy Grassey's performance as Alice's mild-mannered, xylophone-loving brother-in-law, Ed. Grassey makes Ed a deliciously sweet geek whose demeanor and physical carriage echo that of comedian Martin Short's lovable nerd, Ed Grimley. Grassey pairs constricted body language — sloped shoulders and a choppy gait — with a winsome smile.
Also outstanding are Alex Koch and Aline Nocera as Alice's parents, Paul and Penny. With broad grins and gleaming eyes, they convey their delight in the Sycamore family's oddball pastimes, and in each other's happiness. As the earnest young lovers Tony and Alice, Andy Friedland and Kathy Briand pair well. They demonstrate the dance between his eagerness and her shyness as events test their relationship.
The only nonstudent in the production is Chuck Tobin, playing Grandpa Vanderhof. (Sound familiar? His day job is artistic director of St. Michael's Playhouse. He's also Carleton's husband.) Though he lapses in and out of Jimmy Stewart-like speech, Tobin captures Grandpa's laconic demeanor and laidback world view.
Overall, the Kaufman and Hart classic accomplishes its mission: to entertain while warming hearts. But such a large-scale production also represents a tremendous amount of work. The students give their all in every show at the Royall Tyler. It's a shame the audience can't always hear them.