Courtesy Of Katie Miller
Judith Chalmer
For the past 12 years, Judith Chalmer led VSA Vermont, the nonprofit state branch of a national organization that aids people with disabilities via the arts. This fall, she's stepping down to make way for a new leader.
Until recently, 34-year-old Susan Evans McClure served as director of food history programs and audience development at the Smithsonian National Museum of American History in Washington, D.C., where she's worked for the past seven years. In a few weeks, she'll move to Vermont to become VSA Vermont's new executive director. McClure will begin on October 16, and Chalmer will hand over the reins at the beginning of November.
VSA Vermont's mission of inclusion takes many forms. It operates a mentoring program that matches adults and students with disabilities. It organizes art shows in physically accessible locations, making gallery information available to people with visual, auditory or other challenges. One such upcoming show at the Amy E. Tarrant Gallery in Burlington will consist entirely of works created by visually impaired artists.
To sum it up, Chalmer says, "Our work largely falls within the scope of creating inclusive communities and making use of the many forms of the arts to provide opportunities for communication and participation."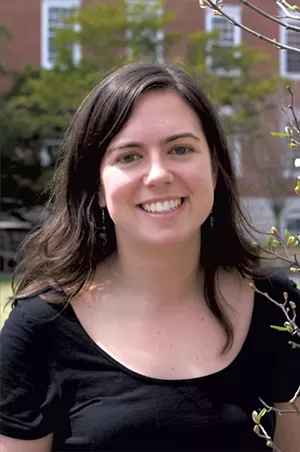 Courtesy Of Briget Ganske
Susan Evans McClure
Looking back on her tenure in the position that McClure will step into, Chalmer says it's been "fascinating and pleasurable." Among the tasks she tackles is that of "creating partnerships [with other organizations] and relationships that grow into [those] partnerships." Chalmer describes partnerships with entities such as Penny Cluse Café and the Howard Center's Baird School and Developmental Services (all in Burlington) as one of VSA's greatest assets.
After she retires from VSA, Chalmer plans to spend time with her grandchildren and participate in community-building efforts, she says. "I love bringing people together and making things happen," she adds, "but I haven't predesigned [what that will be]." She also intends to finish her most recent volume of poetry; her first, published in 1995, was called Out of History's Junk Jar: Poems of a Mixed Inheritance.
Among her achievements at VSA, Chalmer cites the aforementioned mentoring program; the expansion of the organization's Start With the Arts program for preschool arts and literacy to 40 rural childcare sites; and the 2012-13 "Engage" exhibition, which showcased in various venues the work of 35 Vermont artists with disabilities.
Hudson Valley native McClure is no stranger to Vermont; from 2006 to 2009, she worked in marketing at Magic Hat Brewing. She drew on that experience and her culinary interests to launch the Smithsonian's food history program.
Currently, the teaching artists listed on VSA's website cover skills ranging from drumming to theater to painting. McClure says she has no plans to add the culinary arts to that roster. "I think the focus there is really on the arts," she says. "I'm excited to keep focusing on that, and I'm ready for the culinary world to be more of a personal hobby. I want to focus on how the arts change people's lives."
McClure says she's also interested in the research component of VSA's programming, specifically in "opening up new research partnerships with universities in Vermont that would be studying [arts education]," she says. "We know that the arts provide transformational experiences, and learning more about exactly how and why that works will help us to be even better at our jobs and to provide more opportunities for people with disabilities to access the arts."
And she's excited to draw the public eye to VSA's work. "If you have personally interacted with their programs," McClure says, "you're always supportive, but I think there's a lot more that can be shared widely. The definitions of disability are very broad."