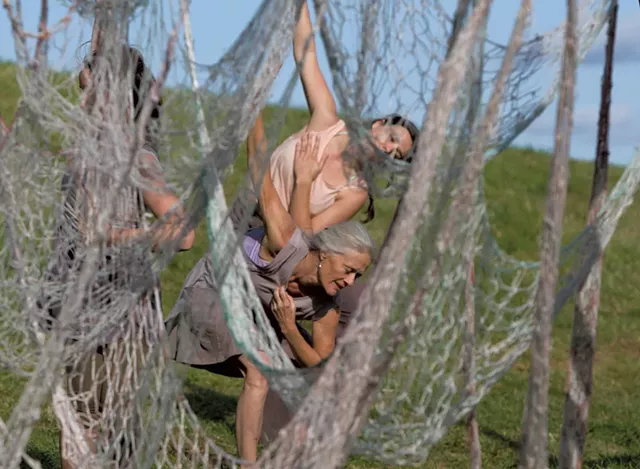 Courtesy Of Jay Beaudoin
Tracy Penfield (below) and Bridget Struthers (above) dancing with Kela (netted sculpture)
Dancer Tamara Hurwitz Pullman's 91-year-old father died in her arms in a Los Angeles art gallery in 2012. It "was incredibly fitting, because he was an art educator and a painter," says Pullman's close friend and artistic collaborator Tracy Penfield. "He loved this art [gallery] in LA."
Because ambulances in that city district could not legally transport the deceased, Pullman and her daughter had to wait for authorities to arrive, with their beloved covered by a shroud. "In a way, it was a gift, because [they] got to sit there with him as his spirit continued to pass ... They found it to be a very peaceful, healing, beautiful time," says Penfield.
Over a two-year period, California-based Pullman — who is married to actor Bill Pullman — lost both her parents, and Penfield, who lives in Chelsea, lost four friends to cancer. From these experiences, the two women, whose longtime dance collaboration began in Montana in the 1980s, conceived a full-length dance-and-music work they called Passing. It explores the myriad meanings of the title and the liminal state between this world and the next.
After five years of development, Passing premieres on Saturday, April 28, at Randolph's Chandler Center for the Arts, which commissioned the work.
"Chandler has a really strong commitment to supporting regional artists," says the center's executive director, Tom Ayres, "and Tracy is a regional artist of significant respect and renown."
Penfield, 61, is a dance and fiber artist, educator, advocate, author, and the founder and former director of SafeArt. That nonprofit organization deploys the arts to help people prevent and heal from abuse and other traumas. Penfield has worked half time with SafeArt for the past year while preparing Passing for the stage, but elements of the work took shape long ago, she says.
In 1985, Penfield hand-knotted "Kela," a huge netted linen sculpture. The commissioned piece hung in a 40-foot-high atrium in a Boston office building until a series of unfortunate events outside Penfield's control led to its dismantling. The sculpture was wrapped in sheets and stored in a warehouse — and presumed lost — until she rediscovered it in 2017.
"Last winter, I started thinking of creating a netted set that would represent the veil between the worlds, and I kept thinking about 'Kela,'" she says. "I kept thinking how perfect she would be."
Once reunited with the sculpture, Penfield unfurled it, found it to be intact and reconfigured it for Passing. "Now the whole piece is about 30 feet across by 13 feet high and about five feet deep," she says. It fills the back of the stage, representing the Celtic tradition of "the thin place" wherein beings reside on their journey between this world and the next, says Penfield.
Passing begins with an overture performed by four vocal and instrumental musicians from Vermont and LA. Carl Pepperman — Penfield's life partner — created the overture and the music played throughout the piece, inspired in part by his longtime musical collaboration with Phil Thorne of Norwich.
Audience members at a work-in-progress showing of Passing last September noted "the rapt attention that the musicians had to the dancers," says Penfield. "There's no sheet music here. It's all visual. We're listening, they're watching, and we're communicating with each other as we perform."
While many elements of the music and dance are set, some are structured improvisations; the musicians make artistic choices in response to the dancers, and vice versa.
After the overture, seven dancers, ages 25 to 61, enter the stage for the first of three movements. They include veterans of celebrated troupes such as the Bebe Miller Company and the José Limón Dance Company. Penfield says the first movement explores "the physical realm: passing over, passing by, passing through, passing under, passing from, passing to ... what the concept of passing means to us in a physical, kinesthetic way, as well as the meaning of those phrases or terms."
The second movement navigates the emotional realm. As part of the process of creating Passing, the dancers recorded themselves telling the story of a loved one who'd passed. None is "morbid or macabre," says Penfield; rather, the stories are poignant, joyful, sad and honest. They form part of the soundscape as the dancers move in and out of "Kela," wearing garments that once belonged to the deceased.
In the third movement, "we move into the spiritual realm, approaching, accompanying, guiding and supporting each other or those who are passing or might need to pass," continues Penfield.
"It's about holding on and letting go, and then that transcendence and how life moves on," she says.
Passing is "the first contemporary dance work that Chandler has presented in a long time," says Ayres. Funded primarily by a grant from the Jack and Dorothy Byrne Foundation of Etna, N.H., the work heralds a Chandler initiative to "leverage this performance and the relationship with Tracy to begin building a dance audience here in rural Vermont," he notes.
On Saturday afternoon, Penfield will lead the Passing Project Storytelling & Movement Workshop for community members ages 10 and older. "It's an opportunity for people to reflect on their own lives and on the lives of loved ones who've left them," says Ayres. After the evening performance, the artists and Passing cocreators will have a talkback with the audience.
"It's the kind of creative process that really appeals to me as an artistic director," says Ayres, "really engaging with the community and telling people's stories."