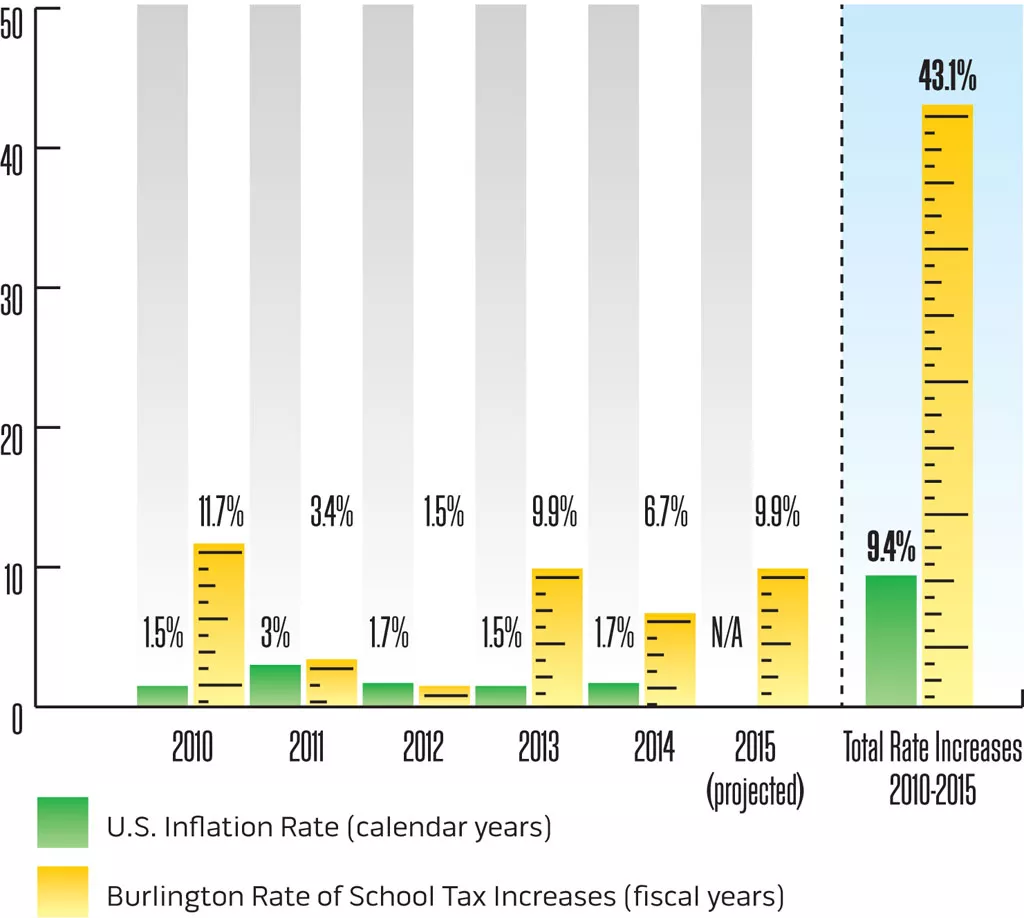 Will this be the year Burlington voters rise in revolt against a nearly 10 percent increase in the amount of money they pay to educate the city's kids? It's been a dozen years since the Queen City defeated a school-tax increase on Town Meeting Day.
But some candidates for local office are now reporting rumblings of rejection. "I'm picking up that there's maybe more opposition than usual," says education professional Kyle Dodson, who's running for a Ward 1 seat on the school board.
Veteran pol Kurt Wright, aiming for an encore on the city council, is sensing the same opposition to the proposed 9.9 percent increase. Based on conversations with prospective voters, Wright says, "I'm confident it's going to go down in Ward 4," a part of the New North End that he describes as a "swing ward" when it comes to Burlington school-tax votes.
Charlie Giannoni, an unopposed school board candidate in Ward 3, is presenting a tax-restraint message as he goes door to door in the Old North End, a part of the city that routinely approves school-spending plans by margins of at least 2-1. "The school budget keeps going up, and people's ability to pay taxes keeps going down," Gianonni observes. "Those trend lines are crossing now."
(In fairness to Burlington budget writers, it should be noted that most of the proposed tax increase is due to statewide tax policies, with less than one-third of the hike rooted in local spending choices. And Burlington is hardly alone: Other Chittenden County communities are considering school budgets with tax increases ranging from 8.9 to 15 percent.)
Mayor Miro Weinberger announced on Wednesday afternoon that he will be voting for the school budget. Weinberger acknowledged that the magnitude of the proposed tax hike presents "serious concerns." He said he had decided to support the spending plan because the school board has managed to keep its projected budget increase to under four percent. The school board has also "accepted my proposal to collaborate on numerous cost-control measures over the next year," the mayor added.
Burlington's education establishment is asking voters to approve a $66.9 million school budget for fiscal year 2015, including a spending increase of nearly 4 percent.
That sum — almost identical to the total budget for all other city programs — has climbed $17 million, or 34 percent, since fiscal year 2010. The nearly 10 percent jump in Burlington's education tax would bring its cumulative increase over the past six years to 43 percent. During the same period, the overall U.S. inflation rate was 9.4 percent.
"It's out of control," says Greg Roy, an outspoken critic of local school spending who lives in Ward 4.
Warns Ward 1 civic activist Richard Hillyard: "We're huffing and puffing about Burlington Telecom, but what the school district is doing makes that amount of money look like petty cash.
"I'm appalled they haven't done anything about reining in costs," Hillyard adds, referring to the 16-member school board and the district's central office. "They'll say this is the most transparent budget process ever, but they negotiated 11 percent increases for teachers before the process started. It's highly regrettable they don't talk about the big items. Instead, they talk about cutting a paraeducator here, half a librarian's position there."
The 9.9 Percent
School employees' salaries and benefits indeed account for the biggest part of the budget — roughly three out of every four dollars the district spends. But because of the power of the teachers' union — and most Burlingtonians support reasonable pay rates for educators — that boldface line item is politically off limits. Burlington teachers have not negotiated exorbitant compensation packages. The district's average teacher salary is $63,000, which is less than what some other Chittenden County towns pay.
Critics like Roy thus focus on a much smaller but potentially more penetrable target: bureaucratic costs — specifically, administrative salaries. School superintendent Jeanne Collins' $129,500 annual pay tops a list of 10 school official salaries greater than $100,000. In anticipation of criticism, budget makers preemptively froze administrative salaries in their fiscal year 2015 spending plan. But it's mainly symbolic, concedes school board finance committee chairman Keith Pillsbury, since the freeze will save only about $36,000 a year.
Supporters of the 9.9 percent elevation in the school tax appear to be adopting a more defensive posture in this election cycle.
They point out that spending increases that reflect direct decision-making by Burlington school officials account for less than one-third of the overall proposed increase: 3.1 of the 9.9 percentage points. The largest portion of the tax hike — 5 percentage points — results from an adjustment of the statewide education tax formula, over which the city school board has no say.
Local officials are also powerless in regard to the remaining 1.8 percentage points. That number is generated by something called the "common level of appraisal," the calculation the state uses to offset differentials in property values among towns. Homes in Burlington are rising in value, while those in some other Vermont communities are falling. The CLA is applied to make the property tax resources available to local schools more broadly equitable.
"Burlington home values are so high partly because of the high quality of our schools," Pillsbury observes. "People want to live in a district with good schools."
Efforts to maintain that quality account for a big chunk of the locally controlled portion of the proposed school spending increase. Across-the-board federal budget cuts ordered by Congress, aka sequestration, eliminated $515,000 that was being used to pay the salaries of a few Burlington teachers. The school board decided to fold that sum into the spending increase being sought.
When it comes to education, Burlington faces some unique challenges. The city's school enrollment has been steadily growing at a time when it's dwindling in many towns. And the 4,000 pupils enrolled in nine schools and instructed by 400 teachers in Burlington comprise a population unlike that of any other district in the state. The Queen City has by far the largest number of Vermont students whose first language is not English. More than half of Burlington pupils come from households with income levels that qualify them to receive free or reduced-price school lunches. Translation: They're poor.
But cultural and economic diversity doesn't begin to explain this year's big numbers. South Burlington and Shelburne are also up against steep hikes: Both are voting on 8.9 percent increases. Several other Chittenden County towns are considering double-digit requests: Underhill (15 percent), St. George (14.9), Huntington (12.2), Jericho (11.5) and Bolton (11.4).
Us Versus Them
Whatever the outcome in Burlington, the vote tallies on the school budget are sure to reflect sharp divisions within the city. Wards with a high proportion of middle-income homeowners are likely to vote against the tax increase, while wards with large numbers of renters and lower-income homeowners are almost certain to approve it.
That's because the school property tax burden is felt most directly by about 20 percent of city households: those headed by homeowners whose incomes do not qualify them for discounted tax rates. All the rest of Burlington's 16,350 households are composed of owners eligible for property-tax breaks or renters (to whom tax increases are less visible because they're included in the monthly bill from the landlord).
School board chairman Alan Matson acknowledges that this cost shift is neither fair nor sustainable. "It's a very specific set of taxpayers who get hit hardest," he says. "That needs to change."
Furthermore, a minority of the city's electorate — turnout isn't likely to exceed 25 percent — will decide if it does.
"Very few people pay attention to the schools, and I think it's sad," says Ward 3 school commissioner Liz Curry. "Families with kids in the schools do pay attention — to their own kids experience."
Curry adds that the complexity of the school budget-making process is such that only specialists can understand it. And few of the 16 school commissioners, who have the power to set the budget, qualify as specialists.
School-spending critic Hillyard is more blunt: "It's incredible/ludicrous that we have a $67 million budget governed by volunteers."
But while they may not be professional accountants, school board members tend to be effective salespeople. They urge voter approval for their spending plans in emotionally resonant terms that almost always produce the desired outcome.
Tax-increase foe Roy describes it this way: "'It's for the kids! It's for the kids!' they say." The board, in Roy's view, employs "guilt tactics" with great skill. "They'll also claim that if the budget goes down, they'll have to cut sports, music and art programs," Roy adds. "They do that instead of fighting with the teachers' union or adjusting the central office."
The last time Burlington voted down a school budget was in 2002, when Peter Clavelle was mayor.
It's worth noting that the ballot doesn't identify the percentage of the tax increase necessitated by the school budget; the question, as it's worded, simply asks if voters approve of $66.9 million in spending. That, plus the absence of any organized opposition to the tax increase, will likely aid budget backers.
"But there is lots of disorganized opposition," Roy interjects.
Wright holds out hope that some voters may switch from the "yes" to the "no" column this time on the grounds that a negative response is much more likely to spur reform at the state level. "If every budget passes, the message in Montpelier is that everybody's happy," observes Wright, a state representative who says he's voting "no" on the school tax.
Dodson, the Ward 1 school board candidate, says he understands that logic, but counsels against acting on it. "I get that some people believe voting down the budget will lead to better budget management and restraint, but I believe voting down the budget comes on the back of the children. I'm voting 'yes,'" Dodson affirms.