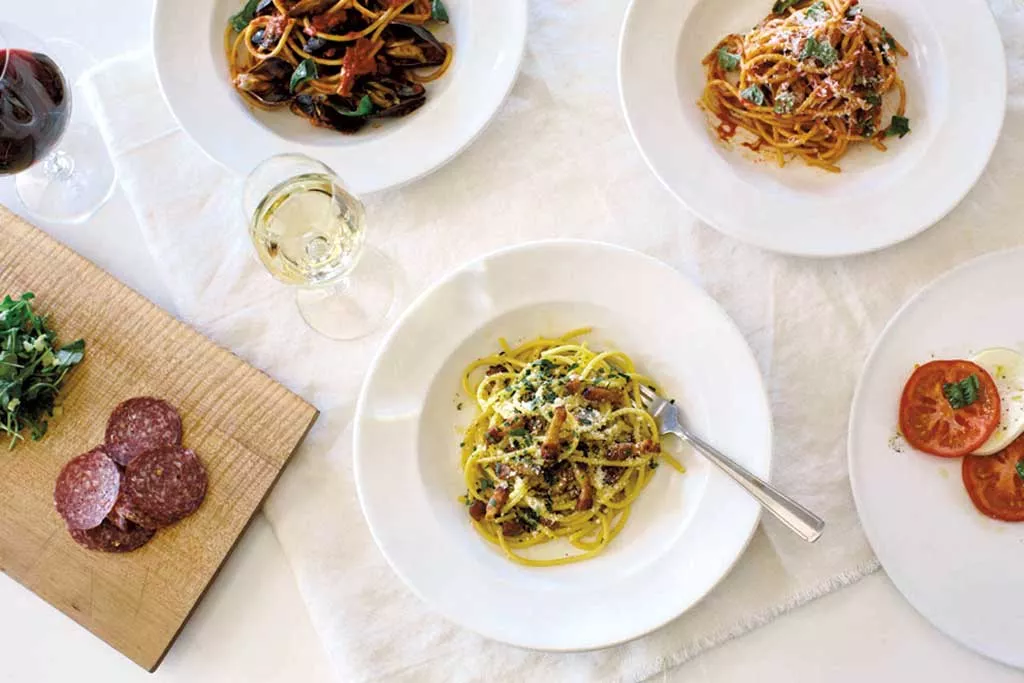 Courtesy Of Jessica Sipe
Pascolo Ristorante
The Farmhouse Group's fifth restaurant, Pascolo Ristorante, opens at 83 Church Street on Friday, May 2. It's no big news that the basement restaurant will continue the company's practice of showcasing local foods, this time in an Italian style. But what else can diners expect?
Managing partner Jed Davis recently told Seven Days, "It's going to be very casual. We want this to be a Tuesday-night restaurant where you just pop in and the food is familiar and great."
The historic brick basement looks much as it did during its 23 years first as Sweet Tomatoes, then Three Tomatoes Trattoria and finally nika. One exception: Davis and co. have knocked out a wall where there was most recently a wine room to allow diners to watch chefs make pasta from scratch.
Those pastas are the anchor of Pascolo's menu. Six varieties — including spaghetti, rigatoni and bucatini — each come in three different preparations. For example, wide, flat pappardelle can be topped with sausage, fennel cream, brandy and sage; served with a rich lamb ragú dotted with mint and basil; or tossed with wood-fired mushrooms in truffle cream sauce.
Besides the 20 different pasta dishes (including two versions of lasagna), entrées include 10 pizzas (the Etna pie features Guild Fine Meats pepperoni) and classic Italian dishes such as eggplant Parmigiana, pollo al mattone and zuppa di pesce.
Guild Tavern wine director Alex Moran carefully selected a range of Italian wines to pair with the food, but Trebbianos and Montepulcianos aren't the only taste of the old country with which diners can wash down pasta. Birra Peroni and Birra del Borgo ReAle Extra IPA join Vermont beers on tap.
Guild Tavern bar manager Sean McKenzie also brings Italian flavors to Pascolo's cocktails, such as the historically titled Ostrogoth, made from gin, Cocchi Americano, crème de violette, chamomile and fresh sage.
Lunch service will join dinner about a week after Pascolo opens. Farmhouse Group director of marketing Kristina Bond says to expect many of the same pastas and pizzas as are served at dinner, as well as hot and cold sandwiches made with Guild meats.
The original print version of this article was headlined "Pasture Raised"