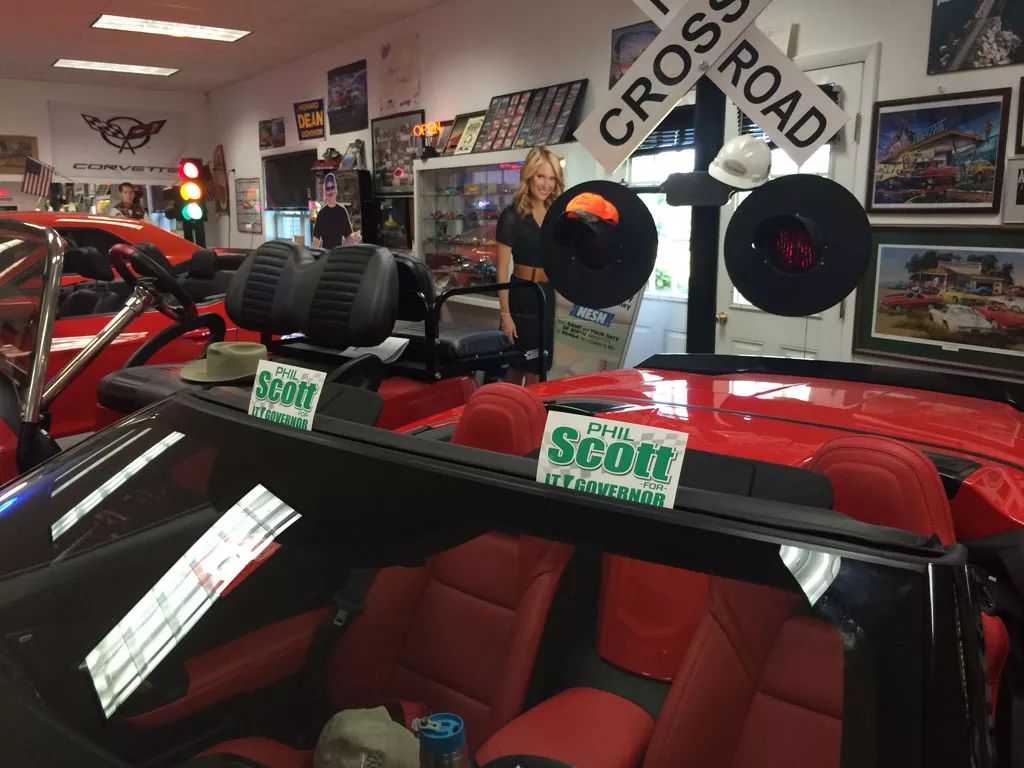 Amidst a collection of lustrous Corvettes and cardboard racecar-driver replicas, Vermont Democrats schmoozed last Wednesday evening in a Colchester garage. They were there to raise money to reelect the state's highest-ranking Republican, who is also a real-life racecar driver.
Sen. Dick Mazza (D-Chittenden) hosted the fundraiser for Lt. Gov. Phil Scott — Republicans could come, too — in the "showroom" behind the senator's 60-year-old general store.
Senate President Pro Tem John Campbell (D-Windsor) neatly summed up why he and several others showed up. "Phil is, like, one of my best friends." Campbell is also part of the troika — along with Scott and Mazza — that determines which senators serve on which committees.
Scott's Progressive challenger, Dean Corren, has become a real contender since qualifying for $200,000 in public financing last month. He's been trying to win over Democrats by emphasizing his commitment to Gov. Peter Shumlin's single-payer health care plan.
That message hadn't swayed the Colchester crowd.
On single-payer, "I guess I'm like Phil Scott," Mazza said. "Tell me what it is and how much it's going to cost and how it's going to affect people, and then I'll make a decision."
Campbell was also talking tough. After half-retracting a comment suggesting the price tag for single-payer was too steep, he was back to sounding skeptical.
"Does he have a financing plan or is he just out there saying, 'I am for single payer?'" the senate president said of Corren's campaign claims. "Which sounds really good, but the proof is in the pudding."
Campbell's current stance? "I support the fact that we're trying to see if it's fiscally possible to actually sail the ship, but the last thing we need to do is raise the expectations of people."
Also in attendance — but not cutting a check — was Al Gobeille, chair of the Green Mountain Care Board, the independent five-person panel created to help oversee Vermont's transition to single-payer.
For more than a decade, Gobeille contributed to campaigns and let politicians — including Scott, whom he considers a friend — hold fundraisers on his cruise boat at a discounted rate. But according to the Burlington restaurateur, those benefits ended for state-level politicians when Anne Galloway, editor of the news site VTDigger, asked in a 2012 story whether it was appropriate for a sitting member of the quasi-judicial health care board to be subsidizing candidate Scott's cruises.
"I had one scheduled for the governor, but I had to cancel," Gobeille recalled. Until Galloway's story, he said, it hadn't occurred to him that political charity might not mix well with his role as independent steward of the state's health care system. "You get involved trying to serve and then you have to know all of this stuff."
Although he no longer gives, Gobeille isn't about to relinquish his right to party. He doesn't see anything improper about "going to the home of a Democrat to see a Republican speak." It didn't hurt that the other attendees seemed more intent on talking about the shrimp scampi — which Gobeille did not provide — than health care reform.
It's Not My Party
What are Republicans doing while Democrats cozy up with their main man?
Back from Arizona, conservative political operative Darcie Johnston has a new cause: getting Dan Feliciano, the Libertarian candidate for governor, onto the Republican primary ballot with a write-in campaign. The hope is to supplant Republican candidate Scott Milne, whose wishy-washy stance on single-payer has irked Johnston and others within the party.
Last election, Johnston ran Republican gubernatorial candidate Randy Brock's campaign. She left Vermont to work on a primary campaign in the Grand Canyon State and came back because she said money was running low. This time around, Johnston said, she's just an unpaid volunteer.
Feliciano, who said in June that he would not seek a spot on the Republican ballot, held a press conference last week in Waterbury, announcing his plan to do exactly that. In an interview after the event, Feliciano said he had a change of heart after being "inundated" with requests from Republicans underwhelmed by Milne. Asked if he'd received any Republican endorsements, Feliciano gestured in Johnston's direction. The rest of his entourage consisted of his wife and three in-laws.
With less than a month left to make it happen, what does the indefatigable anti-single-payer activist have up her sleeve?
Bracelets.
Inspired by Lisa Murkowski of Alaska, who, in 2010, ran the first successful write-in candidacy for U.S. Senate in more than 50 years, Johnston proffered rubber wristbands stamped with Feliciano's name to a few nonplussed reporters.
Feliciano and his wristbands have at least one person concerned: his coworker at Keurig Green Mountain and chair of the Vermont Republican party, David Sunderland, who stood under a nearby tree during the press conference.
Sunderland describes himself as a "Libertarian-leaning Republican" but he was in Waterbury to tell reporters that Libertarians have some pretty messed-up ideas — making heroin legal and letting drug dealers roam free, for example.
Feliciano, who picked up about 1,300 votes as an independent candidate four years ago, isn't getting too worked up about the dis. "When that release came out from Sunderland stating all that crazy shit, I started laughing," he said. Feliciano clarified that, personally, he opposes amnesty for felons and only supports the legalization of marijuana — which came as a "surprise" to Vermont Libertarian Party chair Jeremy Ryan.
The R label doesn't carry a lot of cachet these days, but in trying to affix it to himself, Feliciano is risking his own party's support. Libertarians lashed out after his announcement, condemning his decision to court the Republican vote. "I apologize to any member that may be disillusioned or offended by this development," Ryan wrote in a statement sent out almost immediately after Feliciano's announcement.
Their main concern? It will dilute the Libertarian platform and confuse liberal Democrats, some of whom, according to Ryan, have recently come into the party's fold. The Libertarians are unusually flush with candidates this year. In addition to Feliciano, they are fielding 14 candidates for state Senate and House seats.
But they are still backing Feliciano — for now. "We are watching closely as time progresses, but at this time we are in support," Ryan said.
While both party chairs are dead-set on keeping their identities separate, Vermont Republican and Libertarian parties clearly have at least one thing in common: a knack for making their internal squabbles public.
Trouble with Crimes
No one paid much attention last session when lawmakers approved a budget with an extra $200,000 to hire four new state prosecutors.
Last week, Vermont Public Radio revealed that one of the new jobs went to Campbell, the Senate president pro tem and erstwhile private attorney who will now pull in $30,000 a year as a part-time prosecutor in Windsor County.
Windsor County State's Attorney Michael Kainen said he hired Campbell, an old friend and neighbor in Hartford, because of the senator's experience. The only other candidates interested in the part-time gig were former clerks straight out of law school, Kainen said.
"I would have been happy to hire them, but there's a big difference between somebody who is right out of law school and somebody who has experience in court," Kainen said. "I needed somebody I could hand files to."
Campbell will take over a chunk of Kainen's family court work and may handle the occasional criminal charge, his new boss said. Kainen clarified that he is giving Campbell cases that are likely to conclude by the time lawmakers return to the Statehouse in January, though he expects Campbell will continue to handle some legal work during the session.
The news revives perpetual questions about the conflicts of interest that face lawmakers who take jobs closely related to their legislative work.
For example, are judges, whose budgets are controlled by the legislature, going to treat Campbell the same as defense attorneys and other prosecutors?
What about the Department for Children and Families, which has been widely criticized for its role in the recent deaths of two young children? Lawmakers are expected to consider overhauling it this session. How will Campbell's frequent interactions with DCF as a family-court prosecutor impact that debate?
In interviews last week, Campbell said he saw no conflict and believed his new job would enhance his understanding of important Statehouse issues. "In three weeks, what I have observed is how little we in the legislature know about the criminal system," Campbell told VTDigger. He did not respond to messages from Seven Days seeking further comment.
Vermont Defender General Matt Valerio said he has no qualms with Campbell working as a prosecutor and has not heard any concerns from defense attorneys. "It really doesn't bother me at all," Valerio said.
Vermont Public Interest Research Group Executive Director Paul Burns agreed with Valerio.
But Cyrus Patten, executive director of Campaign for Vermont, an advocacy group that has made legislative transparency a focal point, had a different view. "It is suspect any time a legislator has a role in creating a job and they themselves fill the job," Patten said.
Regardless of any potential conflicts, Campbell is apparently having some new-guy problems in the office.
After Seven Days inquired about the impending hire last month, Kainen accidentally shot back an email:
"My new deputy is struggling mightily with crimes," Kainen wrote to the unidentified recipient. "Have you checked to see if you stored that instruction thing electronically?"
The president of the Senate, newly hired by his buddy to prosecute crimes on the state's dime, was struggling with crimes? He needed an instruction manual for the job?
Alas, the news gods were not so benevolent. CRIMES is the software program used by prosecutors to generate court paperwork against defendants. And — brace yourself — the program is apparently antiquated and confusing.
Kainen explained that his wayward email had been intended for his old boss, Orange County State's Attorney Will Porter. Kainen said he, too, struggled to figure out the system for months after Porter hired him as a deputy. Porter got so fed up with Kainen's constant questions, he wrote up instructions for him to follow.
Campbell is now having the same trouble, which is providing him first-hand experience with another important Statehouse issue: the state government's poorly functioning IT programs.
Media Notes
Last month, this paper examined problems with Vermont's Sex Offender Registry: Auditors found significant errors with the website, which identified people who legally should not have been listed, and failed to include some eligible offenders.
None of that has dissuaded the Brattleboro Reformer from adopting an unusual practice: publishing notices when a sex offender moves to the community.
The Reformer had signed up for electronic alerts from the Department of Public Safety, editor Tom D'Errico explained, which indicate when a sex offender is released nearby. Any member of the public can do so. So after a lengthy internal discussion, the Reformer decided to start publishing them. D'Errico is not aware of any other publication in Vermont that is doing the same.
"It's a matter of public record and important information that the reader wants and needs to be made aware of," D'Errico said. He added that the Reformer, which has posted at least three notices so far, is not looking to cause sex offenders "undue hardship," and is not publishing their mug shots.
Auditors recently unearthed a few incidents in which an offender was identified on the site when, legally, they should not have been. (Offenders who commit less serious sex crimes, or who were younger than 18, are legally exempt from posting.) That's happened at least once in the Reformer's backyard: A man convicted in a Windham County sex case successfully sued the state after the registry mistakenly posted his name. After he was publicly identified, the man received threatening phone calls and someone smashed a beer bottle over his head.
Moreover, critics of the registry, including defense attorneys and privacy advocates, aren't even convinced it improves public safety. Studies have persistently shown that a majority of sex crimes are committed not by strangers, but by people whom the victim already knows. Some are concerned that the registry provides a false sense of security and makes it harder for sex offenders to build stable lives that make them less likely to re-offend.
Paul Heintz was on vacation last week.
The original print version of this article was headlined "Party Hopping"