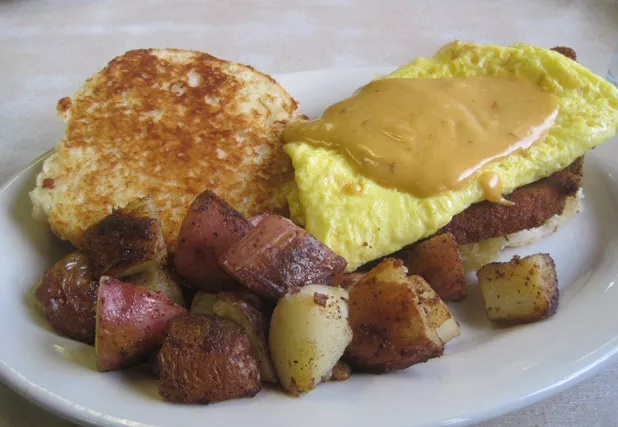 New Year's breakfast sandwich
In its 60th year, things weren't looking too bright for the South Burlington space long occupied by the Parkway Diner. In September, a lease issue forced diner mogul Bill Maglaris to close his 5-year-old Arcadia Diner there. But since late last month, the Worcester Lunch Car has been as busy as we've ever seen it.
That's thanks to new owner Corey Gottfried, who has revived the Parkway Diner name. The Colchester native says he's a lifelong diner aficionado who frequented now-closed Libby's Blue Line Diner since he was a kid. Following 10 years in the kitchen at Denny's, Gottfried worked his way through the kitchens of Maglaris' Chittenden and Franklin county diners, as well as that of Fletcher Allen Health Care, where he learned to add a local touch to his comfort cuisine. "I've got about 18 years invested in breakfast-and-lunch diner situations," says the young cook. "We care about what we do."
For now, the Parkway Diner is open seven days a week from 6 a.m. to 4 p.m., though Gottfried says he may soon drop Monday. Breakfast is served all day and includes all the basics, such as fluffy pancakes and cinnamon French toast, both served with real maple syrup. Gottfried roasts meats in-house for hot and cold lunch sandwiches. "You pull the turkey out to temp it, and there's a big whiff of turkey instead of just smelling perfume," he says, describing the olfactory rewards of his efforts.
Traditional sandwiches are joined by barbecue seitan, while the burgers include a black-bean patty and a beef burger with cheddar, bacon and apples. Gottfried says he plans to keep his set menu small to allow for fresh soups each day and other specials.
On New Year's Day, a Parkway special breakfast sandwich consisted of an egg and deep-fried pork tenderloin topped with chipotle Hollandaise sauce on a cheesy cheddar biscuit. Gottfried says he'll be experimenting with different versions of that dish, along with other slightly quirky takes on classic diner offerings.
As the season progresses, he hopes to begin introducing more local ingredients beside the maple, eggs and dairy he currently serves. Those may include veggies from a friend's organic farm in the Champlain Islands.
With Gottfried at the helm, the Parkway Diner is 61 years old and still learning new tricks.
The original print version of this article was headlined "Twice Bitten"