matthew thorsen
Teaching young athletes deceleration mechanics and proper landing techniques is a primary focus of Parisi's injury-prevention training. Here, Macey McGovern, 11, does a series of stationary jumps, aiming to nail each and every landing.
Every day kids toting water bottles tumble through the doors at the Parisi Speed School, located at the Edge in Williston. They range from pixie dynamos, like 4-foot-6-inch tae kwon do black belt Macey McGovern, to star high school athletes. Razor-stubbled South Burlington senior Connor Bradley, 6-feet-2-inches, plays hockey and baseball. Other kids play soccer, lacrosse or practice gymnastics. Some don't play any sport at all.
They all come for hourlong classes with kids their own age that help them develop their athletic abililty.
matthew thorsen
Performance coach Lauren Green and program director Mike Porter lead a Jump Start class, for ages 7 to 11, through the Wall Drive, an acceleration drill.
Parisi is a performance-enhancement training program based, in part, on the philosophy that speed is a skill. It's taught at more than 85 franchises across the country; the only one in Vermont is the Parisi Speed School at the Edge. The mechanics-driven classes focus on developing form and technique to build kids' confidence, speed, strength, agility and endurance, while lowering their risk for injury.
Founder Bill Parisi, a former All-American track and field star, started the program in 1992. He set out in a $500 van to teach his techniques to high school coaches and youth recreation leagues in New Jersey. He had already worked with New York Giants quarterback Phil Simms. As his program grew, other Giants players became clients. So did athletes from the Bengals and the Jets. Despite success with the pros and a well-known program for college football players, Bill Parisi's real passion is to empower younger kids, who can start Parisi training at age 7.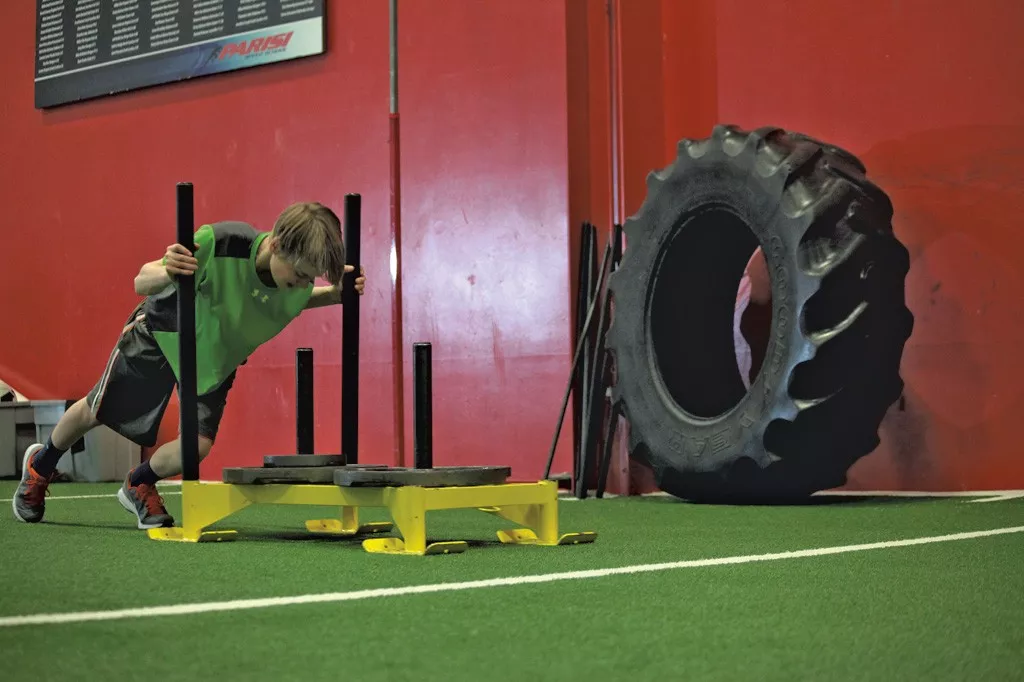 matthew thorsen
Matt Reinfurt, 13, pushes the Prowler Sled, a tool used in Parisi to develop speed and strength.
Macey, of Essex Junction, says Parisi has improved her speed and agility. She plans to run the 100-meter dash in track this spring. Connor credits the program with building muscle and raising his batting average. His Parisi-trained hockey teammate Brendan Lahue says the workouts have made it harder for opponents to knock him off the puck.
Program director Mike Porter and assistant program director Casey Lee have run the Parisi Speed School at the Edge since it opened in 2011. They want to help kids maximize their potential, as athletes and as human beings, Porter says. "This should be in every school in America," he adds. "This is what modern-day gym class should look like."