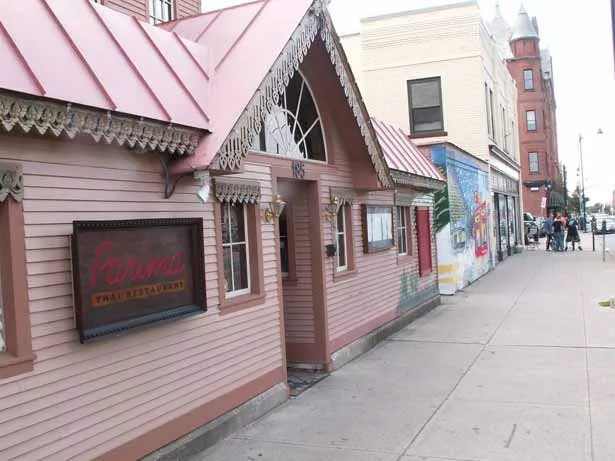 BURLINGTON - The City of Burlington is under fire from one downtown restaurant owner who, in the wake of losing his liquor license and entertainment permit, is lobbing verbal grenades at City Hall. Daryl Campney, co-owner of Parima Thai Restaurant, is accusing city officials of racism, underhandedness, illegal dealings and bullying tactics. He goes as far as to call Burlington's political leaders "a vindictive group."
City officials say the decision not to renew Parima's license was merely an attempt to get the Thai restaurant's owners to pay their bills, which treasurer's office documents show were long overdue. Nonetheless, Campney says he cannot endure any more harassment from City Hall and has decided to convert Parima into an apartment building this spring.
The situation, which has been building since January, came to a head earlier this month when the City Council and Mayor Bob Kiss opted not to renew the 185 Pearl Street restaurant's license due to hefty back taxes owed, effectively stunting the establishment's ability to do business. Treasurer's Office documents show that Parima owed the city $21,556 as of August 24, just 13 days prior to their license being pulled. The documents also show years of late payments by the restaurateurs.
Campney - who would not meet in person with Seven Days for this story but did email several responses to inquiries about the issue - charges the city with illegally revoking his license and promoting an anti-business atmosphere. "We are done with the City of Burlington," writes Campney, who co-owns Parima with wife Wanvadi Jotikasthira. He claims the city never offered him a hearing on the matter and simply pulled his license in order to cause the restaurant trouble. "Basically, the city council, lead [sic] by sub-committee chairman Clarence Davis, feels that Parima is unsuitable to have an entertainment permit," writes Campney. "I sense that since my wife and I are not black, and the fact that we host a Latin dance social, we do not meet his endorsement criteria."
Mayor Kiss, who says the decision to pull Parima's license was unanimous, admits the action is rare and couldn't remember a similar instance. "I hope the recommendation by the Local Control Board was based on facts and that people in similar circumstances would be treated the same," he says.
Davis, chairman of the Local Control Commission Subcommittee, which makes recommendations to the City Council regarding liquor licenses, assures his group's decision to pull the license was nothing personal. He also addresses Campney's comments regarding race: "To say that there is an issue of race involved here is totally ludicrous," he says. "As an African-American, I find that somewhat startling to hear."
Campney, who has since paid his bill, questions the city's motivation and approach. Since losing his license, he claims city police, the fire marshal and the health department have all visited him. "Interesting tactics from a 'business-friendly and liberal' city," he writes in an email. He also questions City Treasurer Jonathan Leopold's role in the decision and wonders if it is a smart way to bolster tax revenues. Campney observes Parima "has enriched the coffers of Burlington with over $90,000 in rooms and meals taxes and $170,000 in property taxes since 1994."
Assistant City Attorney Nicky Fuller is certain the city's actions have been legal. "One of the conditions of all liquor licenses is that you must abide by all local ordinances," she says. "Technically, it's a violation of your license if you don't pay."
Fuller clarifies that Parima's license was not revoked but simply not renewed, which does not require a hearing. Furthermore, she says Campney was given months to pay his bill and did not. In fact, Fuller says Parima's owners were made aware of the money owed back in January, and set up a payment plan with the Treasurer's Office. The city extended the restaurant's deadline to August 31.
The deadline was extended yet again, to September 5, and though the owners made a partial payment by that date, a balance remained. On September 6, Parima's license was pulled.
"To make a long story short," says Leopold. "We had several incidents where they failed to comply with the payment plan they had agreed to."
After catching up on their bills, Parima's owners reapplied for a new license recently, according to Fuller. But she says the owners opted to withdraw their application when they were informed it would take a couple weeks to process. Leopold says he met with Campney, who had requested the licensing procedure be expedited. "He felt that he was not being treated fairly," says Leopold.
"This is a bureaucracy," says Fuller. "You file an application and it has to go through certain people."
Parima remains open, but is not serving drinks.