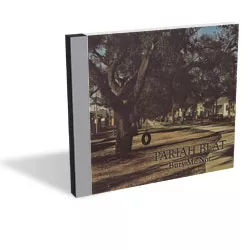 (Self-released, CD)
In music criticism, we talk a great deal about influences. In most cases, it's an attempt to describe music in universally relatable terms. For example, if I tell you so and so clearly listens to a lot of Bob Dylan, you immediately understand some basic characteristics of said artist's music without ever hearing it. It's an imperfect telepathy, but for our purposes it works, mostly. But what if we could boil down the various and disparate pieces that make an album and divine some elemental appreciation of its building blocks? Better yet, what if a band consciously did it for us?
Saddled with the nebulous "Americana" tag, Thetford's Pariah Beat have long traded in a genre-jumping mishmash of rowdy twang. Their debut full-length, Pariah Beat Radio, was a riotous and, at times, schizophrenic exploration of roots, country, rockabilly and any number of other trail-weary "alt" idioms. However, their sophomore full-length, Bury Me Not, reveals a more purposeful approach. In discussions presumably involving copious amounts of whiskey and vinyl records, songwriters Nick Charyk, Billy Sharff and Emily Eastridge distilled the scope of their influences down to three albums: Car Wheels on a Gravel Road by Lucinda Williams; Guitars, Cadillacs, Etc., Etc., by Dwight Yoakam; and Guitar Town by Steve Earle.
From the first notes of the raucous opening title track to the record's solemn benediction, "Family Pet," Pariah Beat have crafted a record that bows in reverence to their cowboy-boot-clad trinity. But the band transcends mere hero worship, applying members' collective and individual strengths to illustrate what makes Pariah Beat unique.
Sharff's "I Don't Want to Go to Heaven" is a humble, clever romp Williams would likely be proud to have written. Charyk's cheeky, hothouse-tinged "Elvis in Jerusalem," while stylistically divergent, reflects Earle's pointed wit. And Eastridge's playful "Ms. Ella Strickland" is a boozy piano rag that, at moments, is evocative of each of the band's trio of inspirations while sonically removed from all of them.
Other cuts, such as "1000 Songs" and the cowpunk scorcher "Rosary Beads," draw a more direct lineage, particularly to Earle. Still, while this band wears its influences on its flannel sleeves, Bury Me Not remains a unique and unpredictable record.
The flaw in citing an artist's influences to describe his or her work is that it fails to completely address the merits of the artist in question. Dylan may indeed have inspired our aforementioned friend. But that doesn't mean that, just because you love Highway 61 Revisited, you'll dig our fictional pal. (An ironic truth: Dylan has influenced a far greater number of bad songwriters than good ones.) Regardless of our chosen discipline, we are all products of our influences. What matters is how we wield those influences as a reflection of ourselves. With Bury Me Not, Pariah Beat have expertly done just that.
Bury Me Not is available at PariahBeat.com.