Courtesy Of Randi Becker
Sebastian and Aviana homeschooling
On September 8, students across Vermont returned to school, whether that meant a traditional classroom, a home setup or a virtual one. The fall semester of this pandemic year was months in the making, with hard choices along the way. Doubts and uncertainty remained as schools opened their doors for the first time in almost six months.
What was week one like?
Find out what these folks said:
In July, Seven Days reported on the record numbers of parents turning to homeschooling. Other parents told us they felt that sending their kids back to school was their only choice. Vermont's education leaders publicly expressed concern about staffing shortages, given that many teachers and other school personnel face their own health concerns or childcare issues.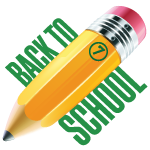 Meanwhile, schools prepped outdoor classrooms, socially distanced desks and online learning platforms. Their COVID-19 strategies vary by district — sometimes within districts — and include fully in-person learning, fully remote learning and hybrid models that have students in school for a few days a week and remote for others. The Vermont Department of Health is expected to assess in the coming weeks whether Vermont schools can be moved to "Step III" of reopening, with more relaxed protocols.

The Burlington School District reopened with a hybrid model on September 8. The next day, Burlington High School and Burlington Technical Center
closed due to hazardous air quality
— unrelated to COVID-19 — and
will remain closed for the rest of the semester
. The Winooski School District reopened with a hybrid model on September 8.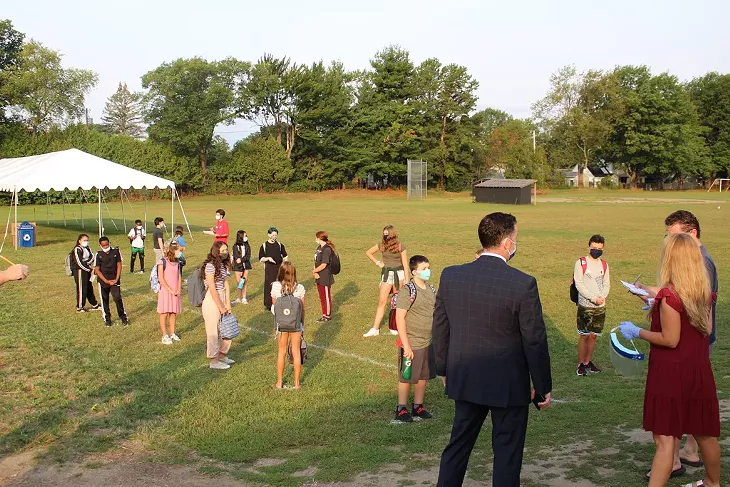 Courtesy Of Burlington School District
Students lining up for health checks on the first day at Lyman C. Hunt Middle School in Burlington
So far, three schools have reported COVID-19 cases, Crossett Brook Middle School in Duxbury, Hartford High School in White River Junction, and Williamstown Middle & High School. None has led to larger outbreaks as of press time.
Courtesy Of The Winooski School District
A student at JFK Elementary drawing a masked self-portrait
Even if everything goes smoothly, this is bound to be one of the strangest back-to-school seasons Vermonters have ever seen. We wanted to document it, but because of health and safety guidelines prohibiting outside visitors, reporters couldn't be there in person. So we asked parents, teachers, students and school staff to share videos, photos and written accounts of their first week of the school year.
Here are some of their stories, edited for length and clarity.
Saybra Varisano
Varisano is the elementary school counselor at Bellows Free Academy Fairfax.
Courtesy Of Saybra Varisano
Sign at Bellows Free Academy Fairfax
September 8: I think all of my colleagues agreed we couldn't imagine having been ready to have students on our original start date. I was grateful to have the extra time to prepare and meet with teams and connect with families. As a Guidance Department, we had to determine what our role could look like while adhering to the COVID guidelines. On the other hand, the more time we had to prepare, the more time there was to anticipate all the things that could go wrong and perseverate on all the uncertainty ahead.
The beginning of the school year is usually an exciting time filled with hope and potential; this year had a very different vibe. The weeks leading up to today required an intentional mindset shift from fear and dread to optimism — or something close to that. I honestly doubted my ability to do it, but somehow, I woke up excited to be reunited with students and determined to be a force of positivity for staff and students.
On my commute to work, I passed a young child waiting for his school bus, and the sight of him standing there, masked, somehow caught me off guard and was enough to provoke tears. I allowed myself a little cry before regaining my composure and getting into "counselor" mode. After my mandatory temp check at the door by our new digital security guard, and a few moments to settle into my office, it was time to greet students as they arrived.
I thought about how scary it probably was for some of our brand-new students to be stepping foot in the building for the first time ever, and how scary it probably was for new parents/caregivers to send kids off to a school full of strangers. When you have years of first days of school under your belt, you develop a vision of what to expect, and this one was so unlike any of the others. Staff and students frequently acknowledged how "weird" the circumstances were throughout the day.
courtesy of Saybra Varisano
Sign at Bellows Free Academy Fairfax
September 9: First remote day. Bizarre to follow the momentum of the first day back by a day working from home. My day included a Zoom meeting with other counselors and psychologists in the district. It was cathartic to have time to debrief the first first day and plan for the second first day. I've dusted off my blue-blocker glasses in preparation for the Wednesday Zoom marathons to come.
September 10: Today felt like a very positive day. It's a relief to get the "first days" over with and be able to gauge how students are adjusting to the return. I am so proud of our students and forever impressed by their resilience. They grumble about the masks, but for the most part they are doing so well with wearing them. Many students shared how excited and happy they are to be allowed to come to school again. I'm finding myself noticing the positive impact of smaller class sizes.
September 11: Still acclimating to the quiet in the hallways. We no longer have the morning stampede of energetic children rushing to their classrooms; it's now a slow trickle.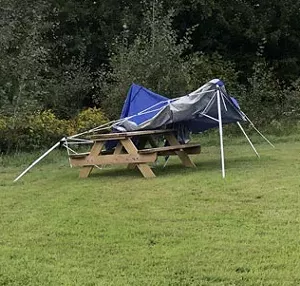 Courtesy of Saybra Varisano
Tent fail at Bellows Free Academy Fairfax
Although I've been keeping most of my meetings with students outdoors (even though my vision of setting up an outdoor tent office has become a comedy of errors), I had the first student in my (small and windowless) office in nearly six months. I found myself distracted by thoughts of Is this unsafe? Despite precautions with handwashing, disinfecting, Plexiglas, distancing and air purification systems, it's easy to question it all and remember that it really is a house of cards. Overall, students have continued to be successful socially and emotionally.
Is it a honeymoon? Probably. Rumors of mandates for Vermont elementary schools to return to full-time in-person learning have many on edge — myself included. It's difficult to imagine having all students in the building while maintaining safety protocols. I know that the adult-to-student ratio is currently mitigating behavioral challenges, and students are getting more social/emotional needs met.
September 13: Behind-the-scenes prep for me includes pushing out remote Social Emotional Learning activities. I've been preparing my Bitmoji office.
September 14: I taught my first classroom guidance lessons since March. I initially felt so rusty. I really am loving the small class sizes and the calm flow throughout the building.
September 15: In a lesson with third graders, they shared the things that are hard about this school year: masks, not being allowed to hug or high-five, having to stay in their classrooms for lunch, having to stay in an assigned recess zone, not being able to see friends who are not in their class or who are scheduled on different days. They were able to identify things that were positive about the new year, too — many of them, like how much quieter their classrooms are and [how they] are grateful to be back to school in-person.
Staff wellness continues to be one of my highest priorities/concerns with this transition back to school. Today I saw that some of my colleagues were beginning to really struggle with the stress and demands of juggling in-person with remote learning: technology headaches, being displaced from their classrooms (as many teachers are mobile this year to prevent students from physically transitioning to different spaces), and just keeping up with the new protocols and trying to work around restrictions. I'm in awe of their abilities to put on a poker face and set the tone for a positive and calm classroom.
Yatrika Dhamala
Dhamala is a senior at Winooski High School doing hybrid learning.
The biggest struggle of doing virtual learning: When you get kicked out of your meeting, because of the internet or whatever, and can't get back in.
Crista Yagjian
Yagjian is a literacy coach living in Guilford and working in Wilmington. Her husband, Eric Feindel, homeschools their son, Nate.
Last year we decided to homeschool while our son, Nate, was healing from hip surgery. Nate is 12 and has Down syndrome. Having developed a full homeschool schedule and routine last year made it much easier for us to decide to continue to homeschool this year. My husband stopped working as a surveyor and was Nate's primary instructor.
Nate is an absolute pro at wearing a mask. I think wearing a mask and washing hands have just become routine for him and he doesn't think much of it at this point.
Courtesy Of Crista Yagjian
Nate at equine therapy
Our work will still be focused on keeping Nate healthy and giving him social connections. Right now, we are spending a lot of time outside with him and connecting with others outside when we can. We are not sure what this will look [like] for him once winter is here, but for now Nate is happy and healthy.
Angela Arsenault
Arsenault is a freelance journalist living in Williston and a member of the Champlain Valley School District school board. Her kids, Lionelle and Dash, are in 7th and 5th grade and are doing remote learning at home.
Courtesy Of Angela Arsenault
Dash and Lionelle doing remote schooling
Our school prep this year was focused on decluttering. Rather than our usual trip to the school supply aisle of our favorite box store, my kids and I dug down through the layers of stuff and nonsense in our playroom. This playroom transformation was instigated by our family's decision to opt into our school district's all-remote option for the year and a corresponding need to create a "school room" inside our house.
With reasons ranging from my kids' reservations about daylong mask wearing and physical distancing to my own feelings about forcing teachers to add "virus-prevention police" to an already-unrealistic list of expectations assigned to them, it was a unanimous vote. Of course, we were only afforded the luxury of this vote thanks to our unique work situations. As a freelance writer, I've worked part-time from home for years. My husband (a touring musician) is riding out his forced pandemic furlough, which means he's around and able to provide back-up support.
We haven't created anything resembling a teacher's thoughtfully inviting space, nor do we have a way to replicate the social interaction enjoyed at school. But this freshly decluttered room is where our kids will experience a year of middle school as they live through history.
My 12-year-old daughter and I recorded our thoughts several times over the course of the first week of school. Here's a condensed version of our musings.
Michelle Steele
Steele teaches French and Spanish at Middlebury Union High School and has three kids, ages 4, 6 and 9.
Courtesy Of Michelle Steele
Outdoor learning tents at Middlebury Union High School
August 19: First day of in-service. I haven't been inside the building since March 18th. In June I stood out front and waved at our parade of seniors, but other than that, I haven't been back.
As I pull into the school parking lot, the tears stream down; it all comes out. So many big feelings: fear, anxiety, hope, a desperation to return to some kind of normal. I feel a driving determination to get this right for the students, excitement to see them again, but also an underlying current of fear that is difficult to put my finger on. It isn't just a fear about getting sick, but a fear of the heavy lift we are about to undertake, a worry about serving our community in the best way we can, anxiety for our students and everything they've been going through during the closure. I don't know what to expect, but I'm here.
August 28: Eighth day of in-service, and I am struck by how much we still don't know. I'm sitting in a staff meeting with 40 other people, spaced out in designated seats around the auditorium, and we have so many questions. And for most, there are no clear answers yet. Some are big picture, and some are practical.
I believe we will figure it out. We will get there. But it is hard to even begin to plan for the first day of school when there are so many unknowns, from where I'll be teaching [to] how I'll be teaching [to] how I'll be keeping kids safe.
I am continually inspired by everyone around me. Not only our collective strength, determination and resiliency, but our innovation and flexibility. My leadership team is listening, my colleagues are thinking every detail through, and although there is fear and frustration, there is also a collective determination to do the best we can for our students.
August 31: It's 8 a.m., driving to school. I have five workdays left until school begins. I'm not even close to ready. As I approach the school building, my heart rate picks up and my chest tightens. Tears sting at the corners of my eyes. I've never had anxiety before. But the weight of what we teachers are being asked to do hits me.
I've had to think through life or death scenarios before. I've had to think about how to keep kids safe during an active shooter incident, even role-play with Nerf guns. But to keep kids (and by extension, their potentially vulnerable families) safe during a global pandemic? Never mind teaching, building relationships, delivering content ... just keeping them safe ... the enormity of this responsibility hits me, and if I think about it for too long, I can't quite breathe.
September 3: Two days of prep left! I'm nowhere near ready.
Today is exciting because we have freshman orientation! The ninth graders come to school and do a "walk-through" of their schedule, attending each class for five minutes to say hi, meet teachers, etc.
I suddenly realize that there will be students in my classroom. Students in my classroom! I scramble to make sure I have disinfectant and gloves ready, check in with colleagues to see what I am forgetting, and make sure the desks are still set up six feet apart. Getting into these new routines is going to take a lot of practice!
Courtesy of Michelle Steele
Michelle Steele
September 4: Got face masks, face shields, disinfectant and gloves, desks spaced out, 12 different seating charts done, four sets of weekly plans for three different cohorts ... Am I ready? Everything is screencasted and hyperlinked, posted and planned ... Am I ready?
September 7: Tomorrow is the big day! My kids are starting fourth grade, first grade, and my youngest is starting her second week of preschool. There is a little separation anxiety going on in our house (and I'm not sure who is worse, the parents or the kids). To ease the separation, we made ourselves matching friendship bracelets for the first day. We've been home together since March, and this first day back marks a big transition for all of us.
September 8: The day went great, on all fronts. The kids loved school. My day with my classes went well. Perhaps the hardest day of my teaching career yet but also one of the most exciting (and most memorable). We are all too exhausted to do much of anything. Early to bed!
September 11: A quick look at Facebook this evening, and it dawns on me that it is 9/11. I was so absorbed in the week, back to school for me and my family, it never occurred to me to mark today in any other way.
The end of the first week! Phew, we made it. And I have to say, it was hard, but not as hard as I imagined. Reconnecting with students, and seeing them reconnect with peers, was thrilling. I am amazed by how adaptable we all are, especially the students. Practices like distancing and masks that I thought would be awkward or hard or inhibit community and communication are quickly adopted as normal, and I sit in awe as my homeroom lunch group is chatting away like nothing's ever happened.
I'm enjoying more time outside, and [I've] given myself permission to take more mental health breaks (and yoga breaks!) throughout the day. I'm inspired by my colleagues, share their frustrations and stress, but also feel a new sense of solidarity with them. For now, I feel safer than I thought I would. After the initial shock of being around so many people for the first time in months, it already feels normal again.
It is still challenging living and teaching with so much uncertainty, and parts of this new routine still feel awkward and difficult. Planning the next week already feels overwhelming, at times impossible. The certainty of frequent absences (for staff and for kids) looms large. But I'm a teacher; it is what I do and who I am.
At the end of the day, it just feels right to be back with the students. Amidst the fear and uncertainty, I hope we can keep everyone safe and in the classroom for as long as possible. Thank you to all the families and students doing their part to screen at home [and] wear their masks, and taking care to keep us all healthy!
Randi Becker
Becker is an art therapist and a first-time homeschooling parent in Williston. Her kids are Sebastian, 11; Aviana, 8; and Finn, 5.
Courtesy Of Randi Becker
The Becker kids homeschooling
The choice to homeschool for us was a difficult one and also a privileged one. It is not lost on me that I am lucky that I can make this choice to provide a different education from what is being presented, both in the public setting and private, during the time of COVID. It is not without my own sacrifices as a professional and a deep belief that this is the right path for our family at this time.
Ultimately, [my husband and I] chose this path because we felt the negative impact of the COVID restrictions, for in-person schooling, far outweighed the benefits. Another huge consideration was, if the schools do have to shut down, I did not want to manage three different grades of virtual programs. Homeschooling was a way we could all know what to expect in a time of so much uncertainty.
I think to make this year a success, both my children and myself will have to remain open and honest in our communication on what is working and what isn't. I will have to face my fears as a good enough parent and surrender. I think facing challenges is our greatest strength as humans, and if we can do that together, we will be better for it.
I asked my 8-year-old daughter, "What are the best and worst things about homeschooling so far?"
She said, "The best thing about homeschooling is the freedom. I love being able to choose what to do. Let's say I want to do my needlepoint, and then I want to do a little math. I can. Every day I am not forced to do the same thing over and over again. You get to choose what you want to do, not what you have to do. The worst thing is that I don't get to see my friends every day, but I get to be with you and Seb and Finn, which is really nice."
Leanne Harple
Harple is an English teacher at Hazen Union High School in Hardwick.
We have to wipe down whatever chairs and desks that students were at as soon as they leave, before other kids can use them. Even the ones outside. Sometimes when there are back-to-back classes, kids are backlogged in the halls waiting for me to finish up wiping everything down. That's something that we need to figure out still.
There's a lot that we need to figure out still. Little details keep popping up that we didn't think of. The first day, I came into my classroom and brewed a pot of coffee; then, by the time it was ready, students were coming in and I suddenly realized that I couldn't drink it because now I had to have my mask on. But since then, we've decided that we can drink coffee or water and just pull our masks aside when we need to take sips.
Steven Marinelli
Marinelli is the food service director for the Milton Town School District.
Courtesy Of Steven Marinelli
Milton food service workers food service workers preparing meals
We deliver meals to each classroom instead of kids eating in the cafeteria. Many classes have taken advantage of the nicer weather and are eating outside. The biggest challenge is to have a good delivery and pickup system. With mandatory compost and recycling, it has made our task even harder. We have set up each classroom with compost and recycling bins. The biggest benefit I have seen so far is the small class sizes, which allow teachers more time with individual students and their needs.