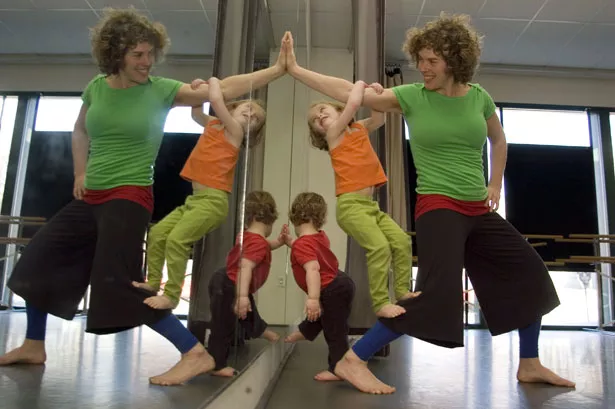 A collection of 13 moms, three dads and 16 kids ran in unpredictable circles across the floor of the FlynnSpace in Burlington last Friday afternoon, waving their arms, smiling broadly and barely avoiding collisions, while a 6-year-old girl plinked idly at a piano and a toy ball arced overhead.
"Try sideways . . . now try backwards . . . now change direction suddenly," came a series of commands from just off the floor, issued in a voice that managed to cut through the din.
What seemed at first like an active, well-attended play date was actually preparation for one of a pair of dance pieces to be performed at the FlynnSpace this Sunday. The voice guiding the movement was Burlington dancer/artist Rachel Siegel, who smiled as she explained how she keeps order - or doesn't - at a rehearsal with kids running in all directions.
"Well, that's part of the point, really," Siegel said. "The performance I'm putting together is, in part, about the inspiration and chaos that kids bring to your life."
Siegel and fellow dancer Joy Madden, who lives in Essex, were co-recipients of the Flynn Center's fall 2007 New Arts Space Assistance (N.A.S.A.) Grant. Both wanted to express the dynamics of parenthood through dance, and each will present a different take on the emotions involved in her work-in-progress show. Madden's piece, entitled "The Arrival," focuses on the impact the birth of her second child had on her life, and includes material from interviews with her 3-year-old daughter, as well as from her journal entries and the reported experiences of new parents.
Like Madden, Siegel wanted to include other moms and dads in her show, called "Before and After: Kids." She went a step further, however, by inviting some of them - and their children - to be part of the dance itself.
"There will definitely be trained dancers and set movement material that the group will do in unison," Siegel explained. "But part of the performance will also be to have parents come out with their kids at a certain point and take part. It might be that kids will disrupt the movement . . . or we'd have to adjust it to allow for them being there. In some cases that means you can't do the movement any longer," she adds, "and in others, it makes it infinitely more beautiful as a result."
Siegel credited her 4-year-old daughter and 18-month-old son with inspiring her show, but also cited her sense of alienation from modern dance, and a need to break free of its constraints.
"It really bums me out that so much [of modern dance] is inaccessible, both practically - in that non-professionals can't participate - but also spiritually," Siegel said. "Dance is supposed to be community forming, and one of the most important things I've learned after a period of extreme new-mother isolation is that parents need all the community they can get."
After she excused herself and lay down on the floor, eight kids tried to lift and move Siegel in a technique she called the "tug and schlep." Though the improvised moment might have raised the hackles of Martha Graham devotees, suffering for one's art never looked like so much fun.