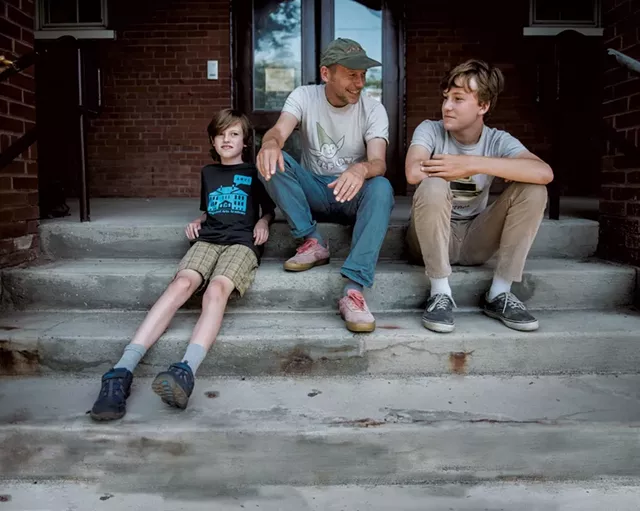 Sam Simon
James Kochalka, 50, Vermont's first cartoonist laureate and author of the Johnny Boo series of graphic novels, with sons Oliver, 10, and Eli, 15
Every morning for years you've drawn your cartoon character, Johnny Boo, in your kids' elementary school classrooms when you drop them off at school. When did you start?
James:
I think I started when Eli was in second grade. And the only reason I didn't do it before then was I couldn't find a whiteboard in his classroom to draw on! I just go in every morning and draw, as long as the teacher is into it, of course. If they're not, I don't do it!
It's like a morning greeting?
James: Yeah, I try to pay attention to what's going on that day at school and kind of follow the theme.
Oliver, do your friends ever talk about the daily Johnny Boo?
Oliver: Yeah, sometimes.
James: I think his friends are probably more into it than he is most of the time!
Eli, did you miss the Johnny Boos when you went off to middle school?
Eli: (laughing) Uh, no.
James: I mostly do it because I want all the kids to start off the day happy, so maybe if I do this little thing that starts their day off in a good way, the whole class will have an easier day the whole way through! Ollie, do you think it works?
Oliver: Yeah, it does.
Eli, it's your second year of high school. Are you excited for the first day of school or dreading it?
Eli: Kind of dreading it. I don't really want to get back into the schedule of school.
James: Maybe I could come in and do a huge Johnny Boo mural at the high school!!
Eli: (laughing) No. Please don't!
Want to be featured in an upcoming Parent Portrait? Email us at ideas@kidsvt.com