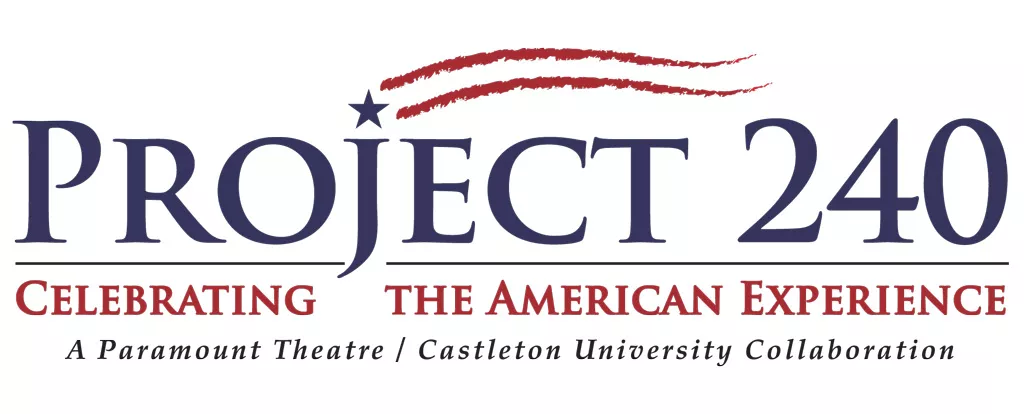 It's been incubating for nine months, and this week Rutland's Paramount Theatre and Castleton University are happy to announce the birth of ... Project 240! Both the performing arts organization and the university are excited to tout their unprecedented collaboration, which they're doing at a press conference-and-cocktail party on Wednesday, August 19.
Project 240, explains Paramount's executive director Bruce Bouchard, is an ambitious series of 17 presentations to take place at the theater over 14 months. The series will combine civic engagement, education and entertainment and aims to engage community members and college students alike. (Only the students will be required to write papers about it.)
Presentations include live, high-definition broadcasts of the Democratic and Republican presidential debates and conventions; renowned filmmaker Ken Burns showing clips from his "American Experience" series; a program of patriotic music by the U.S. Army Brass Quintet alongside Castleton student musicians; the satirical group the Reduced Shakespeare Company performing "The Complete History of America (Abridged)"; and more. And on election night 2016, Bouchard says, "We'll host the biggest party ever at the Paramount!"
He describes the series' genesis like this: "I kept thinking, 2016 is the 240th year of our republic. I invited Rich [Cowden, director of the fine arts center at Castleton] down here to riff. We talked for four hours. I said, 'What if we were to do a project that was about civic engagement, reflected the political season of 2016 and had entertainment options?'"
Cowden also had his school's educational curricula in mind. He described himself and Bouchard as "politicos," and said they found common ground. How can we contribute to the Rutland community, to civic engagement and to the university mission? Cowden remembers thinking. About Project 240 he says, "What a great way to demonstrate in a real and tangible way what we mean by 'liberal arts' ... One of our lofty goals is to elevate the discourse."
Both Bouchard and Cowden see civic engagement as the heart of their bipartisan — and mostly free — series. For example, local hosts from politics, academia and journalism will provide commentary before the debate screenings and moderate discussions after. "People can debate the debate," Bouchard says.
"The meat and potatoes of the program will be the general election debates," he continues. "[Washington correspondent] David Sanger of the New York Times is [hosting] one." Offers are out to Vermont politicians past and present to host other events.
Project 240 is not the first collaboration of the Paramount and the nearby college — recently rechristened a university. Last year, Bouchard says, the institutions copresented two events that "were very successful and brought in a lot of students."
The university has extended its presence in Rutland in recent years with the Castleton Downtown Gallery, as well. And four years ago, Bouchard says, CU President David Wolk looked into purchasing a building adjacent to the theater with the intention of creating "a spectacular black box theater." Though that project was designed and received a federal grant, it is on hold for financial reasons.
With Project 240, both institutions — along with the Castleton Polling Institute — expect not only to attract students and local residents but to have an impact on voter registration. "Wouldn't it be cool if we went back after the election and Rutland City spiked in voter turnout?" Cowden says.
Asked what the university gets out of it other than enhanced classroom curricula, he replies, "Selfishly, does Castleton get exposure from this? Yes, absolutely, but it's the kind of exposure we want. We want to show our friends in the media that there were 500 students in the audience." Many of Castleton's undergrads, Cowden continues, "are first-generation college students. A lot of them underestimate what is out there [in the world] and how they can contribute to it."
For his part, Bouchard says that the "future health of nonprofit arts organizations may exist with [their] nearest college or university." With Project 240, he hopes to fill the Paramount with engaged citizens. But also, he says, "We get a relationship with one of our most important neighbors."