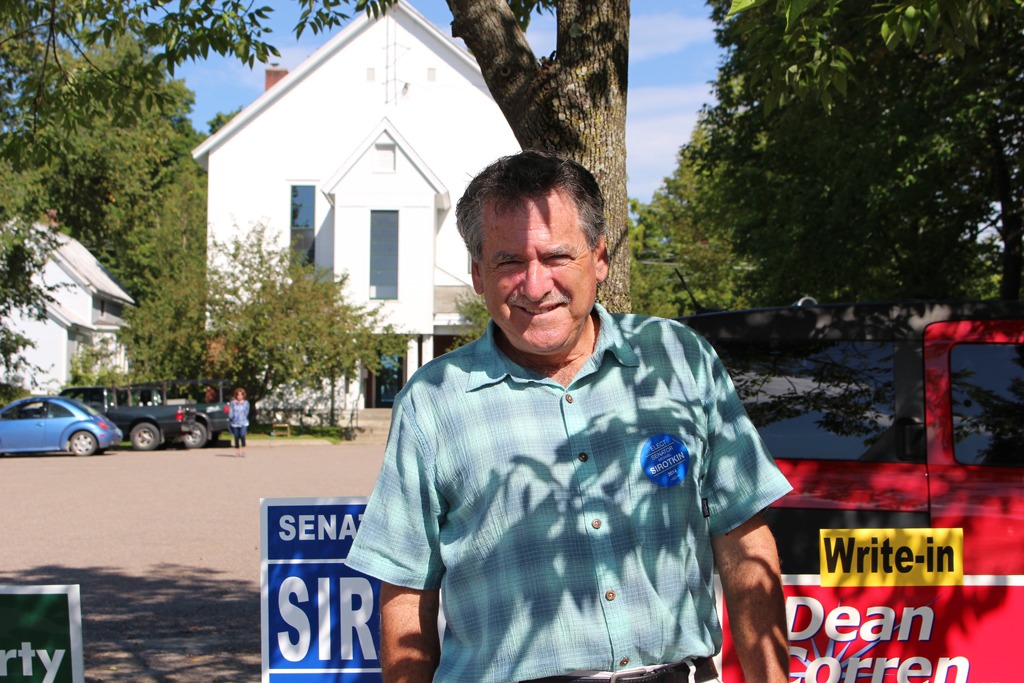 Paul Heintz
Sen. Michael Sirotkin on primary election day.
When veteran Vermont lobbyist Michael Sirotkin was appointed to the Senate last January, he pledged to sever ties with the profession that had defined him for three decades.
He immediately resigned from Sirotkin & Necrason, the influential lobbying firm he cofounded in 1998, and sold his ownership stake to longtime partner Adam Necrason.
Asked at the time whether his old job might complicate his new one, Sirotkin said, "There would be some challenges. I think not as many as people would think."
As a lobbyist, he reasoned, "most of the people I've advocated for directly are grassroots kinds of interests, and those are the kinds of interests I'm most interested in." His late wife, Sen. Sally Fox, whose January death created the vacancy, was known as a champion of the poor and underrepresented. In completing her term, he said, he would strive to emulate her.
This fall, Sirotkin is running in his own right for one of Chittenden County's six seats in the Vermont Senate — and his contacts in the lobbying world appear to be coming in handy.
To date, the senator has raised $2,900 in campaign contributions — more than 40 percent of his $6,865 total — from five organizations for whom he used to lobby: Marijuana Policy Project ($200) and unions representing state troopers ($200), carpenters ($500), plumbers and pipefitters ($1,000), and Teamsters ($1,000).
Sirotkin isn't just helping himself. A self-described "avid golfer," he volunteered to help organize the Senate Democrats' annual golf tournament fundraiser in Killington next weekend — and to recruit his former colleagues to take part in it.
In an email he sent to registered lobbyists and others late last month, Sirotkin wrote that he had "the new humble role of asking my former peers to line up their organizations, clients and themselves to participate in the event and, if a good fit, to ask their clients/organizations to offer up some of our higher quality tournament prizes."
"Please help me make my first transition to a Senate 'ask' an exceptionally good one," he continued. "My committee assignments may depend upon it ......."
That last line, Sirotkin now insists, was a joke — and the email itself "was all in humor."
"I can't see how anybody would see this as anything more than a lighthearted attempt at humor to promote attendance," he says. "One would have to be incredibly humorless or unfamiliar with the legislature — or both — to see this communication as heavy-handed."
Maybe so. But should a lobbyist-turned-senator be taking campaign cash from his former clients? Should he be encouraging them and other registered lobbyists to donate to a political action committee charged with returning him and his colleagues to office?
According to Sirotkin, "It would defy common sense to not connect with those most likely to attend." He says he volunteered to help organize the fundraiser not because of his familiarity with lobbyists, but because, "I know golf and how to put a tournament together."
Precisely who Sirotkin invited to the tourney is unclear. He says he sent the email to roughly 150 "lobbyists or other people I worked in the building with," but he refuses to provide a list of recipients.
Were any of Sirotkin's other former clients — among them: Comcast, Dominion Diagnostics and Gun Sense Vermont — included in the email?
"I'm sure there are past clients of the firm that are in that group of 150," he says.
There's nothing illegal or even unusual about Vermont legislators hitting up registered lobbyists for campaign donations. Though they're barred from doing so while the legislature is in session, they can wait until adjournment or simply launder the money through PACs run by legislative leaders.
So far this year, every last donor to the three PACs run by the Senate Democratic caucus has been a registered lobbyist or an organization that employs lobbyists. Recent donors have included Pharmaceutical Research and Manufacturers of America ($500), tobacco giant Reynolds American, Inc. ($1,000), Gun Sense Vermont ($1,000) and Montpelier lobbying firm KSE Partners ($1,500).
That money is then parceled out to Democratic candidates facing the toughest contests. In March, the PACs gave Sirotkin's campaign $1,000.
Senate Majority Leader Phil Baruth (D-Chittenden), who oversees his caucus' PACs, acknowledges that next week's golf tournament is geared toward lobbyists and other "statehouse regulars." But he says that, since he joined leadership in early 2013, he has instituted a new policy banning the PACs from raising money while the legislature is in session.
The same can't be said for House Democrats, who hosted two dozen lobbyists at a $500-a-head fundraiser in April, just days before the legislature adjourned.
Baruth and Senate President Pro Tem John Campbell (D-Windsor) both say they see nothing wrong with Sirotkin's email, which they agree was meant to be humorous.
"Basically, what he's doing is he's soliciting campaign donations, and I'm not sure there's any problem with that," Campbell says.
As for whether it's appropriate to exchange one-on-one senatorial tee time for PAC money, Campbell says, "If somebody thinks they're buying access, it certainly isn't happening with me."
And about those committee assignments?
"I certainly hope [Sirotkin] is joking about that, because if he thinks he's going to get any special assignments because of that, he's absolutely wrong," Campbell says.
TV Time
Sirotkin's hardly the biggest fundraiser in Chittenden County's notoriously expensive Senate race.
Ahead of him in the money chase are Democratic newcomer Dawn Ellis ($7,183), Progressive/Democratic incumbent Sen. Dave Zuckerman ($15,751) and Republican newcomer Joy Limoge ($30,304).
Sirotkin's fellow incumbents — Democrat/Progressive Tim Ashe, Baruth, Democrat Ginny Lyons and Republican Diane Snelling — have all raised less.
Limoge, a Williston real estate attorney, has collected so much cash that she's taking the unusual step of buying television ads in a state Senate race.
"My whole campaign has been about balancing out the House and Senate," she says. "In order to get that message out there, I need to make sure that people hear me, see me personally deliver that message."
To that end, Limoge spent $1,500 last month producing TV ads, which will launch later this month and feature former governor Jim Douglas and House Minority Leader Don Turner (R-Milton).
Limoge says she's already committed to spend $12,000 advertising on cable television and radio and in local movie theaters.
"I don't know how much more we're going to spend," she says.
Mr. Smith Goes to...
Need to fill a leadership void at a troubled Vermont institution? Fear not. Just call a Smith!
That's what Burlington College's board of trustees did last week after the unexpected resignation of president Christine Plunkett. Over Labor Day weekend, trustee Tom Torti and board chairman Yves Bradley recruited former FairPoint Communications state president Mike Smith to serve as the college's interim president.
It's what the Vermont PBS board did in April after the surprise departure of longtime president and CEO John King. The station's board called up Charlie Smith, a former regional president of KeyBank, who agreed to hold down the fort until a permanent replacement could be found.
And it's what Vermont Technical College did that same month when president Philip Conroy was forced out. Replacing him on an interim basis was Dan Smith, director of community relations and public policy for the Vermont State Colleges.
"You have to be a Smith," Mike jokes.
The Smiths have more than a surname in common. Charlie is Dan's uncle. (Charlie's brother and Dan's father, Peter Smith, served as Vermont's lieutenant governor and congressman.) And each has run for public office in his own right: Charlie and Mike, who are not related, were seatmates in the Vermont House in the late 1970s, and Charlie ran for the state Senate in 2010. Nephew Dan ran for mayor of Burlington the year before.
All three worked for former governor Douglas. Charlie and Mike took turns as the gov's secretary of administration and secretary of human services, while Dan served as a staff attorney.
According to Charlie, taking the reins of a troubled organization requires leadership, management experience and an inquisitive approach — but it doesn't necessarily require knowledge of the institution in question.
"I think it's important to believe in the mission of the organization," he says. "But you don't need to know how to run the camera or run master control or do the editing or the production work."
Having served in high-profile roles in the public and private sectors, the Smiths are well acquainted with the types who fill out Vermont's nonprofit boards, providing them a natural "in." And as self-employed 60-somethings, Charlie and Mike have the flexibility to pick up a new — albeit interim — job on a dime.
"We're available," Mike says. "That's half the battle."
Of course, there are some differences. Unlike Charlie, Mike points out, "I didn't go to Harvard."
Media Notes
Last Wednesday morning, some 70 USA Today employees became the latest casualties in a season of layoffs at Gannett, Inc. Within 15 minutes of the announcement, their email accounts were suspended, and those who were in the company's Virginia headquarters were promptly escorted out.
The news came less than a month after Gannett announced it would split in two. One entity would retain the company's profitable assets, including local television stations, CareerBuilder and Cars.com. The other would take its far less profitable newspapers, including the Burlington Free Press and 80 others, which would now have to fend for themselves.
The day after the announcement, Free Press publisher Jim Fogler told Seven Days' Alicia Freese that he considered it "very exciting transformational news from the Gannett Company yesterday."
"No concerns at all from your Free Press Media," he added.
But almost immediately, five Gannett papers informed their employees they would have to reapply for newly renamed jobs with spoof-worthy titles such as "engagement editor" and "content coach." With fewer editors on the beat, reporters would have to be more "self-sufficient" and produce "publication-ready copy," the executive editor of the Tennessean told the Poynter Institute.
While Gannett has pitched the plan as a move toward the "Newsroom of the Future," industry analyst Ken Doctor says its net effect will be 15 percent budget cuts throughout the company's newsrooms.
"The Gannett thinking is that print advertising will continue to decline at about the same rate that it has, which has been 8 percent a year, 2011 through 2013," he says. "The idea is to get ahead of those trends and not have more piecemeal cutting."
Like many Gannett papers, the Free Press has suffered piecemeal cutting for years. The latest round came just last summer, when the paper laid off 15 employees, including roughly five newsroom staffers. After another retirement, it later hired back at least two of them.
So will Free Press reporters have to re-apply for their own jobs? Fogler ignored several follow-up inquiries over the past three weeks, but Poynter media business analyst Rick Edmonds says he expects they will.
"It's very typical of them to start something at four or five pilot markets ... and then refine the shape of it and then roll it out to most of the rest," he says.
After years of staff cuts and price increases, the Free Press is already feeling the pain. As Seven Days reported in May, the Freeps lost nearly 21 percent of its Sunday circulation between March 2013 and March 2014.
Edmonds says there may be at least one upside to the Gannett split. "Maybe it will hasten the changes and the big gambles that are necessary," he says. "I mean, newspapers have to have something going for them aside from being attached to other profitable businesses."
The original print version of this article was headlined "Par for the Course"