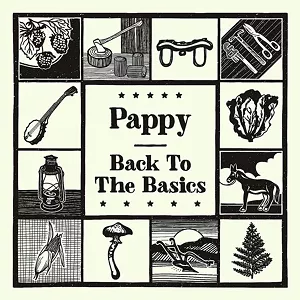 Pappy, Back to the Basics
(Self-released, CD, digital download)
There are a few basic tenets for good bluegrass. Well, depending on your level of adeptness in the field, there are probably a lot of tenets. I don't have that many: I want songs that make me feel like I'm right smack-dab in the fucking Blue Ridge Mountains; I want songs about being lonely as hell; I want ripping mandolin and banjo; and I want to be transported to a magical place from another time. Maybe that's just me. Either way, the good news for this guy is that Pappy's new EP, Back to the Basics, checks off the whole list and then some.
Pappy, aka Pappy Biondo, is starting a second phase of his career. The acclaimed banjo player and songwriter was once part of the Pennsylvania-based progressive jam-grass outfit Cabinet, which went on indefinite hiatus in 2017. Where that group was renowned for its fusion of styles, Pappy has embraced tradition on his new five-song EP.
The title track lays it all on the line. Clearly, Pappy was feeling things had become a bit complicated at some point — either musically or in life, or both. He's found the answers to those troubling questions by simplifying. "Well, back to the basics you should go / gonna find out what is ailing you," Pappy sings as his new band soars behind him, twisting and turning.
A newly minted Vermonter, Pappy has assembled quite a lineup of local musicians, including Matt Flinner on mandolin, Pat Melvin on upright bass, Caleb Elder on fiddle and Doug Perkins on guitar. If those names alone don't alert you to the high-level chops on display here, consider this: After a session to work out arrangements, the group — along with Pappy himself on banjo and vocals — went into Dan Davine's Essex Junction recording studio and put the whole EP on analog tape. Live. No overdubs. No digital trickery. And it sounds immaculate. The back-to-basics approach highlights both the prowess of the band and the charm of Pappy's songs.
"Poorman's Blues" and "Leave Me Lonley" both hit some of my prerequisites for the genre. The former is an old-fashioned "it sucks to be poor" tune, which borders on being an anthem about escaping gentrification. The latter cut is your traditional "my lady cheated on me, so I drowned her" yarn. The murder ballad is, generally speaking, a bit of a played-out trope, but the mournful nature of this song carries it through.
The final two tracks are hot-fire instrumentals that let both Pappy's expert banjo picking and his band's prowess come to the fore. But I was honestly sold about 15 seconds in on this record. The spirit Pappy is going for on the EP — returning to one's roots, keeping it simple to survive — he embodies instantaneously.
Back to the Basics is available at pappymusic.com. Pappy performs with his full band this Friday, July 27, at Burlington's Waterfront Park as part of Twiddle's Tumble Down music festival.