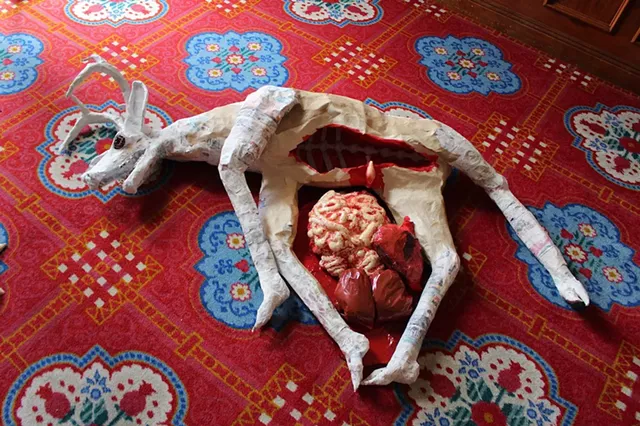 Paul Heintz
Detail of "P-cock went hunting (peacock and buck)" by Katie Hunt
Early last week, Bernie Sanders supporters nationwide were in an uproar over the Associated Press' announcement that Hillary Clinton was the presumptive Democratic presidential nominee — before the polls had even opened in California and five other states. Meanwhile, in Vermont, artist Katie Hunt lambasted the media in her own way.
In a surprising and politically charged art exhibition, the artist — and wife of Gov. Peter Shumlin — installed "Anthropomorphizing Animals: A Satirical Critique of People in Power" in the governor's ceremonial office at the Statehouse. It remains on view through June 20.
Paul Heintz
Detail of "P-cock went hunting (peacock and buck)" by Katie Hunt
Hunt graduated this spring with a degree in studio art from Mount Holyoke College. According to state curator David Schutz, Shumlin strongly encouraged her to show her senior thesis works at the capitol.
In the tradition of many political, guerrilla-style artist interventions, the exhibition was not formally announced. Hunt's papier-mâché figures suggest criticism of specific media outlets. In "Judgment Day," three papier-mâché cows wear press badges from Bovine Days (Seven Days), Cowpieslinger.org (VTDigger.org) and Dairy-Free Press (Burlington Free Press).
Paul Heintz
Detail of "Judgment Day" by Katie Hunt
The press-cows, which are positioned in the area occupied by human reporters during press conferences, look more like hyenas as they bare sharp, cardboard teeth and surround a standing, female cow in pink high heels and lipstick, udder exposed. The laptop of one reporter-cow reads only "Dogged Pursuit," while another jots on a notepad, "Too young. Too reserved."
Schutz told Seven Days that the female cow is meant to represent Hunt herself, thus indicating her sense of being ogled, ostracized, outnumbered and, as the title suggests, judged by state media. It's unclear to what extent these caricatured media beasts are meant to stand in for the public eye at large.
A celebrated Andy Warhol aphorism decrees, "Don't pay any attention to what they write about you. Just measure it in inches." In that respect, Hunt's first success as an artist is that, in very short order, her work has racked up a lot of inches — from the Gawker-owned online magazine Jezebel to the Associated Press to the Vermont Twitterverse.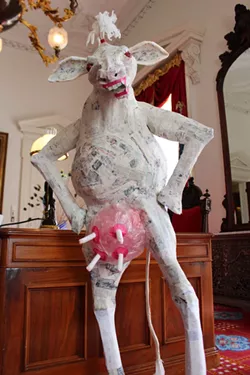 Paul Heintz
Detail of "Judgment Day" by Katie Hunt
Another success of Hunt's installation: It is immediately visually exciting. Her figures are perfectly scaled for the office space, and the mucky white of the papier-mâché stands out boldly against the colorful pattern of the replica 1859 carpet. (Shumlin and Schutz both confirmed that copies of Seven Days were used to make the papier-mâché. "It's free," observed Shumlin.) Anyone can appreciate the interruption of a gilded ceremonial space by jaunty animals made from everyday materials, because it is thematically inappropriate.
Hunt's cows, in particular, are kind of funny on their own. Like Bread and Puppet Theater, which she cites as an influence, she has employed modest materials and strategic physical traits — such as prickly egg-carton spines — to communicate universally recognizable qualities: boniness, hunger, insatiability.
Showing Hunt's work in the office is "a lot more interesting than seeing the art in a neutral gallery space," Schutz suggested. This seems accurate. Beyond the initial sensation of location, though, the installation is a strange and unexpected dispatch from the belly of a political beast, as it were. Velvet ropes protect the installation from visitors as if it were a crime scene.
Hunt's raw presentation of her perceived victimhood is challenged by two factors. The first is within the artwork: Her cow-self stands defiantly, towering over the sitting press-cows with hands on hips. The second is that being allowed to exhibit in this historical office space inherently betrays a certain privilege — such as that accorded to the governor's wife.
Asked about this privilege in relation to her art's "satirical critique of people in power," Hunt wrote in an email via Shumlin spokesperson Scott Coriell, "As someone who shies away from the public eye and is uncomfortable with formal introductions, I thought this would be a fun way to share a bit of myself with Vermonters."
Under different circumstances, any discomfort Hunt's work provokes might be considered a mark of conceptual sophistication. Her "satire" is perhaps a self-fulfilling prophecy, as the press is certainly paying attention to her now. The work might even be considered feminist, given its shucking of the conventional social expectations of a governor's spouse, and its twisted representation of life on her terms.
But it is impossible to divorce the work from the specific, privileged context in which it is presented, and difficult to detect intentions of sharing anything deeper than what is blatantly evident. That seems to be a lot of hurt, ostensibly disguised as humor. Hunt depicts herself as a hyper-feminized victim of a snarling press-mob.
In a work that does not appear related to media, and positioned across the office from "Judgment Day," "P-cock went hunting (peacock and buck)" depicts Hunt's husband as a flamboyant peacock in the process of eviscerating the buck he has just killed, guts spilling onto the floor. Shumlin explained during a Wednesday press conference that this piece originated when Hunt helped him bring a buck he had shot to the weigh station, "guts steaming like they do."
He went on to say, "I think governors in their offices should be able to hang whatever artwork they choose," citing former governor Jim Douglas' 2004 decision to remove a certain "risqué" lamp from the same room. Contradicting his assertion of gubernatorial privilege, however, both Shumlin and his staff have repeatedly asserted that Hunt's exhibition exists within the tradition of formally promoting the arts in the governor's offices.
But if the governor intended Hunt's work to be judged on its own merits, this was the wrong venue for its exhibition. And that's the least funny part of this satirical show: Regardless of whatever career Hunt may have as a Vermont artist, her debut exhibition in the state is inextricable — in form and content — from the political dimensions of her personal life.
As Shumlin told the press, Hunt has gone from "a life where there's no scrutiny at all, to being watched."