courtesy of think 3D!
A Think 3D! student in Hanover, New Hampshire
Can kids learn math, science and engineering concepts by folding and cutting paper? Architect Allyson Hutton thinks so.
The Hanover, N.H.-based mom of two had a hand in designing the Mystic Aquarium in Connecticut and the Duke University Athletic Center. Four years ago, she was invited to teach her daughter's fourth-grade class about architecture. Hutton accepted the challenge and took it one step further.
Inspired by the PBS documentary Between the Folds — which explores the connections between paper folding and science — Hutton created a three-year curriculum that introduces third- through fifth-graders to architectural concepts including composing, decomposing, scaling up and down and using proportional reasoning. In 2012, she started a company called Think 3D! to teach elementary-age kids STEM-related skills through the simple processes of folding and cutting paper.
Each of her program's three modules includes six one-hour lessons. Students start with basic origami before advancing to reverse-engineering tasks, in which they take apart a 3D model and figure out how to rebuild it.
Next, they learn single-sheet engineering — folding and cutting a piece of paper to create a model. The module finishes with applied paper engineering, which involves gluing pieces of paper to a foundation page to make pop-up creations. As students progress, the sequence of lessons remains the same but the tasks become more sophisticated.
When creating the program, Hutton says, she set out to design compelling lessons that would "cast a broad net" and engage kids at all skill levels, including those with behavioral and academic challenges.
The lessons are engaging for adults, too. During the Vermont Afterschool Conference in Stowe in October, I tried some of the Think 3D! challenges. They weren't easy. I had to use some real brainpower to figure out how to transform a piece of origami paper into a hopping frog and a folded piece of cardstock into a pop-up card.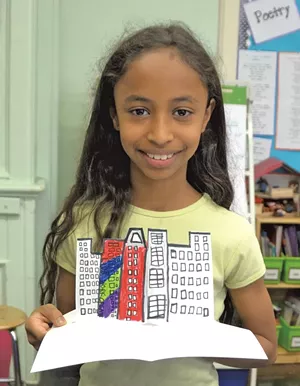 courtesy of think 3D!
A Think 3D! student in Brooklyn, New York
Think 3D! is also appealing because it aligns with Common Core and Next Generation Science standards. And it's an approach to teaching spatial-reasoning and engineering that's intentionally low-tech, no computer required. Schools don't have to invest heavily in new technology to use it.
A 2013 study published in Psychological Science found that strong spatial reasoning skills may be a greater predictor of future creativity and innovation than proficiency in math or reading. But most schools don't explicitly teach spatial reasoning. When Hutton visits schools, she points out that these skills have countless applications, from visualizing the brain through an MRI to reading a contour map.
Packaging the curriculum was also important to the architect, who wanted to reinforce the importance of design. Each lesson comes in a sleek sleeve that contains all the necessary materials, including a one-page sheet of directions for the teacher.
Hutton has implemented the program in two Vermont elementary schools — in Norwich and Ludlow — as well as in Hanover, N.H., and Brooklyn, N.Y., with plans to develop more instructional materials and expand its reach in the near future. Think 3D! recently received a three-year grant from the U.S. Department of Education to assess the curriculum's effectiveness. The company's director of research and assessment, Holly Taylor — who runs the Spatial Cognition Laboratory at Tufts University — is spearheading that task.
Becky French, a fourth-grade teacher at Marion Cross School in Norwich, is a big fan of the program. Last year, her students participated in Think 3D! sessions once a week for six weeks. The program, she said, was well organized. And because the materials weren't "precious," kids were encouraged to persist until they were successful.
After completing some of the preset challenges, French's kids had the opportunity to "venture into their imaginations to make 3D structures that interested them," she said, noting that some of her students made 3D versions of the Frozen cast.
"What we're sharing with the kids is a set of tools," Hutton says. "If you have those tools, this program will never be too easy for you. There's no limit."
Interested in bringing Think 3D! to your school? Visit think3d.us.com to learn more.