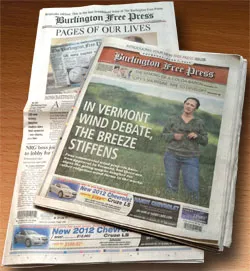 When IBM quietly initiated a round of layoffs in Vermont last month, the Burlington Free Press did exactly what it should: Its reporters beat the bushes to find out how many employees had been axed, while its editorial board beat the drum for more "transparency" from the company about the layoffs.
IBM, argued Free Press executive editor Michael Townsend in a July 17 editorial, is "a major and important employer in the state." It has "a significant impact on the lives of Vermonters." And it ought to quit dragging its heels and disclose the extent of the damage, he argued.
But by last Thursday, when the Free Press quietly initiated its own round of layoffs, Townsend's attitude toward transparency seemed to change.
Late that day, after reporters inquired about the rumored job cuts, the Freeps posted a terse, 143-word news brief on its website indicating that it "cut 13 jobs Thursday across departments in the operation." In Friday's paper, the story was buried on 9B.
How many of those cuts were in the paper's newsroom? After years of layoffs and outsourcing, how many people does the Freeps still employ in Burlington? And why on earth did the paper hire five new reporters and editors a month ago only to lay off two of them last week?
Townsend and Free Press publisher Jim Fogler wouldn't say. They wouldn't even return our phone calls and emails.
To be sure, the Freeps has no legal obligation to disclose anything — unlike IBM, which passed the state's 25-layoff threshold, triggering mandatory reporting to the Department of Labor.
And in fairness to Townsend and Fogler, they were likely just toeing the company line. The Burlington cuts were part of a company-wide purge by the paper's owner, Virginia-based Gannett Company, Inc., whose corporate flacks refused last week to tell the Associated Press and other news outlets how many jobs it eliminated nationwide.
That rubs Jim Hopkins the wrong way. A former reporter at Gannett's flagship paper, USA Today, Hopkins has covered the company since 2007 on his website, Gannett Blog. By his informal count, which relies on tips from readers, the company has cut at least 280 jobs in the past week at 45 of its 82 papers.
"The company's news blackout is sharply at odds with its mission statement," Hopkins wrote, quoting Gannett's claim that it is "on a relentless quest to provide trusted news and information and to actively support the people and businesses in the communities we serve."
In fact, Gannett is on a relentless quest to please its shareholders, which is reasonable for a publicly traded company. Viewed through that lens, last week's layoffs make perfect sense. While Gannett's second-quarter broadcasting and digital revenue was up 3 percent, a 5 percent drop in print advertising revenue kept the company's overall revenue flat.
"As they look at these different lines of businesses, they say, 'Well, let's put our bets on the ones that are growing. Let's run the other ones more leanly,'" says Rick Edmonds of the Poynter Institute.
The one that's growing fastest, believe it or not, is broadcast television, which explains why Gannett offered up $2.2 billion in June to buy Belo Corp. and its 20 local TV stations. With two-thirds of Gannett's operating income set to come from its broadcast division, says media analyst Ken Doctor of Outsell, Inc., it's hard to call it a newspaper company anymore.
"It would not surprise me to see Gannett sell some or even all of its newspapers for the right price and get out of the business," he said Monday afternoon, two days after the New York Times Company sold the Boston Globe to Boston Red Sox owner John Henry for $70 million — a fraction of its 1993 purchase price of $1.1 billion.
An hour after I got off the phone with Doctor, the Washington Post Company announced it had sold its own flagship paper to Amazon founder Jeff Bezos for $250 million.
Here in Vermont — at least, in the state's journalism circles — the Free Press layoffs have been met with resigned anguish.
"It's sad. What it shows you is how the landscape has changed for newspapers in such a short time," says former Associated Press Montpelier bureau chief Chris Graff, now a spokesman for National Life Group. "[The Free Press] is, in all senses of the words, a shadow of its former self, and we are all losers because of that."
Says Matt Crawford, a public relations consultant who spent 13 years at the Free Press, "I can't tell you how many people say it's not what it used to be. And it's not. Is it Gannett's fault? Not entirely. It's the entire industry. But Gannett has maybe sped up the demise."
While Townsend and Fogler won't say how many newsroom employees lost their jobs last week, sources familiar with the situation pegged the number at five. That's 20 percent of what was recently a 25-member news team — at least, according to associate editor Adam Silverman's LinkedIn profile.
Among those laid off were two editors, two reporters and a photographer. One just graduated from Saint Michael's College in May. Another, reporter Matt Sutkoski, joined the paper in 1992.
"He was a total utility reporter," one former Freeps journo says of Sutkoski. "If Matt gets the ax, nobody's safe at this point."
The news was particularly shocking because, from the outside at least, it appeared as if things were looking up. Since its dramatic redesign last summer, advertising seemed to be rebounding a bit, and after several veteran reporters retired or moved on earlier this year, management hired five young, energetic reporters to replace them.
But the paper's sharp decline in circulation tells a different story. Back in 1991, nearly 55,000 copies were distributed every day. By March 2012 — just before the redesign and a simultaneous 31 percent subscription price increase — circulation was 29,890, according to the Alliance for Audited Media. A year later, it had dropped to 25,995.
The Free Press isn't alone. In the past five years, the state's second biggest daily, the Rutland Herald, saw its weekday circulation decline from 16,308 to 11,533. Interestingly, Vermont's smaller, regional dailies — such as the Caledonian Record, the Brattleboro Reformer and the Bennington Banner — have managed to hold circulation steady during the same period.
Meanwhile, the state's free media appear to be thriving.
Just last weekend, WPTZ-TV launched four new hours of weekend morning news programming, while WCAX-TV plans to add two weekend hours in September. According to Arbitron ratings provided by Vermont Public Radio spokeswoman Michelle Jeffery Owens, the average number of people tuning into that station each week grew from 161,300 in 2007 to 195,000 in 2012. And VTDigger — the upstart, nonprofit, online news outlet — has watched its monthly unique readership more than double from 40,000 in July 2011 to 88,000 in July 2013, according to publisher Anne Galloway.
Two weeks ago, Seven Days upped its print circulation from 35,000 to 36,000, expanding into new corners of the Northeast Kingdom, according to publisher and coeditor Paula Routly. The company's year-to-date revenues are up almost 15 percent over last year's, she says.
"The prevailing narrative about newspapers is all negative, but we're having the opposite experience," says Routly, who, I should note, signs my paychecks. "Our greatest struggle is that people keep hearing over and over that print media are dying. Fighting that kind of buzz is really exhausting."
But Graff and Crawford both argue that despite those success stories, there are far fewer reporters in the state than there were three decades ago — and it's showing. Graff wistfully recalls a time when the Free Press and the Herald each operated bureaus in the opposite paper's terrain and fought "tooth and nail" for local scoops.
"Those papers used to make an effort to be statewide and really cover Vermont," he says. "But they don't have the resources to do it."
So what's next for the Free Press?
If Gannett's newspaper division keeps bleeding money, the company will surely extract that cash from something — somehow. But it's hard to see how the Freeps can keep cutting costs.
Its hardworking staff is already spread too thin. The paper has already outsourced its pagination and customer-service operations to Gannett's regional "hubs." It's already put most of its College Street headquarters up for sale, and the paper's broker says the property is under contract.
Doctor says Gannett may still have some tricks up its sleeves. The chain has been trying to figure out "how to do a better job of getting 'community-generated content,' which is cheap or free, to replace the product of staff reporters." It might even consider printing fewer days each week, he says, though "every publisher thinks that's slow suicide, because you're breaking the seven-day habit."
But by starving its newspapers of resources, Gannett's print division has been committing "slow suicide" for years. Now that the patient's almost dead, the company's shareholders might simply pull the plug.
Could a local John Henry or Jeff Bezos bring the Free Press back to life? And would they want to?
It's hard to say. But here's hoping they'd at least return my calls.
Green Mountain Cash
When Vermont's three members of Congress released their second-quarter campaign finance reports last month, something seemed a little lopsided.
Of the nearly $122,000 Congressman Peter Welch raised, 83 percent of it came from corporate and union political action committees. But of the more than $136,000 Sen. Patrick Leahy raised, only 14 percent came from similar special interest groups.
Huh, we thought. Perhaps Leahy's seen the light and gone the way of Sen. Bernie Sanders — the sole Vermont congressman to eschew corporate PAC donations.
Not so much, it turns out.
Last week, Leahy had to report six months' worth of fundraising figures for Green Mountain PAC, a separate "leadership PAC" he runs to funnel cash from his own supporters to his Senate allies.
Can you guess how much of the nearly $197,000 he raised came from special interest groups? More than 70 percent.
A healthy amount of that came from aerospace companies and weapons manufacturers such as Boeing ($5000), General Dynamics ($5000), Raytheon ($2500) and United Technologies ($3500). Oh, and a little ol' company called Lockheed Martin ($2500), which just happens to manufacture the F-35 fighter jet.
Given Leahy's support for basing the next-generation planes at the Vermont Air National Guard's South Burlington headquarters, anti-F-35 crusader James Leas says Leahy should give the money back.
"It's a conflict of interest," Leas says. "If he wants to advocate for destroying the health and well-being of Vermonters by basing the F-35 here, he should do it because that's what he wants to do — not because he's getting money."
Asked whether Leahy has any qualms about taking cash from the military industrial complex, political aide Carolyn Dwyer said in an email that her boss "is grateful to have the support of companies that have created jobs in Vermont and played a key role in keeping our nation safe."
And what about that Lockheed contribution? Is it appropriate for him to take money from the company while he's working to bring those planes to Vermont?
"Sen. Leahy does not have a role in the process of determining where the F-35s will be based," she said.
He doesn't? We'll be sure to remember that at ribbon-cutting time.