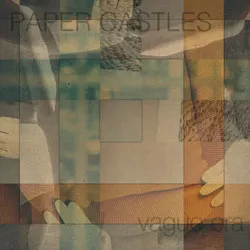 (Self-released, CD, digital download)
When last we left Paddy Reagan, he had stepped down from his post as the well-regarded booking guru at the Monkey House in Winooski, after a six-year run, to devote time to his nascent indie band, Paper Castles. That group had previously released two promising records, a self-titled 2009 EP and a full-length, Bleating Heart, in 2011. Nearly a year removed from his occupational change, Reagan and his band are back with a mysterious new record, Vague Era. While it retains the slacker charm of their earlier work — buoyed, as always, by Reagan's affable, low-key personality — Paper Castles' latest is a decidedly darker turn rooted, as its title implies, in the broad uncertainty of change.
The album begins in a curious fashion on the palindromic "Hellolleh" — perhaps a veiled reference to the chirpy title of Reagan's 2008 solo record, Hey! Hi! Hello! The song consists of a steadily strummed guitar, repeated to the point that it becomes a drone couched in fleeting atmospherics. It's disorienting, which is presumably the point, a cue to the listener as to the condition of Reagan's headspace. In that sense, it's a nifty artistic move. Though on first listen, you could be forgiven for checking to make sure your stereo is still in working order.
"CallYourParents" begins the record in earnest. By the way, every song with more than one word in its title is presented in a similarly smooshed fashion, which probably means something. It's a meandering song, built on languid guitar lines courtesy of Reagan and Wren Kitz, which entwine with John Rogone's serpentine bass, punctuated by Brennan Mangan's skittering drums. "Play the con in confidence / Calm you down / Play the hand that draws you in / Play the hand that holds you down," Reagan sings in his disaffected but somehow affecting delivery.
The pointed "ComeTooLate" evokes the slanted, high-arcing guitar enchantment of early Pavement, or perhaps Built to Spill in their mellower moments. Here, an agitated Reagan sings to a self-absorbed musician friend, "Come too late / When you even come at all / When you even come at all." Then, "And the songs you play / Sound the same as anyone / Such a shame to write a song over and over and over and over again." Ouch.
"ThirtyWeeks" is an album highlight — one of many, really. Built upon an insistent, staccato guitar groove, Reagan details the end days of a failing relationship, confessing — or perhaps surrendering — at the hook, "I'm too weak to call you." Like Reagan's best songs, it is deceptively clever, its biting subtlety masked by a seemingly warm exterior.
"BellsPlayAlong" closes the album in experimental, impressionistic fashion — just as "Hellolleh" opens it — but with bright chimes that ring cheerily despite a swell of dark sound in the background. It's playful but somehow dangerous, qualities that could describe the excellent Vague Era as a whole.
Vague Era by Paper Castles is available at papercastles.bandcamp.com.