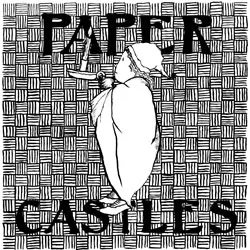 (Hey! Hi! Hello!, CD, digital download)
Last year, longtime sideman Paddy Reagan burst onto the local scene as a songwriter with his debut EP Hey! Hi! Hello! OK, perhaps "burst" isn't quite the correct word, if only that it does a mild injustice to the charmingly sedate, lo-fi material found within the EP. Still, it was a nifty first attempt and introduced Reagan as a worthy addition to the burgeoning local indie-folk scene. As the brains behind booking operations at the Monkey House in Winooski, he's been instrumental in cultivating that very scene. Now, Reagan returns in a more traditional band-styled setup with his trio, Paper Castles. And suffice it to say that fans of Reagan's solo work — and generally those with an ear for quirkily crafted, lo-fi art-pop — have yet another solid local release to add to their collections.
"Oh, in Hell" opens the self-titled debut EP and sets its somnolent tone. Peter Negroponte's slightly disjointed drums sleepily fumble alongside Reagan's lilting electric guitar. The latter's fractured baritone hovers over this churning dreamscape. Swells of fleeting vocal harmonies drift airily as chaos unfolds and resolves beneath them.
"Open Country" is next. Negroponte's driving railroad shuffle provides a solid foundation for Reagan's abstracted guitar and vocal interplay. Meanwhile, Ian Kovac's bowed bass pushes the song to a deliriously frantic conclusion.
"Blue Jeans" represents the EP's most straightforward-ish number, at least structurally. As we've come to expect, Reagan playfully meddles with folk convention, infusing the song with his singular, slackerly charm. "I only knew her in blue jeans," he sings. "Most of those were torn in the seams. / Yeah, it's funny how love falls at your feet, or calls to you in a dream." The song's punchy finale, complete with a terrific trumpet-led bridge, is surprising and artfully understated as Reagan concludes, "I only knew her in blue jeans. / She swore that she wore a red dress. / Red as the leaves that fall in the breeze and land in a beautiful mess."
The aptly titled "Sad Song" brings Paper Castles to a brooding, atmospheric close. Reagan's baleful exhortations air over bowed bass, lightly picked guitar and a haphazard symphony of errant percussion — dropped drumsticks, fumbled cymbals, etc. — that lends the tune a decidedly bleary-eyed, late-night feel.