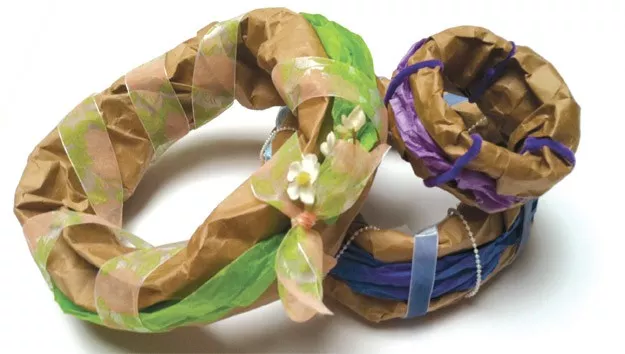 It's good to be king — or queen — even if your crown is made of paper. This easy craft project is a great way to reuse grocery-store paper bags, and it lets kids use their imagination to create a personalized headdress. Add fabric for a veil, attach feathers for an exotic look, or front it with faux jewels. Then, your newly crowned royalty can go play! Thanks to Kids VT reader Gina Coughlin for sharing this gem of a craft idea that she saw at the Vermont Flower Show.
­— Kate Laddison
materials
Large paper bag
Ribbon
Tissue paper
Scissors
Tape
Embellishments such as flowers, feathers, beads or stickers
Instructions
Begin by cutting off the bottom of the paper bag, leaving a tube.
Roll one end of the bag halfway, turning the bag inside out as you go.
Roll the other end of the bag to the halfway point.
Fold or crumple a piece of tissue paper and tuck it into the crown between the two rolled edges.
Wind a ribbon around the crown and fasten it to the paper bag using tape.
Add feathers, flowers or other embellishments to the crown