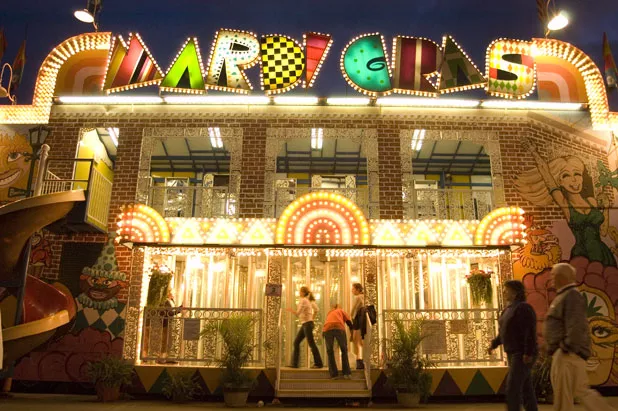 I am the first to admit I'm a tad neurotic. I carry Purell and dental floss in my purse in case I am forced to shake someone's hand or eat something fibrous. I duck when actors use cap guns in plays. My whole family uses the excuse that we're New York Jews when we drive to the hospital to be treated for a sore sternum, or "heart attack."
And before last weekend, I had never been on a carnival ride. Ever. The nearest amusement park to my hometown used to average one fatality a year. That settled matters for me: Why should I pay to sit on my ass, scream, and then die? Nonetheless, I jumped at the chance when my editors asked me to assess the rides at the Champlain Valley Fair. Anything for a laugh. Besides, if I did die, at least it wouldn't have been on my dime.
Out on the midway, I soon found that the scariest rides - such as the aptly named Freak Out - had snaking lines that would have kept me waiting all night. Speed, a gigantic propeller that hurls its riders 120 feet in the air, wasn't free to me even with my press pass. (Whew.) All the same, I faced my fears, and then some.
******
Himalayas
I figured a good place to start was a ride typically mounted by no one taller than knee-high. The glorified carousel tooled around a backdrop of penguins and polar bears bathing in something labeled "Bare Pond." (I guess the bears were nudists.) Some fellow passengers screamed as we went over the small bumps on the track, but they were 5. I didn't even mess up my hair.
0 out of 5 panic attacks
******
Super Cat
Rather than the foe of Underdog I had envisioned, this was actually a grown-up relative of the Himalayas. Caterpillar-shaped cars flew around a bumpy track faster and faster, awkwardly throwing me against my seatmate, to whom I kept apologizing. A sign in the operation booth asked that female riders "Show us the puppies." Sorry, carnies - I was too rattled by the structure's creaking and cracking to put on a show.
2 out of 5 panic attacks
******
Mardi Gras
The two-story edifice, painted with larger-than-life clowns, voodoo spirits and slutty women bearing beads and cocktails, looked like a great attraction. On my way in, the carnie reclining across the building's steps grabbed my hand in his dry, cracked paw for no apparent reason. The bottom floor was a house of mirrors, which was disconcerting until I realized the clean, unmarred panels were the road to freedom. On the second floor, a line of curved mirrors invited visitors to see themselves in a whole new way. "Oh look, I'm a fat dwarf," I remarked. "Wow, I'm even shorter and fatter in this one!" This continued for a half-dozen more reflections until the ride ended with a slide to the bottom. It was fun and twisty, but I cut my arm on a crack on the way down.
2 out of 5 panic attacks for the trauma of seeing myself fat
******
Super Slide
In the mood for another slippery slope, I prepared to mount the stairs to the three-lane slide. Before I could, a woman wordlessly forced a potato sack into my hands. It looked long enough to fit . . . my feet. Resigned, I climbed to the top, lay across the sack and slid, all the while contemplating the dead skin, dust mites and who-knows-what-else collecting on my clothes. At times I lost momentum and had to push myself toward the bottom. I wondered if the mirrors were telling the truth, and I was so fat I was going to get stuck on a slide. I threw the sack back at the attendant and ran for the Purell. It felt like coming in from a storm.
3 out of 5 panic attacks for hygiene
******
Dizzy Dragons
Another kiddie ride. What if they didn't let me on? The sight of a little-person dad following his kid into a pink dragon's belly didn't reassure me - but the attendant led me to a purple dragon. Basically, this turned out to be the Magic Kingdom's Teacup Ride, but enclosed in the dark thoracic cavity of an imaginary reptile. Spinning a wheel, I manipulated the beast's diaphragm to turn faster or slower. But, if anything, the dark interior was a bit soporific.
1 out of 5 panic attacks
******
Yo-Yo
This maypole-like structure with swinging chairs has always frightened me. To a passerby, the riders seem to be loosely swaying in a gale-force wind. I was nervous to take my seat, a feeling that grew as I fastened a seat belt across my crotch.
As the machine began to whir, I felt like I was being pushed on a giant swing set. When we rose to the top of the pole, I could see the whole fair. The wind rushed through my hair. I could feel the colors. Church services should be held on this thing. I have never felt so at one with God as when I spun horizontally, smelling fried dough. The earth felt hard and cold when I returned to the ground.
What's the opposite of a panic attack? 5 out of 5 Xanaxes
******
Ring of Fire
One dastardly creation has always loomed menacingly at the fair. An immense circle against the sky, the machine is a track on which cars do a 360, at times leaving passengers suspended upside down for several seconds. I had a job to do, but I didn't want my epitaph to sound like a Johnny Cash lyric. I demanded a great deal of attention from the man strapping everyone in, asking for advice on where to safely place any and all appendages.
The pendulum-like motion started slowly, the car swaying back and forth like an inverted Slinky. Perhaps it wouldn't be so bad. As the speed increased, and the stops became harder, I had some unpleasant flashbacks to a recent accident that left my car totaled and me hospitalized. Hurtled head over heels by the force of inertia, I couldn't have opened my eyes if I tried. For what felt like an eternity, I lay back and thought of England. When it was over, I contemplated kissing the ground, but was trembling so much I feared I'd stay down there.
7 out of 5 panic attacks
******
Orient Express
How civilized it sounded. I had always wanted to take a train from Paris to Istanbul - never mind that the ride is actually a small rollercoaster with a vaguely racist Chinese theme. I sat at the back of the dragon-shaped chain of cars, essentially reclining in the creature's colon.
The track seemed mild enough, but as we began circling and gaining speed, its imperfections bumped my chest precariously toward the front of the car. I'd been too hysterical to feel nauseated on the Ring of Fire, but now it was hitting me.
4 out of 5 panic attacks
******
Full Tilt
I persuaded myself to try one more. A boat-shaped platform with seats didn't seem too bad. The mechanism's arm sent riders into the sky, but their heads always stayed upright. Piece of cake. The carnie in charge launched into a routine in character as our inexperienced pilot and made some slanderous remarks about Continental Airlines.
As I rose above the fair once again, I thought, "This is nice. I will end on a high note." A pen of miniature goats greeted me below. Then I started gagging. Luckily, before I could puke on the fine folks beneath me, the ride was over.
4.5 out of 5 panic attacks
******
Before embarking on this undertaking, I had prepared my home in the expectation that I might be completely debilitated. Much to my surprise, I was able to feed the cat, make dinner and write this story as if nothing untoward had happened. Make no mistake, though: Next time I go to the fair, I plan to look at livestock, eat fried Oreos, and thank the Lord I never have to go on the Ring of Fire again.