Courtesy Of The Shelburne Museum
"The Grand Canal, Venice" by Edouard Manet
The online offerings from Vermont's creative sector continue — and we're the richer for it. Seven Days has reported on many virtual activities, both in print and on our Live Culture blog, since the coronavirus pandemic began and everyone hunkered down. As the quarantine drags on, most of us are still keeping our social distance and staying (mostly) at home. So we continue to count the ways to keep you occupied and maybe sane.
This week we bring you options in the categories "Watch," "Do" and "Help."
Watch
On Monday, Shelburne Museum officially, and perhaps unsurprisingly, announced that it would be closed for the summer. That is, the physical facility. While that's a bummer for so many reasons — smelling the lilacs, for one — the museum has significantly upped its online presence.
Recently, the four-part exhibition "Color, Pattern, Whimsy, Scale" launched with a Zoom presentation witnessed by 150 museum members. It included remarks from executive director Tom Denenberg and an item-by-item exploration of objects in the first part of the exhibit with bow-tied chief curator Kory Rogers. The quartet represents a "decoding" of museum founder Electra Havemeyer Webb's collecting philosophy, Rogers explained. The objets d'art under consideration were selected from her extensive Americana collection and other works in the museum's trove.
"Color," for example, includes such treasures as the impressionist painting "The Grand Canal, Venice" by Edouard Manet, in which the starring hue is an intense blue.
In Rogers' discussion of a Victorian-era emerald-green dress, we learn the fun fact that green was a much-coveted but regrettably lethal color in the 19th century: It was made with arsenic and absorbed by the skin of the wearer. Let's just say it put the "die" in the dye.
Each section of "Color, Pattern, Whimsy, Scale" will begin with a members-only virtual lecture. Afterward, the content is presented online; just click on "Hear from our curator" under the images. Oh, and you can download coloring pages of the items reduced to line drawings, and why not? Find it all at shelburnemuseum.org.
At Dartmouth College in Hanover, N.H., the campus may be quiet, but the Hopkins Center for the Arts is rocking its Hop@Home series. This week's theme is idolatry. That is, Dartmouth Idol. And, yep, it's based on the popular TV vocal competition "American Idol" and pits the school's best singers against one another. On Thursday, May 7, Hop@Home invites members to a virtual cocktail event with Dartmouth Idol director Walt Cunningham; then everyone in the whole world is invited to a YouTube program featuring highlights from the finals, as well as live chat with some contestants. It's free, but sign up at hop.dartmouth.edu.
BTW, if you miss this one, you can catch the crowdsourced Sourdough Dance-Off on Friday, May 8, at 3 p.m. It's in week five, and still they rise.
Do
The Middlebury-based Vermont Folklife Center is all about collecting stories, and it has wasted no time in engaging Vermonters in pandemic-related tale telling. Not just for posterity: Its Virtual Story Circle project offers participants an opportunity to pour out their feels right now. What's more, VFC declares, "a pathway through anxiety, fear and uncertainty lies in the act of listening as much as it does in the act of telling one's story."
Two more online gatherings, facilitated by a VFC staffer, will take place before the Vermont stay-at-home order is currently scheduled to be lifted on May 15: Saturday, May 9, 10 a.m. to noon; and Thursday, May 14, 3 to 5 p.m. Register for a session, learn how to start your own virtual story circle, or listen to previously collected stories at vermontfolklifecenter.org.
We have to give a shout-out to another VFC project: Lineage Lines. That's line as in telephone. Turns out, in the age of online everything, people actually calling each other is suddenly a huge thing, even among the texting cohort, according to the Federal Communications Commission.
To explore that power of voice, VFC invites participation in a self-guided Lineage Lines project, supported by virtual workshops along the way, through June 19. Registration and details are at vermontfolklifecenter.org.
The Vermont Center for Ecostudies and the Green Mountain Club want to teach you how to identify northeast alpine flowers for the citizen science network iNaturalist. This Zoom workshop — on Thursday, May 7, 11 a.m. to noon — might not seem art-related, but, come on, have you ever seen a flower? The online training "will walk participants through the basics of recording their first observation on iNaturalist," according to a description on the GMC website. The session is free, but donations are welcome. Bonus: no ticks. Sign up at greenmountainclub.org.
Help
Courtesy Of Nikki Laxar
Nikki Laxar
It's no surprise that independent artists face unprecedented challenges in a pandemic: Audiences can't gather for concerts, exhibition receptions, demonstrations, talks or classes. In other words, most artists are currently denied their means of making a living. Burlington City Arts established the BCA Artist Relief Fund to provide succor to such individuals.
What might be more of a surprise is that the nonprofit launched with no seed money — no corporate support, no federal grants. Just individual private donations. And the need to fill that bucket is ongoing.
BCA offers a maximum of $500 per individual grant. While anyone paying rent on an apartment in the Burlington area knows how far that will go, it can make a difference.
As grant recipient Bob Wagner put it, "Rent and groceries are the only real expenses these days." The 39-year-old Burlington musician, a guitarist for Kat Wright, expressed surprise that he received the funding. "I've never reached out for any grant in the past, and I thought the funds would be exhausted" when he did, Wagner said.
He also applied for, and received, a grant from the Vermont Arts Council's Rapid Response Artist Relief fund. "Finding out that I got both was, like, wow — the arts community in Vermont is so on it, in a way the government isn't," Wagner said. He still has not received his unemployment benefits.
"What really hit me was the immediacy of [the arts grants]," he continued. "These organizations were really there right away."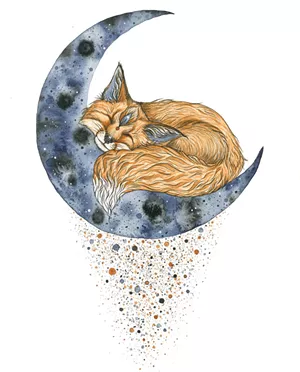 "Fox Moon" by Nikki Laxar
Visual artist Nikki Laxar of Burlington also received a BCA grant — the maximum $500. She reproduces her nature-based illustrations in watercolor, ink and collage as cards and prints and sells them through Etsy, local retail shops, Instagram and Patreon. "Many of my art outlets have been canceled or temporarily closed due to the COVID crisis, including small markets, gallery shows and a brewery solo show," Laxar wrote in an email. "I had public art opportunities in the works that have been delayed [and] that will hopefully pick back up when the dust settles."
Laxar, 34, shares parenting of a 3-year-old with her husband, an essential worker in a grocery store. She was laid off from her part-time job managing a local jewelry shop. Her grant money, Laxar wrote, "will be put toward financially supporting my studio space, personal bills that my art income usually supports, and shifting my website to allow for original art sales through an e-commerce platform, now that people can't see my art in person."
Laxar also applied for the VAC grant and received $360. Receiving both grants "has solidified the feeling for me that I'm really a part of this community, and that my artwork is appreciated and received with open arms," she wrote. "The fact that any one individual or organization wants to support me creating just blows my mind and overflows my heart in such a positive way."
Wagner echoes the grateful vibes. "I've played music for so many causes," he said. "I'm looking forward to helping raise money for future [funds] like this."
Potential donors can give at burlingtoncityarts.org/bcarelief and vermont artscouncil.org/covid-19.