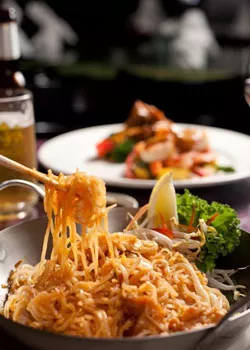 Bankok Bistro on the Hill
Where can you get Nepalese momos, Vietnamese pho and Chinese spring rolls all in one place? Since last Wednesday, Dharshan Namaste Asian Deli at 212 Main Street in Winooski has been serving all those dishes and others from across Asia.
Owner Bishnu Gurung opened Namaste Asian Market across the street in 2011. Since then, the Nepal native says, customers have often asked her how to prepare the foods she sells. The solution: Make them herself. Her open kitchen allows visitors to watch her prepare the food, and she'll supply recipes if they ask.
Gurung's momos have been among her hottest sellers so far. Available with vegetable, chicken, pork or beef filling, the dumplings are served with cilantro and a mildly spicy tomato sauce. Gurung is especially proud of her "really awesome" tangy chicken wings and vegetable, beef or turkey banh mi sandwiches on house-baked bread.
But to experience Gurung's full culinary repertoire, diners just have to keep coming back. Her blackboard menu changes daily, showcasing dishes such as Nepalese chicken curry or lentil soup.
Former fans of Burlington's Bangkok Bistro should make plans to repair to Stowe. On Friday, June 28, Bangkok Bistro on the Hill opened in the space formerly occupied by Santos Cocina Latina.
Owner Bobby Chompupong, the son of original Bangkok Bistro owner Champ Chompupong, says the menu resembles the one at the erstwhile Church Street restaurant and Shelburne's more casual Bangkok Minute Thai Café, but with more deluxe ingredients to please Stowe palates.
"We're bringing back large scallops, and our ginger sea bass is incredible," says Bobby Chompupong. His seafood options also include a Thai take on bouillabaisse that includes shrimp, scallops, calamari and salmon in a curry broth. He says he'll serve high-quality steaks, as well.
Chompupong is a dedicated cocktail guy. His Asian-inspired drinks include martinis with muddled shishito peppers or a mix of black raspberry and fresh basil. But most of his drinks are updated versions of what he calls "very classical, urban American" cocktails, such as the Sazerac, Old Fashioned and Manhattan. The Manhattan Haze is composed of muddled cherries, bitters, vermouth and Frangelico.
New dishes and classics such as pad Thai and curries will be augmented by a number of specials on July 4. That evening, Bangkok Bistro on the Hill celebrates its official grand opening with a party that Chompupong promises will be "a lively night."
The original print version of this article was headlined "Asia de Vermont"