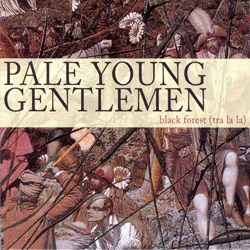 (Science of Sound, CD)
The brothers Reisenauer return, fellow pale gents and gentle ladies, with Black Forest (Tra La La), the followup to their critically acclaimed 2006 self-titled debut. Pale Young Gentlemen remain a band of heady intellect principally focused on highly structured, theatrical arrangements, which the lavish baritone yarns of lead singer Michael Reisenauer gracefully complement.
The record is tenacious. And it is refreshing to hear artists so secure in an imaginative approach. Tracks such as "Coal/Ivory" and "Kettle Drum (I Left a Note)" are cured, antiquated shanties. The plucky, curving, expertly crafted lullabies are the band's forte. Reisenauer is a talented storyteller, comfortable in numerous melodic ranges, conversational lows and — as the record's subtitle suggests — sing-along, chorus-backed highs.
The record will no doubt be improperly lumped under indie rock's sodden umbrella, and that is unfortunate. "The Crook of My Good Arm," a ferociously lean, cello-led, 3-minute gallop is the only remotely rock-styled song on the album. But that does not detract from its excellence. It's a lyrical high moment for Reisenauer as well: "Run, run for the child in your heart / that's taken all the blame."
Black Forest's delicately created charm and atmosphere make the recording a more than respectable achievement. Yet it has a rare and pivotal advantage: one of the best songs of the dwindling release year.
"Marvelous Design" appears in the album's introductory stages. But the brilliance of its impression lasts throughout the entire record. The song is so poignantly agile and addictive that it bolsters the release as a whole.
A lustrous string-and-piano accompaniment merges with a chillingly beautiful chorale, ornamented with weighty, jazz-infused hooks. The track typifies the band's fervent sincerity; it's a ballad of melodic complexity that Reisenauer navigates brilliantly, his full impressive vocal range employed.
Pale Young Gentlemen's performance this Saturday, October 25, at Radio Bean will include a performance of this fantastic tune, along with numerous other selections from their catalogue — the shimmering, harmonious hues that are anything but pale.