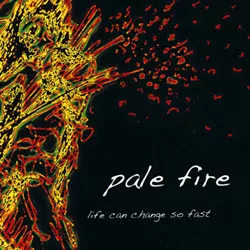 (Sol Camilo Records, CD)
It is all too easy to get into trouble when reviewing albums made by kids. Approach them with the same critical intensity reserved for grown-ups and you risk being called a bully, a monster or worse — big fat poopyhead comes to mind. Grant a free pass based on youth and you betray your readership, who should be able to depend on you to tell it like it is. It's a no-win situation.
So it is that we come to Life Can Change So Fast, the debut offering from Celtic-rock Pale Fire. The quartet is composed of four local young'uns in high school or early college. By this stage in their educational development, one would hope they have had at least some experience on the business end of constructive criticism.
Fortunately, there isn't much to take issue with here — I'll bet you thought I was going somewhere else with that last line, didn't you? From the outset, Pale Fire display not only a breadth of technical skill but a depth of musical sensitivity. At times the group's relative inexperience betrays their heightened ambitions. But those instances are few and far between.
The disc opens with a double dose of traditional Cape Breton reels, "McKensie's, Frank's Reel," followed by an original reel written by fiddler Duncan Yandell, "B-minor Set." Yandell stars on both tracks — dude has chops on top of chops. The latter cut imparts something of a nü-Celtic aesthetic that, for better or worse, defines much of the album. Dylan Hudson's acoustic guitar churns below Yandell's roiling string flourishes and could induce some serious jigging/fist pumping.
However, the hybrid thing doesn't always work. "In the Dark Part II" is one such cut. Here, and in moments throughout the disc, the culprit is not a flawed performance but a suspect distortion effect on Hudson's acoustic that lends the tune a bland, manufactured feel — sort of like listening to Clannad in an elevator.
Alternately brooding and blissful, "The North Storm" is the record's centerpiece. Each member of the band shines in this sweeping, cinematic tour de force.
"You Can't Go Home Again" represents the album's lone non-instrumental track. Drummer Kaitlyn Boudah ably handles lead vocal duties with shimmering, youthful charm. Here's hoping she is featured more prominently next time around. Gotta love those singing drummers.
Though not without its flaws, Life Can Change So Fast marks an intriguing debut from a singularly talented young band. Given time to grow into their kilts — and maybe buy a new distortion pedal — Pale Fire should be a welcome addition to the local clan, er, scene.