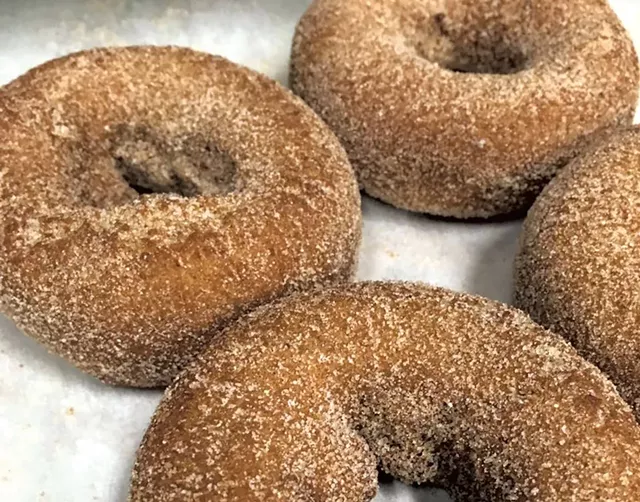 Some multicourse meals are paired with wine, but have you ever heard of one paired with a cellist? On Saturday, October 15, at ArtsRiot, a Vermont Symphony Orchestra string quartet will team up with three Burlington chefs to put on a nine-course dinner that pairs each course with a different musical composition.
The minds behind "Sound & Soil" are chef Trevor Sullivan of Pingala Café & Eatery, ArtsRiot chefs George Lambertson and Jean-Luc Matecat, Vermont composer Matt LaRocca and the orchestra's executive director, Benjamin Cadwallader.
"All of us have an understanding of an upscale, old-world approach to food and music, but this is going to be fun and unfussy," says Sullivan.
Although no menu will be released before the event, guests can expect an elemental theme and expressions of the chefs' "huge appreciation for vegetables." Wine, beer, cider and spirits are included in the $125 ticket cost. And edible confetti might just garnish your dessert.
J.C.
That moment when you walk into the weekly staff meeting and realize you forgot to bring the doughnuts ... never needs to happen again. Doughnut Dilemma, on Main Street in Burlington, now offers a "CSA-style" doughnut delivery service.
Customers sign up for regular weekly, biweekly or monthly deliveries, which include two dozen full-size doughnuts and a box of Uncommon Grounds coffee for $40, or 60 mini-doughnuts plus coffee for $60. As with veggie CSAs, the box o' pastries will contain a mix of seasonal flavors, plus vegan or gluten-free versions, if desired.
Owner Michelle Cunningham says an October box would probably feature popular flavors such as maple, coconut, cider and pumpkin cheesecake. Her team is also working on a pineapple-upside-down-cake doughnut.
For now, DD delivers on Tuesdays and Fridays in Burlington, South Burlington and Winooski, but may expand delivery days and locations as demand increases, Cunningham says.
Want to know more about how they make the rounds? An open house on October 21, from 3 to 6 p.m., will invite visitors into the DD kitchen to watch the doughnut makers in action.
S.P.