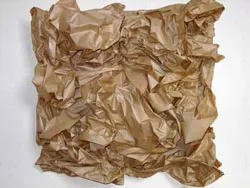 EXHIBIT: "Winter Show," local artists from Stowe Studio Arts, Stowe Town Hall. Through March.
ARTWORK: "Paper Bag, Baby!" by Greg Tighe
There's not much snow in downtown Stowe this year, but the ski-resort hot spot maintains a favorable artistic climate year round. The current exhibit at Stowe Town Hall, matter-of-factly entitled "Winter Show," was curated by Stowe Studio Arts. The grassroots community-arts organization has about 50 artist members, according to its website.
The largest paintings in the show are two abstractions by Harold Drury, father of Stowe Studio Arts Executive Director Carole Drury. His works illustrate the famous words, from 1943, of first-generation Abstract Expressionist Mark Rothko: "There is no such thing as good painting about nothing." Color and movement are the subjects of Drury's tall, vertical canvasses, which are labeled simply "#1" and "#2." Both paintings have crimson backgrounds populated by floating pale-violet and black shapes. Drury keeps his harmonies simple and colors flat.
Healy O'Sullivan's pastels are each layered from a welter of lines, creating abstract landscapes rich with visual textures. O'Sullivan draws with almost slashing strokes directly onto gessoed canvasses. "Some Trees" is a vertical, 12-by-25-inch work with a central, horizontal band of chartreuse scribbles, and staccato sienna lines indicating budding branches. Below the foliage are naïvely drawn tree trunks, described in thin ribbons of color; above is a sky crafted in white on white.
In the 24-by-36-inch "Spring Rushes" -- also a vertical composition -- O'Sullivan divided the picture plane into four unequal fields, delineated by scrawled lines in differing directions. Gray, orange and pale-green horizontal strokes lie near the lower right corner. The same hues, blended with more white, are stacked along the left edge of the canvas. The right central area presents the "rushes," indicated with tangled sienna strokes, angled toward the upper right corner. The highest third of the painting is all pale yellow and white sky. O'Sullivan seems to resist the pastel convention, which is to use the side of the crayon to create broad areas of color. Instead there is a cacophony of fine lines.
The only lines in Greg Tighe's lighthearted piece "Paper Bag, Baby!" are those cast by jagged shadows. The 36-by-24-inch, wall-mounted construction is made entirely of crumpled brown-paper bags. It's a fresh image, alive with ephemeral wrinkles, valleys and monochromatic ridges of raw paper. The effect is like an aerial photo of a desert.
Anne Sessions Barber is an astute acrylic painter who takes advantage of the medium's quick-drying properties: She scumbles layers rather than blends them. "Earliest Spring" portrays a 24-by-18-inch copse of birch trees, which appears to have been primarily painted with a palette knife. The forest floor has bright-green shoots of fern peeking above a decadent mire of ruddy, muddy browns.
Barber's 20-by-16-inch canvas "Visions" takes a different technical approach. Abstract shapes have been stenciled, relief-printed and painted onto an ethereal matrix of rectangles and squares. A lively chromatic harmony of lime green, alizarin crimson and steely gray supports the complicated, repeating floral patterns broken into small geometric shapes.
Stowe Studio Arts has developed a healthy village-arts partnership, including the use of Town Hall for one of its main exhibition venues. The organization sponsors open-studio events and an outdoor artistic corollary to the Stowe Farmers' Market known as "Easels on the Green." In the works are plans for "Easels and Balloons" at the Stowe Balloon Festival, and "Easels on the Mountain" at the Stowe Mountain Resort's Cliff House -- a gondola ride that ascends to an art show. Lofty ideas.