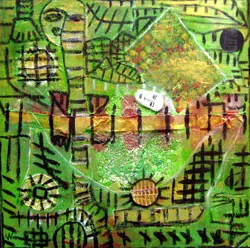 "The Bridge" by Vinicio Ayala
The Flynndog in Burlington is presenting two stellar exhibits, entitled simply "Old and New Paintings" and featuring Vinicio Ayala and Greg Mamczak, through June 30. The tandem figurative shows fill the long, sunlit gallery with unexpected rhythms and textures. And, despite the title, none of the paintings are actually that old. Curator Bren Alvarez Farrington says former-Angeleno-turned-Burlingtonian Ayala paints constantly, so his work is fresh. Mamczak got his bachelor's in studio art from Keene State College just three years ago. "Old" is a relative term in this show, it seems.
Ayala's massive exhibition of 45 paintings echoes a broad range of art-historical sources — from Matisse and Picasso to folk art — while incorporating both textural variations and occasional assemblage elements. "The Bridge" is a 20-by-20-inch jumble of short, straight black lines that fill every inch of the bright green surface. A little carving of a face is affixed near the composition's center. It's a very organic abstraction in which a collaged ribbon and areas of highly textured pitted paint, perhaps mixed with sand or some other foreign substance, also enliven the canvas.
The figure in the curious "Untitled" painting, a solitary Roman portrait bust collaged onto an empty brown space, possesses the typical grace of Ayala's forms. The bust's long neck is adorned with a necklace of stones that provides dimensionality and contrasts with the flatness of the monochromatic collage. The work is about form rather than color; Ayala's lyrical figures are simplified into essential shapes and masses throughout his playful collection.
Greg Mamczak injects repetition and rhythm into his canvasses by using stencils and duplicating chromatic passages such as bulbous shrubs and candy-cane-striped trees. His works are all untitled, and the stenciled white figures in each painting are small-scale silhouettes.
Mamczak organized a 30-by-24-inch piece into a series of four diagonal axes, each with a row of identical hospital beds inhabited by an ailing — or perhaps deceased — black figure. The background, however, is a festive forest of green bushes and swirly magenta trees. In a waggish touch, Mamczak's repeated figures are all caning each other, kicking dogs or standing beside a dead horse. Hunters display a tiger pelt in a couple of scenes, and men in top hats flank a 19th-century camera with a tripod.
Like De Chirico's brand of surrealism, Mamczak's scenes defy reason, becoming little nightmares played out in dreamlike landscapes. In an 18-by-36-inch acrylic, Mamczak includes a man hanging from a gibbet. Another figure is being shot in the head with a pistol, while TV cameras witness the scenes. Groups of figures, some in wedding gear, stand oblivious to the horrors on the other side of the well-manicured shrubs.
Though it's not curated by the Flynndog, another interesting exhibition appears at the Outer Space Café at the far end of the gallery through the first week of July. (The Outer Space rotates its shows on an irregular basis.) The paintings of café employee Adam Heckle are intriguingly billed as "Tribalien.biorganic. spirit.graffiti," and they are certainly lively. Heckle's work pairs well with the exhibitors in the Flynndog. Like Mamczak, he often uses stencils, and like Ayala, he employs a broad range of textures in his mixed-media paintings.
There's a lot to see this summer in the refurbished industrial space. If you're on your way to jog, swim or play bocce down the road at Oakledge Park, stop for an equally bracing aesthetic excursion inside the Flynndog.