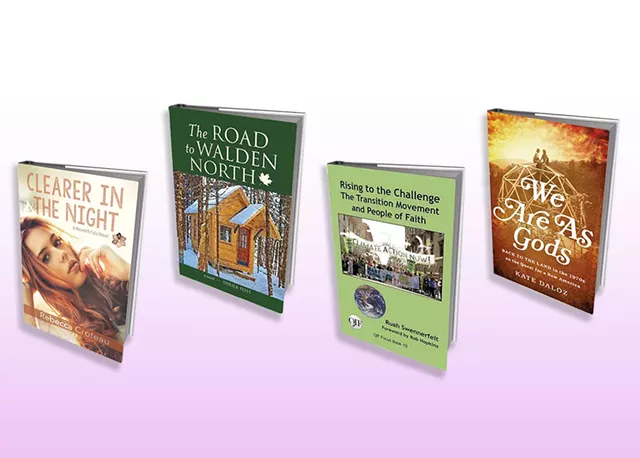 Seven Days' writers can't possibly read, much less review, all the books that arrive in a steady stream by post, email and, in one memorable case, on a very exhausted donkey. So this monthly feature, Page 32, is our way of introducing you to new books by Vermont authors. To do that, we'll contextualize each book just a little and quote a single representative sentence from, yes, page 32.
Inclusion here implies neither approval nor derision on our part, but simply: Here are a bunch of books that Seven Days readers might like to know about. In this installment, we have a bit of an inadvertent theme: books that explore (and sometimes extol) a return to the land.
Clearer in the Night
Rebecca Croteau, Penner Publishing, 348 pages. $13.99.
"His smile was soft, like the sun right before it sets on a fall night."
Last year, I interviewed Rebecca Croteau of Colchester about "the booming business of writing erotic romance." Since then, Croteau has added this full-length novel — the first in a potential series — to her output of shorter works. While Clearer in the Night has steamy passages, it's not a work of erotica, but rather a coming-of-age tale with a paranormal element. The twentysomething heroine grapples with a telepathic gift and ambiguous advances from a tall, dark stranger — shades of Sookie Stackhouse on "True Blood." Croteau gives plenty of weight to realistic psychological elements, such as the narrator's embattled relationship with her mom, and her prose is lyrical and sometimes bitingly funny.
We Are as Gods: Back to the Land in the 1970s on the Quest for a New America
Kate Daloz, PublicAffairs, 384 pages. $26.99.
"Peg had always prided herself at being fashionably ahead of the crowd in her tastes and enthusiasms, but when she heard about how they were living over at Myrtle [Hill Farm] — cooking over campfires and living in lean-tos — she thought, 'They're out there, I'm square.'"
Perhaps you saw the headlines in April: "Bernie Sanders Was Kicked Out of a Commune for Not Working." "Bernie Sanders Was Asked to Leave Hippie Commune." The source of those pieces of clickbait was a brief episode in part-time Vermont resident Kate Daloz's thoughtful, personally inflected study of the back-to-the-land movement.
In an engaging, novelistic style, Daloz traces the founding and growing pains of Myrtle Hill Farm — the pseudonym for a real commune in the Northeast Kingdom, and a microcosm of the 1970s movement that reversed America's urban migration pattern. The book maintains a delicate balance, neither an exposé of back-to-the-landers nor a celebration of them. Personal experience seems to make it easier for Daloz — who was raised in a geodesic dome not far from Myrtle Hill — to acknowledge both the highs and lows of the movement. She presents a convincing argument that, while rural living turned out to be no idyll, the back-to-the-landers nonetheless "helped to bend the mainstream in their own direction."
And the Bernie story? Well, "kicked out" may be a strong way of putting it, given that Sanders was never a commune member in the first place. In 1971, Daloz relates, he spent three days interviewing Myrtle Hill residents as a journalist, after which one member, who was tired of "sitting around and talking about ideas ... politely requested that he move on."
The Road to Walden North
Sheila Post, Green Writers Press, 240 pages. $24.95.
"I am exacting on both fronts, Katie — research and fashion."
Henry David Thoreau was, arguably, the very first back-to-the-lander, and Sheila Post pays him tribute in this novel of ideas, published by Brattleboro's Green Writers Press. The protagonist is a young Harvard professor who finds her convictions challenged when she's asked to teach a seminar on Thoreau. Battling for her mind and heart are two very different men: one an erudite, status-obsessed Boston Brahmin, the other a rugged Vermonter who's following in Thoreau's footsteps.
Rising to the Challenge: The Transition Movement and People of Faith
Ruah Swennerfelt, foreword by Rob Hopkins, Producciones de La Hamaca for the Quaker Institute for the Future, 121 pages. $15.
"Rob and the students hoped to demonstrate to local people that 'life with less oil could, if properly planned for and designed, be far preferable to the present.'"
The "Rob" referenced here is Rob Hopkins, one of the founders of the Transition Town movement, which aims to help whole communities develop the group spirit and resilience necessary to weather the challenges of climate change. Hopkins contributed a foreword to this compact manual by Ruah Swennerfelt, a founding member of Transition Town Charlotte. In clearly organized sections, the author presents the history and key concepts of Transition — such as "resilience" versus "sustainability" — with an emphasis on "what people of faith can bring to this innovative Movement." Bearing a glowing blurb from Bill McKibben, the book works to build bridges between activists of traditional faiths and those who see themselves as firmly secular.