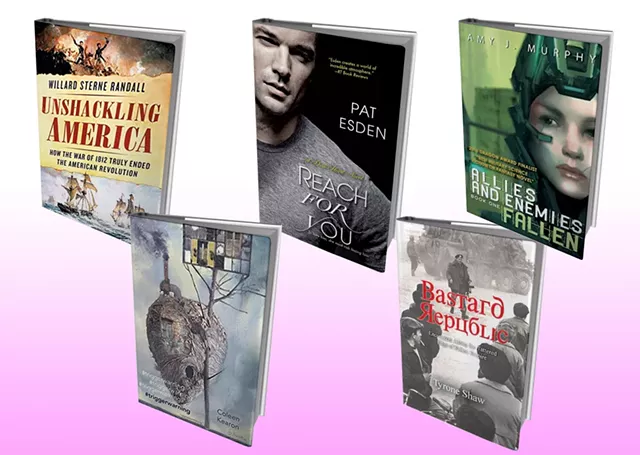 Seven Days writers can't possibly read, much less review, all the books that arrive in a steady stream by post, email and, in one memorable case, a crash of rhinoceros. So this monthly feature is our way of introducing you to five books by Vermont authors. To do that, we contextualize each book just a little and quote a single representative sentence from, yes, page 32. (Tech note: In cases where the book was provided solely in electronic form, the location of "page 32" may depend on our personal choice of e-reader and text size. Prices listed, however, are for the print versions.) Inclusion here implies neither approval nor derision on our part, but simply: Here are a bunch of books, arranged alphabetically by authors' names, that Seven Days readers might like to know about.
Reach for You: A Dark Heart Novel, No. 3
Pat Esden, Kensington Publishing, 320 pages. $12.95.
"It's their conviction — and probably rightly so — that the study of ancient medicine, religious practices, and cultures holds clues to extending life, a sort of immortality that once existed and was lost as we evolved, or perhaps a secret gifted to men such as Sumerian kings and Nicolas Flamel by visitors from other solar systems."
St. Albans-area author Pat Esden caps her paranormal romance trilogy with an adventure-packed finale in which protagonist Annie Fremont must return to a magical realm of malevolent genies to rescue her mom and her lover. But will the latter, himself a half-genie, survive the dangerous transition into a full-grown warrior? Along the way, the Fremont family also tangles with a secret society obsessed with immortality and a young woman gifted with sinister "flute magic." With snappy dialogue, a take-charge heroine and a sprawling cast of characters, Reach for You is a smart beach read for fans of ghosties, ghoulies and sexy genies. Esden will sign and discuss the book on Saturday, July 15, at 2 p.m. at Barnes & Noble in South Burlington.
— M.H.
#triggerwarning
Coleen Kearon, Fomite Press, 250 pages. $15.
"Along with the baby fat around her face and midriff, Ally had shed her soft, accepting self during the past year."
Montpelier author Coleen Kearon, author of Feminist on Fire, takes on a searing-hot subject — campus politics — in her new novel from Burlington's Fomite Press. A barely disguised Goddard College serves as the setting for this tale of two young women who occupy a campus building to agitate for the firing of a dean accused of sexual misconduct with a student. When they take a pregnant professor hostage, things escalate. While it's easy for academic satirists to preach to the choir (on either side), Kearon prefers a multilayered and thoughtful approach. Different chapters present the points of view of the accusers, the accused and those caught in the middle — including the silent buildings of this opinionated campus. It's a memorable read, with a note of elegy for the days when campus activists weren't hell-bent on transforming their causes into viral hashtags.
_ M.H.
Allies and Enemies: Fallen (Volume 1)
Amy J. Murphy, CreateSpace, 320 pages. $14.
"In an army so vast, and the Council of First with powers so great, they cannot keep the Fates from reuniting you with your son."
For fans of space operas like "Farscape" and "Firefly," this self-published science-fiction novel from Addison County author Amy J. Murphy — the first in a trilogy — is well worth a look. Genetically engineered to be the loyal soldier of a totalitarian intergalactic regime, Sela Tyron follows her sense of right — and her heart — when her commanding officer becomes a wanted fugitive. The propulsive plot involves family secrets, ancient mythology, "mindjacking" and plenty of kick-assery, with a refreshing gender reversal (Sela tirelessly protects her male love interest rather than the other way around). Given the flowing prose, fast pacing, believable characterization and world building, it's no surprise Fallen was chosen by SF fans as a finalist for the 2016 Dragon Awards.
— M.H
Unshackling America: How the War of 1812 Truly Ended the American Revolution
Willard Sterne Randall, St. Martin's Press, 464 pages. $29.99.
Q.—If the act is not repealed, what do you think will be the consequences?

A.—The total loss of the respect and affection the people of America bear to this country, and of all the commerce that depends on that respect and affection.
In this excerpt, Benjamin Franklin could barely contain his rancor in response to a question posed by the British House of Commons. The year was 1766, and Franklin was among the colonists testifying against the Stamp Act, which epitomized taxation without representation. Award-winning Burlington historian Willard Sterne Randall pulls readers into the past with transcripts and other primary sources to challenge the belief that Americans fought two separate wars of independence — the American Revolutionary War and the War of 1812. In reality, Randall argues, America enjoyed only partial autonomy from the late 1700s through 1812, struggling under Britain's efforts to stifle free trade. Not until it defied Britain in a show of maritime superiority did America win complete political and economic autonomy. History buffs, take note!
— E.M.S.
Bastard Republic: Encounters Along the Tattered Edge of Fallen Empire
Tyrone Shaw, Lost Nation Books, 196 pages. $16.
Wooden carts pulled by horses struggle through the deep, half-frozen ruts in the dirt road paralleling the tracks.
As a Fulbright Specialist, Bakersfield resident and Johnson State College prof Tyrone Shaw has taught in Romania, Serbia, Moldova and Latvia. But his interest in Eastern Europe began during his childhood in the '50s, when he practiced the "duck and cover" exercises ludicrously intended to protect children in the event of nuclear fallout. Despite the terror of that prospect, Shaw became fascinated with the "Evil Empire." Visiting the region — both before and after the fall of communism — he found that he liked these countries "where so much has been broken and so much remains to be fixed." More to the point, he likes the people, whom he describes as warm, generous and quick to indulge in black humor.
Bastard Republic relates Shaw's experiences in Romania and Moldova in eloquent and often riveting prose. It is equal parts journalism, personal journal and a dramatic history that is still unfolding. Shaw reads from and discusses the book on Wednesday, July 12, at 7 p.m. at Phoenix Books Burlington.
— P.P.