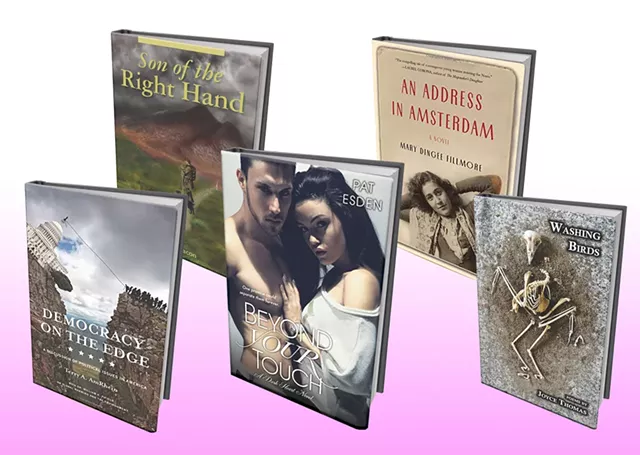 Seven Days' writers can't possibly read, much less review, the number of books that arrive in a steady stream by post, email and, in one memorable case, a scurry of flying squirrels. So this monthly feature, Page 32, is our way of introducing you to five books by Vermont authors. To do that, we'll contextualize each book just a little and quote a single representative sentence from, yes, page 32.
Inclusion here implies neither approval nor derision on our part, but simply: Here are a bunch of books, arranged alphabetically by authors' names, that Seven Days readers might like to know about.
Democracy on the Edge: A Discussion of Political Issues in America
Terry A. AmRhein (with Dr. William K. Fifield), Mill City Press, 300 pages. $16.
"But when gun violence infects American society killing more people than were killed at the Trade Center, we shout, not for gun restrictions, but for more guns and fewer restrictions."
As this election season (and perhaps every election season) demonstrates, the U.S. has no shortage of armchair political pundits. Many of them offer their views in self-published volumes like this one. But Terry A. AmRhein, who has written op eds for the Burlington Free Press and other area papers, isn't just another instance of "old man yells at cloud" (in the memorable phrase from "The Simpsons"). He's got a snappy style and lots of facts about issues ranging from health care to the rise of the Tea Party. He also has his biases. But this is a Vermonter who can call the continuing resistance to gun control "absolute unadulterated lunacy!" and then write about the care with which he handles his own shotgun. In short, the kind whose gruff down-to-earth-ness isn't a bad antidote to election rhetoric.
Son of the Right Hand
Dane C. Bacon, William & James Publishing, 314 pages. $19.99.
"'No man shall wear this ring but Cormac mac Niall, only living son of the greatest living king of the Celtic people!' shouted Cormac, his injured leg long forgotten."
Tales of warfare and questing in the ancient world have entertained readers for centuries. But how often does such a tale feature a protagonist with a realistic disability? In this colorful historical fantasy, Cameron, first-born son of Celtic prince Cormac, is born with "palsy" and raised in a small village in ancient Ireland. Deemed unfit to rule and kept ignorant of his lineage, he nonetheless embarks on a perilous quest. South Burlington author Dane C. Bacon writes that his love for his eldest son, who has cerebral palsy, was a "great motivator" for him to weave this story thick with action, history and lore, which has been decades in the making.
Beyond Your Touch
Pat Esden, Kensington Books, 320 pages. $12.49.
"His eyes, ocean-deep and sad, touched mine, telling me something I didn't quite get."
In the second entry in her Dark Heart paranormal romance series, St. Albans author Pat Esden returns to Moonhill, a spooky, palatial estate on the Maine coast. Young antiquarian Annie Freemont has found both terror and titillation in its halls, and now she's ready to embark on a full-fledged romance with hunky employee Chase, whose mysterious past has been revealed. But a quest to save Annie's long-lost mother will imperil their relationship — and survival — as they cross the veil into another world. As in Esden's first novel, A Hold on Me, narrator Annie's earthy sass keeps the fantasy grounded even as the stakes rise.
An Address in Amsterdam
Mary Dingee Fillmore, She Writes Press, 360 pages. $16.95.
"No matter what the Nazis are saying about the Jews, my family isn't like that, I promise you."
In Mary Dingee Fillmore's historical novel, a young Dutchman speaks these words to his Jewish girlfriend in 1940. Neither imagines the horrors to come. Many Dutch had long believed themselves to be "not like that" — i.e., tolerant of all faiths and creeds. But when the Nazis invaded, their virtues were tested. Rachel, daughter of a prosperous Jewish family, joins the resistance, while her father continues to insist that the storm will soon blow over. Fillmore — who gives a Vermont Humanities Council talk called "Anne Frank's Neighbors: What Did They Do?" — paints a chilling portrait of how venomous ideology, backed by brute force, gradually infiltrates a seemingly enlightened society. Ample research informs her tale of Rachel's coming of age — a severely embattled one, but not without its moments of hope and joy.
Washing Birds: Poems
Joyce Thomas, Main Street Rag Publishing, 64 pages. $14.
Sometimes only the path flood once carved remains;
that, and the eerie resonance of the missing,
which the rod mistakes:
Then, not knowing the difference,
the split wood trembles as if alive. (From "Analogy")
Animals creep and scuttle and peck through this second poetry collection from Castleton University English professor Joyce Thomas. There is Mary, the elephant lynched for crushing her trainer in 1916. There is Cecil the lion, whose killing sparked outrage in 2015. And there are less celebrated critters: flying squirrels with "large bulging eyes / that shine like jasper"; a hen that places "each three-toed, twiggy foot ... as if the earth were taut / cellophane." In her sly, accessible verses, Thomas makes no secret of her sympathies with these creatures that so often suffer from humanity's whims: Circus elephants are "chained, tubercular behemoths / swaying on their sensitive, decaying feet." She also writes compellingly of human beings confronting their own physical limits — their animality — in poems such as "Cardiac Rehab."