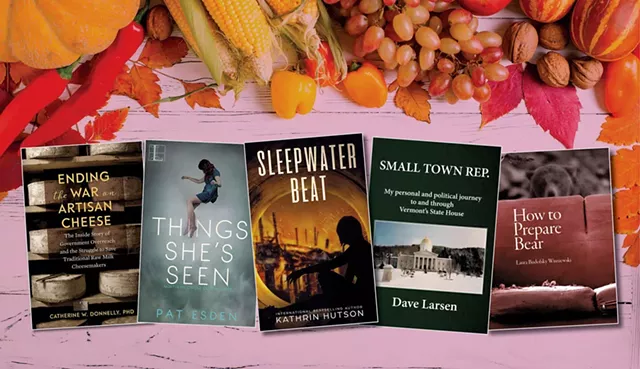 Seven Days writers can't possibly read, much less review, all the books that arrive in a steady stream by post, email and, in one memorable case, a skulk of arctic foxes. So this monthly feature is our way of introducing you to a handful of books by Vermont authors. To do that, we contextualize each book just a little and quote a single representative sentence from, yes, page 32.
Inclusion here implies neither approval nor derision on our part, but simply: Here are a bunch of books, arranged alphabetically by authors' names, that Seven Days readers might like to know about.
Ending the War on Artisan Cheese: The Inside Story of Government Overreach and the Struggle to Save Traditional Raw Milk Cheesemakers
Catherine W. Donnelly, PhD, Chelsea Green Publishing, 224 pages. $24.95.
This would suggest an excellent track record of safety and suggests that current regulations appear to be working as intended to protect public health.
When it comes to raw milk cheesemaking, the government is quick to ignore things like "excellent track records" and, you know, scientific facts, instead allowing international trade and special interest groups to drive policy making. That's the argument of Catherine W. Donnelly's new book on the issues facing raw milk cheese production — or, as she put it at a recent event at the University of Vermont, "How I spent my sabbatical."
A professor of nutrition and food science at UVM, Donnelly has focused her career on Listeria. She publicly entered the raw milk cheese debate in December 2000, when the Cheese of Choice Coalition asked her to help determine the safety of such cheeses.
Her expertise in the microbiological safety of dairy products might lead readers to expect a book all about pasteurization. Instead, Ending the War outlines the dichotomies of the cheese world and its regulation: industry versus artisans; standardization versus tradition; large-scale interest groups versus opportunities for struggling farmers. It's an academic yet necessary read for anyone who loves cheese or loathes arbitrary government oversight, opening our eyes to the degree to which regulations dictate our food choices.
— J.B.
Things She's Seen
Pat Esden, Kensington Publishing, 222 pages. $4.99 ebook, $15.95 paperback.
She'd joined the coven mainly so she could live in the sanctuary of their complex while she got her act together.
Burlington's South End has many delights, but they don't include a witches' coven in a boho warehouse complex — to our knowledge, anyway. Pat Esden remedies that deficiency. In book two of her Northern Circle Coven series, the author shifts her focus to recent initiate Emily Adams, who endured a horrific childhood touring the country as "the world's youngest medium." Em's elders treated her like a lucrative circus act, but her ability to communicate with the dead is the real deal. When Em senses a stubborn ghost haunting the mystery man who's been sent to investigate the coven, she resolves to root out the dark forces that could be menacing her refuge.
Like the previous book, this one pairs romance and peril with spells, séances and divination. The characters also tackle less glamorous problems: Both the recently sober Em and her love interest attend Alcoholics Anonymous meetings. Em's struggle to rebuild her life, one day at a time, adds a poignant note of realism to Esden's paranormally enhanced version of the Queen City.
— M.H.
Sleepwater Beat
Kathrin Hutson, Exquisite Darkness Press, 408 pages. $3.99 ebook, $14.99 paperback.
"You will mark it right," she amended, clasping that strange power like a flitting bug in her hands.
Kids are often told to "use your words." But when Leo does just that, she accesses a fearsome ability to make people believe whatever she chooses to tell them. This science fiction novel by Colchester's Kathrin Hutson opens with Leo homeless and on the run, using her power to shoplift cigarettes. When she meets a member of Sleepwater Beat, a group of people with similar powers, she hopes she's found a safe haven. But Sleepwater Beat is underground for a reason, and Leo finds herself caught in the clash between the group and an unholy confluence of Big Pharma, Big Tech and the government.
Hutson, a coeditor of Burlington-based Mud Season Review, brings a delicate noir sensibility to this origin story (the first in a series), alternating between present action and flashbacks to Leo's troubled childhood. Her world has a gritty, cyberpunk feel, and some of the ideas she brings to life on the page, such as a popular, dangerously addictive drug that helps the brain learn faster, are all too plausible.
— M.H.
Small Town Rep.: My Personal and Political Journey To and Through Vermont's State House
Dave Larsen, self-published/Shires Press, 686 pages. $26.95.
It quickly became clear to me that if I failed to keep up with the physical demands of basic training I would be recycled.
Former Vermont legislator and Wilmington teacher Dave Larsen might have been a "small town rep," but the measures of his book are far from modest. First, it is almost 700 pages long. Larsen has much to say about his life, beginning with the comment that as a toddler he "looked very much like Dwight David Eisenhower." That doesn't indicate a bent toward Republicanism; Larsen, who was born in 1948 and came of age in the turbulent '60s, fell politically in "the middle of the bell curve," he writes. In the Vermont House of Representatives (1987-97), he was a moderate Democrat.
Other superlatives apply: Small Town Rep. is highly readable, if occasionally TMI, and reflects impressive record keeping. Larsen's account cites sources ranging from a personal journal to publicly recorded speeches to letters from constituents. All of this informs a personal memoir and chronicle of Larsen's decade in the Statehouse, but it's also a primer on the messy, boring, thrilling business of democracy.
— P.P.
How to Prepare Bear
Laura Budofsky Wisniewski, Red Bird Chapbooks, 27 pages. $12.
No one — I have slain the witness.
The last line of Laura Budofsky Wisniewski's chapbook How to Prepare Bear strikes just as definitively as the first, in which the narrator declares herself "I of the multiple orgasms." The 20 poems in between are equally declarative. Though Wisniewski has written poetry on and off her entire life, she said in an interview, she wasn't able to dedicate herself to it until she turned 60.
Now, at 67, the Hinesburg poet has established a confident voice that she applies to topics including grief, sex, longing and survival. Predator and prey take turns in each role; bodies are forged of wood and wildness; a woman observes the world around her and tries to decide how to occupy it. The title poem describes the preparation of bear meat and the mystery of the animal that remains. The volume is slim — not quite 32 pages, so we picked a line from page 27 instead — but Wisniewski will publish a full-length collection of poems next year.
— M.G.