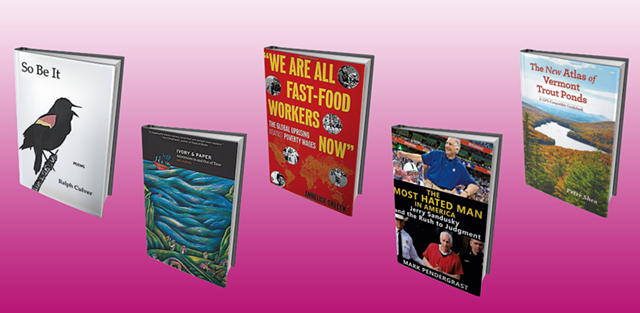 Seven Days writers can't possibly read, much less review, all the books that arrive in a steady stream by post, email and, in one memorable case, a skulk of foxes. So this monthly feature is our way of introducing you to a handful of books by Vermont authors. To do that, we contextualize each book just a little and quote a single representative sentence from, yes, page 32 (or nearest to it).
Inclusion here implies neither approval nor derision on our part, but simply: Here are a bunch of books, arranged alphabetically by authors' names, that Seven Days readers might like to know about.
So Be It
Ralph Culver, WolfGang Press, 20 pages. $8.
Cutting carrots for soup, I'm distracted by the trees outside the window, their branches
making sweeping gestures through pale air half an hour before sundown,
officious yet somehow disinterested...
Thirteen poems from Ralph Culver come with high praise from former Vermont poet laureate Sydney Lea, who calls him one of "New England's truly distinguished voices." Culver, who lives in South Burlington, has been published in numerous poetry journals and graduated with an MFA from Warren Wilson College. His verse is dense but sometimes deft in its manipulations. He draws in everything from cold spring air to solitary red-winged blackbirds to grimy chrome ashtrays to the smell of gasoline to create tense, introspective verses that ground the reader in a landscape. While that landscape is Vermont's for the most part, there are no passive cows or sweet scents of hay to be found here. Culver opts instead for skidding tires on slippery March roads and "slanted sunlight over a stream in late autumn" that illuminates the blue veins visible beneath the skin of a hand. One or two pieces fall into the familiar poetic well of liquor and feel appropriately depressing. And that's good. Comfort can be a curse, and the poems in So Be It are by no means comfortable or comforting in their subject matter or their tricky phrasing. In works that frequently take Vermont as their physical setting, this crisp and complex viewpoint is refreshing.

— S.W.
Ivory and Paper: Adventures in and Out of Time
Ray Hudson, University of Alaska Press, 236 pages. $16.95.
The scenes on the bookmark show places where the book that you're holding is being read.
In Vermont, 13-year-old Booker acquires a bookmark that has the power to transport him anywhere in the space-time continuum where its companion book is being read. In the Aleutian Islands, 15-year-old Anna, a descendant of the indigenous Unangax people, finds a powerful artifact that has been looted by outsiders. With the aid of both these talismans, the two embark on an adventure that takes them deep into Unangan history and folklore, where they tangle with fantastical antagonists such as the Real Raven and Summer-Face-Woman. Middlebury author Ray Hudson has lived in the Aleutians and authored several nonfiction books about the region; last year, the Alaska Historical Society gave him an award for his long-term contributions. In this, his first novel, he brings the verdant, treeless islands to life in evocative prose, whether describing a modern harbor or a ceremonial parka made of bird skin and seal fur.

—M.H.
"We Are All Fast-Food Workers Now": The Global Uprising Against Poverty Wages
Annelise Orleck, Beacon Press, 298 pages. $18.
Since 2012, Walmart workers have struck on every Black Friday — in the US and around the world. In 2014, Chilean workers shut down every Walmart in that country.
Walmart employees, farmworkers, hotel housekeepers, garment workers, home health care aides, airport workers, adjunct professors and others around the globe are rebelling against the negative impacts of globalization. Among these, writes Dartmouth College history professor Annelise Orleck, are "poverty wages, the disappearance of public services (education, health care, water), the transformation of workers into independent contractors ... disrespect, sexual harassment and violence, mass evictions and disregard of people's land rights." Based on research she conducted in Bangladesh, Cambodia, Mexico, the Philippines, South Africa and the U.S., Orleck's book describes the global "precariat" — the postindustrial working class of people whose employment and income are insecure — and efforts to build social movements. Peppered throughout are examples of struggles, successes and visions for a future that ensures living wages and dignified work. The author of five books on the history of American women, politics, immigration and activism will speak on her latest publication on Thursday, March 22, 6:30 p.m., at Phoenix Books Burlington.

— E.M.S.
The Most Hated Man in America: Jerry Sandusky and the Rush to Judgment
Mark Pendergrast, Sunbury Press, 400 pages. $19.95.
Once the idea of possible molestation is planted, most people become obsessed with knowing whether it is true or not.
Mark Pendergrast's fourth book on the topic of repressed memory may be his most controversial. Along with its subhead, his publicity statement indicates the direction of this exhaustively researched volume: "Everyone knows the story of Jerry Sandusky, the serial pedophile, the Monster. But what if the story is wrong?" In 2012, Sandusky, a retired Pennsylvania State University assistant football coach, was convicted of multiple counts of child molestation over many years. The scandal, or its cover-up, also brought down head coach Joe Paterno, the university president and two other administrators; Penn State has paid out millions of dollars to alleged victims of the abuse. The author fiercely discounts the validity of accusations based on repressed memories and therapists who have, in his view, invented them; and he tears into the evidence, or lack thereof, against Sandusky. Pendergrast's charge of a "moral panic" is plausible — such phenomena surely did not end with the Salem witch trials. Though he eventually allows that "readers will of course make up their own minds," Pendergrast does his best to persuade us that Sandusky is — or at least could be — the real victim.

— P.P.
The New Atlas of Vermont Trout Ponds: A GPS-Compatible Guidebook
Peter Shea, Wind Knot Publishing, 148 pages. $16.95.
Comments: A porta-potty is available in the summer.
In 1981, Vermont geographer and fly fisherman Peter Shea published the first Atlas. Sales of three editions over the next dozen years testified to the book's popularity with local and visiting anglers. The guides' inventory and descriptions of the state's 150 or so water bodies not only provided basic geographic information but helped trout seekers navigate some of Vermont's can't-get-there-from-here back roads. Now comes a 21st-century version: "GPS-compatible" means that Shea has used Google Earth technology to update the previous books to the nth degree. Nowadays, travelers might choose to employ their own GPS or other navigation tool to reach a destination — or reference the six maps in Shea's guide. Once they've arrived at their chosen site, fishermen and -women can make use of the book's info on fish populations and stocking data, invasive species, boat access or rentals, hiking, perks such as restrooms, and more. The straightforward writing and standard formatting for each pond's page encourage less reading, more fishing. Shea discusses his book on Tuesday, April 3, 6:30 p.m., at Phoenix Books Burlington.*

— P.P.

*Correction, Thursday, March 8, 2018: An earlier version of this story misstated the date of Peter Shea's book talk. The event is on Tuesday, April, 3.