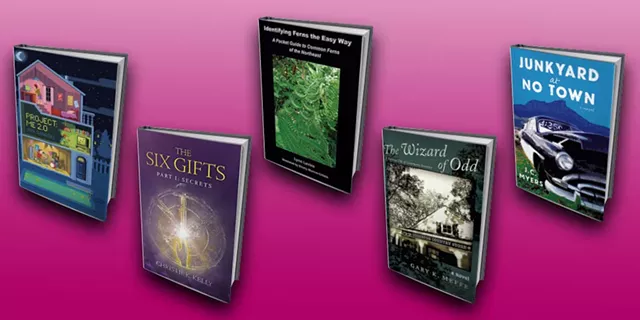 Seven Days writers can't possibly read, much less review, all the books that arrive in a steady stream by post, email and, in one memorable case, a bale of turtles. So this monthly feature is our way of introducing you to a handful of books by Vermont authors. To do that, we contextualize each book just a little and quote a single representative sentence from, yes, page 32.
Inclusion here implies neither approval nor derision on our part, but simply: Here are a bunch of books, arranged alphabetically by authors' names, that Seven Days readers might like to know about.
Project Me 2.0
Jan Gangsei, Aladdin, 272 pages. $7.99.
It's never a good sign for Farley when Mom starts referring to herself in the third person.
Twelve-year-old Farley Andrew Turner (yes, he knows that spells "FAT") is tired of being the class clown, the goofball, the kid who tries to set his own farts on fire. His childhood crush has moved back next door, and he's hell-bent on showing her a svelter, smoother Farley. But when the tween explores a self-improvement website, he gets more than he bargained for: A tiny surfer-dude guru escapes the digital realm and camps out in Farley's bedroom to torment him with daily affirmations.
Farley's first-person narration is fresh and funny, and this middle-grade novel from Chittenden County's Jan Gangsei should delight kids with its gleefully silly humor. Under all the farting and burping and high jinks, though, there's a serious message. Farley thinks self-help means putting himself on a draconian diet and reading War and Peace. But as he finds more productive ways to leave his comfort zone, he learns that what makes him likable is liking himself.
— M.H.
The Six Gifts: Part 1: Secrets
Christie K. Kelly, BookBaby, 362 pages. $17.95
Under the water she searches for The Why.
Olivia Alfieri has escaped death at least three times in her life, including two near-drownings as a child. Most recently, she and her husband, Marco, have narrowly avoided becoming the victims of a gas leak in their own home. Shaken, they seek refuge in the idyllic mountains of rural Vermont. And that's when the dreams start, in Christie K. Kelly's The Six Gifts: Part 1: Secrets, the first book in a six-part series loosely inspired by the author's own real-life brushes with death.
Are Olivia's dreams something more — visions, perhaps? Her obsession with her strange nighttime chimeras and the mysteries of her own mortality leads her to Colorado on a mystical quest of healing and self-discovery. The Vermont author sends her heroine on a series of fateful encounters along the path to finally understanding "the Why."
— D.B.
Identifying Ferns the Easy Way: A Pocket Guide to Common Ferns of the Northeast
Lynn Levine, Heartwood Press, 74 pages. $10.95.
Subleaflets have wavy edges, but are not cut deep enough to be thrice-cut.
The subhead of this book isn't kidding: Identifying Ferns is small enough to fit in your pocket. Even so, it contains all the information an amateur botanical sleuth could need when strolling through typical shady fern territory. Then again, Levine informs us that the world contains some 12,000 species of fern, so perhaps some of them are sunbathers.
Skeptics may be surprised to find these graceful plants rather fascinating. For one thing, they appeared on Earth 400 million years ago, which puts them way ahead of smarty-pants Homo sapiens. And each time a massive planetary die-off occurred, hardy fern spores survived. (If some variety happens to be taking over your backyard, now you know why.)
No guidebook is useful without illustrations, and the ones here, by Briony Morrow-Cribbs, are excellent for identifying, say, the ebony spleenwort or the spinulose wood fern, as well as fern body parts from blade to stipe. If you thought you cared only about the edible fiddlehead (aka ostrich fern), Levine's petite volume might make you open your fronds — er, mind.
— P.P.
The Wizard of Odd
Gary K. Meffe, Green Writers Press, 358 pages. $19.95.
"Well, I do admit to getting lonely sometimes," said Watson, pondering, "but nah, I'm too old to start over with someone."
Subtitled "A Vermont Tale of Community Devotion," this personable novel from Brandon author Gary K. Meffe should make locals nod in recognition. The setting is Odderton, a town of 700 in the Northeast Kingdom. Eighth-generation Vermonter Kate Langford has just inherited the Odderton Country Store, which comes with 137 years of history and a $116,000 debt with a tight deadline. Can she raise enough money to save the town's gathering place? Or will the bank — or worse, a predatory New York developer — swallow it up?
Meffe populates his tale with lovable oddballs — some "Odd Country" regulars call themselves just that — and serves it with a generous dollop of gentle humor. While Kate's plight may evoke a Frank Capra fable, some rural Vermont general stores — most recently, the Monkton General Store — really have fundraised to translate community goodwill into economic survival. If that real-life relevance lends urgency to this slice of local color, so does the passionate and informed messaging about the climate crisis from Meffe, a retired science prof.
— M.H.
Junkyard at No Town
J.C. Meyers, Rootstock Publishing, 376 pages. $17.95.
"Martha, Centennial 21 is the up and coming real estate outfit in the country, and Vermont is in the middle of a real estate boom, but if you'd rather be growing dope and copping fucking firewood in the hills, be my guest."
Each character in Junkyard at No Town is so delightfully, stubbornly Vermonty that it's no surprise author J.C. Meyers hails from Calais. In the first 32 pages, we meet Jules, an offbeat graduate who flees from suburban New York to middle-of-nowhere Vermont; Martha, his Realtor aunt who dropped out of college years ago to start a commune; and Lutheria Tupper, a rough, tough farmer whose ancestors founded the town where the three characters' paths cross.
That town, Iraton, is as quirky as its inhabitants. Created by a surveying error and settled by accident, it lies right beside a tract of land that surveyors never accounted for, dubbed "No Town." Meyers prefaces his book with the disclaimer that Iraton and No Town are fictitious places, but the romance and oddities of Iraton feel true to life; Vermonters will find joy in the authenticity of Meyers' portraiture of their charismatic state.
— S.P.