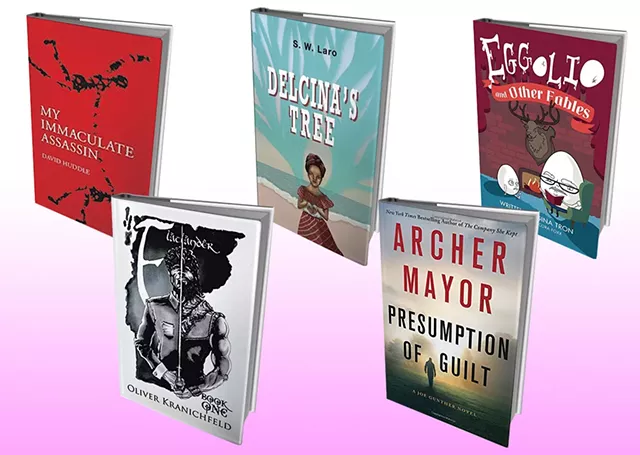 Seven Days' writers can't possibly read, much less review, the number of books that arrive in a steady stream by post, email and, in one memorable case, a flock of angry grackles. So this monthly feature, "Page 32," is our way of introducing you to five books by Vermont authors. To do that, we'll contextualize each book just a little, and quote a single representative sentence from, yes, page 32.
Inclusion here implies neither approval nor derision on our part, but simply: Here are a bunch of books, arranged alphabetically by authors' names, that Seven Days readers might like to know about.
My Immaculate Assassin
David Huddle, Tupelo Press, 256 pages. $16.95.
"It was sweet but it was also harsh — and maybe at the crucial instant of our pelvises colliding with a grand urgency, it was downright brutal."
The line above notwithstanding, David Huddle's latest novel is not pornographic. Yes, Maura and the book's narrator, Jack, definitely have sexytimes. But this is the story of a relationship between two midlife adults — she starting it as a 39-year-old virgin, he divorced after a long marriage. Huddle, a University of Vermont English prof emeritus, capably unfolds the story in much the same way two people come to know each other. The couple's intimacy becomes so potent that a reader may feel voyeuristic. That's not all; as its title portends, the book is also about murder — eliminating those whom they decide "need to be dead" with a cybertechnology that only Maura has figured out. Huddle navigates the psychological terrain of the lovers while chronicling a morally complicated mission, and it's a tautly woven tale.
Flatlander: Book One
Oliver Kranichfeld, illustrated by Sam Balling, iUniverse, 684 pages. $28.99 paperback, $3.99 ebook.
"It means that we as a people, Ellen, we as a people, bury a lot of things deep down and see things the way that we want to see them, not as how they truly are."
In 2110, a man wakes with amnesia to find himself a stranger in a strange land: the independent republic of Vermont, whose residents immediately peg him as a despised "Flatlander" from the "Old Country." With sly wit, Burlington resident Oliver Kranichfeld has crafted a different kind of epic fantasy novel: all the questing, battling and pseudo-medievalism you might expect, transplanted to a satirical framework full of Green Mountain in-jokes. Watch as Flatlander takes on the cult of "the singing Fish," explores "the Brattle," saves Pete the Moose, and intervenes in the debate over the Moran Plant — which, yes, is still going on. Flatlanders may not get it, but residents of the "republic" sure will.
Delcina's Tree: Legend of the Crossin' Tree Witch
S.W. Laro, CreateSpace, 302 pages. $12.
"Delcina smiled, feeling the tree heave back and forth as the wind grew more intense, bringing forest scents of animal scat, soil and all things of mysterious spirits."
In 2010, Jacob Longwood, the 87-year-old heir to a Vermont railroad dynasty, prepares himself for death. His companion and sole friend is a mysteriously youthful Jamaican wise woman named Delcina, who was his childhood caretaker. Punctuated by Delcina's patois, this ambitious, lyrical novel travels back and forth in time as it explores both characters' pasts — including the origins of Delcina's mystical power to communicate with the "crossin' tree," which "embraces and guides those about to die." Southern Vermont author S.W. Laro says in a biographical note that he wrote the book "in honor of the Jamaican woman who helped raise him."
Presumption of Guilt
Archer Mayor, Minotaur Books, 304 pages. $25.99.
"He shoved over a plastic hand with two perfect fingers and three crude extremities, making it look like an abandoned sculpture project."
Talk about a cold case. Newfane writer Archer Mayor begins his 27th crime novel with the discovery of a 40-year-old skeleton in a slab of concrete at the recently decommissioned Vermont Yankee nuclear facility. In a single scene, Mayor introduces both foul play and a locale familiar to anyone in the Green Mountain State — which, in turn, gives his narrator opportunities to muse on how that state has changed since the 1970s. Realism, historical context and the author's evocation of place — alongside a fictional tale of murder and mayhem — will bring fans back for this annual installment of the Joe Gunther detective series. Homicide and mafia connections are not so typical in Vermont, but their presence in Presumption makes for a tense and well-paced whodunit. Plus, longtime readers get to drop in on Mayor's engaging cop crew.
Eggolio and Other Fables
Gina Tron, illustrated by Cora Foxx, CreateSpace, 116 pages. $15.55.
"This particular Annual School Bus Driver Dance ... would be a memory so horrific that nobody in the town could describe it with even a modicum of clarity."
Of late, Vermont journalist Gina Tron has been doing hometown reporting for the Barre-Montpelier Times Argus, but her CV also includes viral Vice pieces such as "The Brown Mountain State" (about Vermont's heroin epidemic) and "I Was a Suspected School Shooter." The catalyst for the latter incident was a satirical verse tale Tron penned in high school, which some of her classmates characterized to police as (in her words) a "prom murder spree manual." Readers will find that story in its entirety in Tron's new collection of darkly comic "fables." They paint a world dominated by abusive authority figures, absurdly whacked-out priority systems and fast food. These bizarre parables and put-ons bear glowing blurbs from a wide range of cultural tastemakers — including, of all people, conservative writer and commentator Ann Coulter.