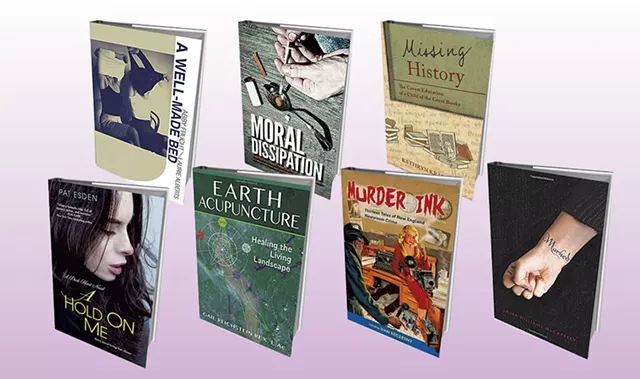 Seven Days' writers can't possibly read, much less review, the number of books that arrive in a steady stream by post, email and, in one memorable case, a flock of trained parrots. So this monthly feature, Page 32, is our way of introducing you to seven books by Vermont authors. To do that, we'll contextualize each book just a little, and quote a single representative sentence from, yes, page 32.
Inclusion here implies neither approval nor derision on our part, but simply: Here are a bunch of books, arranged alphabetically by authors' names, that Seven Days readers might like to know about.
A Hold on Me
Pat Esden, Kensington Books, 320 pages. $12.95.
"Moonhill might be full of practiced liars and perhaps they'd see right through my pretense, but I wouldn't go down without trying."
Pat Esden kicks off her Dark Heart series of paranormal novels with a classic gothic setup: A young woman finds herself a guest in a spooky house full of secrets. Protagonist Annie is no swooning naïf, though; her antique dealer father has taught her how to read people's true motives. That savvy comes in handy when he falls ill, and Annie must navigate her way through a house of forbidding relatives and sculptures that seem a bit too alive. Esden, who sells both antiques and flowers in northern Vermont, draws on her knowledge of the trade to stud this fantastical romance with insider details.
A Well-Made Bed
Abby Frucht and Laurie Alberts, Red Hen Press, 320 pages. $16.95.
"Noor hadn't been [awake] but now she was; before Dan spoke she'd been walking on the side of a highway with lights approaching from behind."
A sheltered young woman, raised by an egomaniacal children's-book author in a living-history museum, takes an impulsive trip to Peru. She returns with a giant cheese — and, when it turns out to be stuffed with something other than dairy, she opts to take advantage of the bizarre windfall. Former Vermont College of Fine Arts faculty member Laurie Alberts (who lives in Vermont) and current faculty member Abby Frucht (who doesn't) teamed up on this literary novel with a wild side. It starts with a hit-and-run accident and spirals into a profusion of perspectives and time frames, all revolving around the oddball story of two Vermont women who become unlikely drug peddlers.
Moral Dissipation
S.M. Jarvis, Mascot Books, 272 pages. $14.95.
"My body had developed such a high tolerance to painkillers that taking an entire bottle of Tylenol wouldn't have done a thing, except for attack my liver, depleting it of an enzyme necessary for life and slowly and painfully killing me."
The speaker is a young Vermonter who tells his story from a jail cell. The source of his "moral dissipation" is opiate addiction, which began in his teens and lured him into a life of dealing and violent crime. While the book is fiction, author S.M. Jarvis presents it as a cautionary tale of Vermont's very real opiate epidemic; an author's note says she'll donate 10 percent of the book's profits to "organizations focused on preventing drug abuse and helping recovering addicts." Gritty details give the narrative a ring of authenticity.
Missing History: The Covert Education of a Child of the Great Books
Kathryn Kramer, Threshold Way Publishing, 214 pages. $15.
"The houses all seemed to stand in ghostly streets of invisible houses level with theirs, they themselves mere vestiges of an absent town, cenotaphs to a richer, more populous place."
Is it possible to know the Truth? Such is an "axiom of faith" at St. John's College in Annapolis, Md., famous for its Great Books Program. Kathryn Kramer's father taught at St. John's in the 1950s, and her own worldview was shaped in ways good and bad by that idealistic institution. Now a Middlebury College professor and author of several novels, Kramer ventures into self-publishing with this lucid, piercing memoir that broaches big questions about education itself. Of St. John's, she writes evocatively, "To live in such an atmosphere, to grow up in it, means that life is never quite itself; life is the unformed matter out of which meaning is made."
Marked
Laura Williams McCaffrey, Clarion Books, 368 pages. $17.99.
"He'd almost spent his whole life inventing clean, glowing, sleek Protean-powered machines, and now he was generally too tired to even build grimy steamers from old bent scraps."
The young adult dystopian trend didn't end with blockbuster series like Divergent and The Hunger Games. Laura Williams McCaffrey offers a quieter, inventive twist on the model with this steampunkish novel about a rigidly meritocratic society where education determines destiny. When heroine Lyla is caught buying contraband and thrown off her advanced academic track, her future looks bleak — unless she accepts a risky assignment. There's a dollop of Dickens grit in McCaffrey's third novel, supplemented with engaging, cartoon-style illustrations.
Earth Acupuncture: Healing the Living Landscape
Gail Reichstein Rex, LAc, Bear & Company, 208 pages. $16.
"I began to think that I needed a yang person to help me discover the yang of the landscape."
Most people know how acupuncturists work on a human body, but how exactly does one treat a place with this traditional healing method? Gail Reichstein Rex, cofounder of Lightwave Healing Arts, explains that it all started in 2002, when she had a vision of destructive energy leaking from New York's Indian Point nuclear power plant into the Hudson Valley. "Work with the hills," she was told — and set out to learn how to administer acupuncture to the "body" of the land. Her book offers a step-by-step account, along with exercises for the reader such as "Creating a Relationship With a Tree."
Murder Ink: Thirteen Tales of New England Newsroom Crime
Edited by Dan Szczesny, Plaidswede Publishing, 189 pages. $19.95.
"She stared at him, and he said, as plain and as clear as he could, 'This time I'll make the front page, don't you think?'"
Edited by veteran New Hampshire journalist Dan Szczesny, this anthology of newspaper-themed crime fiction made our cut by virtue of containing a story by Northeast Kingdom author S.J. Cahill. Besides, we couldn't resist a collection of pulpy tales in which an alarming number of intrepid reporters not only report on crimes but commit them — and a still more alarming number murder their editors!