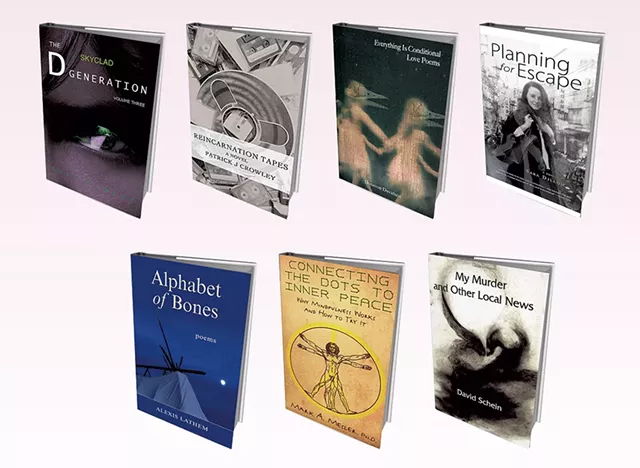 Seven Days' writers can't possibly read, much less review, the number of books that arrive in a steady stream by post, email and, in one memorable case, a flock of trained parrots. So this monthly feature, Page 32, is our way of introducing you to seven books by Vermont authors. To do that, we'll contextualize each book just a little and quote a single representative sentence from, yes, page 32.
Inclusion here implies neither approval nor derision on our part, but simply: Here are a bunch of books, arranged alphabetically by authors' names, that Seven Days readers might like to know about.
The D Generation Volume Three: Skyclad
Eric J. Best, Left of Pluto, 294 pages. $11.99.
"Gorgeous lit the tobacco and got it smoking profusely so that James had to move slightly to see his face."
Eric J. Best is a prolific self-publisher with three dystopian novels and a romantic comedy under his belt. His D Generation series takes place in a post-peak-oil Vermont, AD 2056, where end-times Christians clash with pagans and hippies, and alien tech and intelligence agencies play their part. The copyright page bears a mock "R rating": "for bad fucking language, recreational drug use, celebrating sexuality, lewd and sexist comments, politically incorrect statements, and in-your-face paganism." All true, but it should also be noted that Best knows how to move a wacked-out story briskly along.
Reincarnation Tapes
Patrick J Crowley, PJC Books, 228 pages. $15.
"Evenings that began with bold musical ideas and celebration deteriorated into cold confusion and ended with a tired dismissal."
Living with friends in LA's funky Topanga Canyon, a young man tries to overcome his inertia and follow his artistic ambitions in this memoir-esque novel from Patrick J Crowley, who's also a singer-songwriter with the local band Deep River Saints. The title of his self-published book refers to a characteristically colorful scene near the beginning: The narrator and his friends drop acid and recount past lives in a down-at-heel recording studio. Crowley's strong descriptive prose captures an artist's struggle to focus through a haze of distractions, mundane and hallucinogenic alike.
Everything Is Conditional: Love Poems
Donavon Davidson, Empty City Press, 77 pages. $12.
"I think I can make the world a better place

to hide the revolver

in the shape of my hand

between a knocked over lamp and white sheet

you tied up beautifully

we called room service ..."
This isn't a "sentence" per se; it's a section sliced from one of the five lengthy, almost punctuation-free chants of love and ambivalence that compose this volume. An instructor at the Community College of Vermont, Donavon Davidson received a Pushcart Prize nomination last fall for a poem in Clockhouse, one of many journals in which his work has appeared. His poems alternate between cannily used stock phrases ("take a picture / it will last longer") and glimpses of a more raw reality, to semi-hypnotic effect. The author asked us to note that the book is available at Phoenix Books Burlington and Bear Pond Books in Montpelier.
Planning for Escape
Sara Dillon, Green Writers Press, 240 pages. $19.95.
"I was absurd to hate law school so much, with every ounce of my being; it cancelled me out, and very nearly killed me."
There have been many midlife-crisis novels. But Sara Dillon brings a special grace and ruefulness to this one, narrated by a woman who has ditched her "sensible" career teaching law school to drag her two young adopted children up to Greensboro. There she rents a house out of season and reflects on a past full of travel, lovers and "motifs" — passions for a person or a place that she always ended up "escaping." "I blew it, really," she admits. Dillon's masterful impressionistic sketches of travels in Ireland, Japan and other places lift the novel out of the category of navel-gazing. Her heroine's regrets may not be the stuff of page-turners, but they have the ring of truth.
Alphabet of Bones: Poems
Alexis Lathem, Wind Ridge Books, 70 pages. $15.95.
"A bend in the river, where the birds converge in spring,

and the salmon used to murmur, rubbing the rocks with their

bellies as if they were rosaries."
An activist and environmental journalist, Alexis Lathem brings her travels and experience to bear on this volume. Nature and indigenous cultures are recurring themes; in the title poem, a Québec demonstration against a hydroelectric project becomes the occasion for a graceful, stirring lament for the land and its people. The poem quoted above, "The Quiet Dead," evokes a Swanton stretch of the Missisquoi River — where, Lathem notes, the "graves of Ab'naki dead go back 8,000 years" but have not always lain undisturbed.
Connecting the Dots to Inner Peace: Why Mindfulness Works and How to Try It
Mark A. Mesler, PhD, Dog Ear Publishing, 66 pages. $8.99.
"They are encouraged to examine its size, color and texture, and to feel its weight, before slowly chewing and savoring that simple morsel."
This quote forms part of Mark A. Mesler's account of an episode of Bill Moyers' series "Healing and the Mind," in which mindfulness guru Jon Kabat-Zinn introduces his students to meditation by asking them to give their full attention to a raisin. Mesler, who has a background in social psychology, end-of-life care and goat farming, uses this tiny book as an opportunity to convey his own understanding of mindfulness. While that understanding is inflected by his academic work, his explanation is clear and simple — and, like Kabat-Zinn, Mesler offers useful examples of opportunities to connect with the physical world and silence the voices in our heads.
My Murder and Other Local News
David Schein, Fomite, 128 pages. $15.
"If he'd believed in it

he'd have wanted to return

as penicillin."
Back in the 1980s, David Schein carved out a place for himself in San Francisco's art world as a writer and performer of experimental theater — he even toured a show with Whoopi Goldberg. In recent years, Schein has returned to his hometown of Burlington, where he's performed his one-man shows at Off Center for the Dramatic Arts. In this volume, local press Fomite has collected four of Schein's "performance poems" — including "My Murder," which is actually about witnessing a street crime rather than falling victim to one. Our quote comes from "The Flood of '93," an alternately lyrical and wrenching account of the death of the author's father. What he doesn't "believe in" is an afterlife.