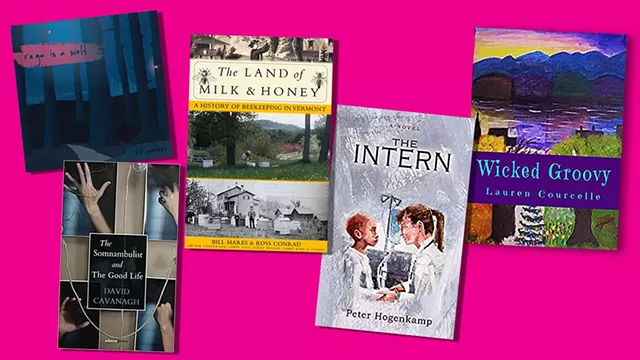 Seven Days writers can't possibly read, much less review, all the books that arrive in a steady stream by post, email and, in one memorable case, a prickle of porcupines. So this monthly feature is our way of introducing you to a handful of books by Vermont authors. To do that, we contextualize each book just a little and quote a single representative sentence from, yes, page 32.
Inclusion here implies neither approval nor derision on our part, but simply: Here are a bunch of books that Seven Days readers might like to know about.
The Somnambulist and the Good Life
David Cavanagh, Salmon Poetry, 76 pages. $14.95.
You'd swear
I know what I'm doing. You'd swear I'm hearing
instructions. I may have to grow old this way, drifting
unbruised, unrecollected, directed — or not — from afar.
In his latest volume, Burlington poet David Cavanagh uses sleepwalking as a metaphor for the anesthetized state of automatic doing that characterizes everyday wakefulness. His poems are slightly daffy, with a trancelike quality that mimics the delirium of an Ambien trip. In "Handbasket," he turns one of the English language's most befuddling idioms into an extended farce, which reads like a dispatch from a sold-out Amtrak car: "Strange but mostly comfortable, hell-bound / in this crowded tote. Charming, even quaint, / cozy it sounds, like the word cottage, / or hot chocolate."
Another traveling-to-hell-adjacent poem in the collection, "Faust Airlines," begins with a chortle-inducing sales come-on ("What a deal!"), then proceeds to this sizzling description of economy-class malaise: "Now I breathe the air I just did breathe." There are also "serious" poems in The Somnambulist and the Good Life — reflections on death, love, climate change, the determinedly hell-bound state of the world — but the more playful ones seem to have the most profound things to say.
— C.E.
Wicked Groovy
Lauren Courcelle, self-published, 539 pages. $25 paperback; $3.99 ebook.
Mom had cautioned me about the overabundance of crunchy, hipster yuppies in Burlington, and I didn't see a need to meet any of them.
Since 2012, Vermont author Lauren Courcelle has been publishing a series of novels about Persephone Smith, a girl with paranormal powers and pop-star connections living in the humble environs of Vermont. In the first book, Wicked Normal, Persephone is a 10-year-old middle grader; having aged with the series, she's starting her first year at "Vermont U" at the opening of the eighth installment, Wicked Groovy. Bubbly, opinionated and prone to frequent italics in her narration, Persephone is also prone to inconvenient crushes — for instance, on her dorm's hot RA and her gay best friend. And did we mention she can resurrect the dead? Rambling from everyday college experiences to fantastical ones and back, this novel takes Persephone through a range of "firsts" on her way to adulthood.
— M.H.
The Intern
Peter Hogenkamp, TouchPoint Press, 264 pages. $16.99.
She could see Bobby lying in his bed, clutching the comic book with his only hand.
At the center of this medical drama is Maggie Johnson, an intern at a hospital in East Harlem in New York City who struggles under the weight of her physician father's expectations. While a vast array of doctors, nurses and patients floats in and out of Maggie's orbit, the through line of the tale is her relationship with Bobby, a 12-year-old with terminal cancer and a wisecracking mouth.
Written by Peter Hogenkamp, a doctor living in Rutland, the book displays impressive knowledge of the inner workings of hospitals. Some lines feel like they must have been pulled directly from his own experiences. At times, the plot goes full "Grey's Anatomy," with Maggie getting into a knife fight with a patient's abusive boyfriend and performing an illicit, off-the-books treatment. But at other moments the story eschews the drama to delve into the hidden emotional depths of a young person grappling with the beginning of a medical career.
— M.G.
Rage Is a Wolf
kt Mather, Whiskey Tit, 395 pages. $16.
Ripley puts it on and is like ... I mean, I don't know how to write the sounds of the machine, cause it's really the sounds that render the scene, but let's just say she has a Class BAMF rating and does all the things the exo-forklift can do and lifts this giant crate of Marine-alien-colony gear and is all sexy voice, "Where do you want it?"
Sixteen-year-old Elaine fantasizes about being as badass as Ripley in Aliens — badass enough to do something about climate change and injustice and the plastic clogging the oceans instead of sitting in class thinking about it. She convinces her moms to let her unschool, only to realize she's lost her excuse for inaction. The resulting odyssey puts her on a collision course with an unscrupulous trendy YA writer, coffee-shop hipsters and her own best friend. While Rage Is a Wolf is longer on funny, voice-y monologue than on traditional plot, Vermont author kt Mather makes that voice sound loud and clear. Bristling with anger over a surplus of information and a deficit of avenues for meaningful action, Elaine reminds adult readers that idealism can be both absurd and necessary — a powerful lesson for now.
The book's publisher is pretty badass, too: In the words of owner Miette Gillette, Whiskey Tit is "based here on my pig and goat farm in the middle of nowhere, VT" and devotes itself "to texts that would otherwise be abandoned in a homogenised literary landscape." Check it out.
— M.H.
The Land of Milk & Honey: A History of Beekeeping in Vermont
Bill Mares and Ross Conrad with Kim Greenwood, Larry Solt, Scott Wilson and Larry Karp, Green Place Books, 224 pages. $30.
As Vermont was joining the national beekeeping revolution, another agricultural transformation was underway in the state.
Beekeeping has always been tied to other farming endeavors. Before forage is dried into hay to feed sheep and cows, its flowers feed the bees. In the late 1800s, that symbiotic relationship created an "agricultural paradise" in the Champlain Valley — literally, the authors point out, a land of milk and honey.
In this detailed history, the authors — all highly respected local beekeepers — track beekeeping's buzz from oral histories of early settlements to a swarm of modern apiculturists around the state. By the time we reach page 32, we've traced how bees made their way to the Green Mountains, seen diagrams of hive patents held by early Vermonters and learned how litigiousness got one patent holder into sticky situations.
For casual readers who want to help save the bees and experienced apiarists alike, this book puts Vermont honey's sweet history in context. And, if the closest you've been to a hive is the honey in your cupboard, a six-page glossary can help you out — from "acaricide" to "worker bee."
— J.B.