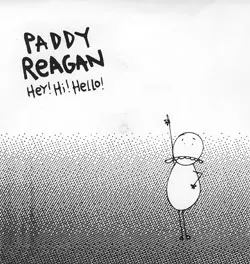 (Self-released, CD)
As the booking dude for Winooski's ever up-and-coming hipster haunt The Monkey House, Paddy Reagan spends a lot of time trying to satisfy the fickle ears of local music fans with other people's music. But with his debut solo EP, Hey! Hi! Hello! Reagan proves an intriguing musical talent in his own right.
The CD begins with the lilting "Fortunate to Sing." Reagan's pleasantly plain vocals bob breezily over nimble acoustic finger picking as the songwriter evokes down-home, backroads imagery set to the universal themes of livin' and dyin'. To his credit — particularly as a young songwriter — Reagan's stylistic influences are often difficult to directly identify. But this is the most traditionally "folk" cut on the disc.
"The Danger Boy Song" maintains a similar rhythmic feel. But with idiosyncratic electric slide guitar flourishes — courtesy of Farm's Ben Maddox, who helped engineer the recording — and quirky bowed bass hits, the song takes on a decidedly eclectic freak-folk slant and features Reagan's most playful wordsmithing.
"At Home," the third track, is the disc's centerpiece, literally and figuratively. Built around a melodically descending chorus hook, the tune embodies Reagan's witty nonchalance with dog-eared lyrical strains reminiscent of a young Uncle Tupelo-era Jeff Tweedy — though his delivery is closer to that of a young Jay Farrar. "Light on my desk, it burned itself down / And I'm concerned I burned myself down. / Thoughts of just how low that sounds, keep me here at home," he sings.
"Coffee & Cigarettes" is deviously disjointed. "Cold lovers who care no more / find themselves a-rollin' on the floor in remembrance of a romance / it reminds of the distance that's to come / 'cause all we've got in common now is just consumption of coffee and cigarettes," sings Reagan over a rambling blues shuffle. This unravels into a chaotic instrumental bridge complete with incoherent horn bleats and meandering guitar licks. Crazy love, indeed.
The disc closes with "To Know You," a heartsick lament that resolves into tender balladry. Delicately understated, Reagan's guitar work is nothing short of beautiful. Imperfections in his vocal delivery only serve to tug the heartstrings and lend the tune a peculiar earnestness. It's a near-perfect love song.
That Hey! Hi! Hello! is Paddy Reagan's debut is impressive. That the EP is composed of the first songs he's ever written is remarkable. Though not without its flaws, the disc is a tantalizing appetizer from an unquestionably unique local talent. Maybe he should book himself more often.
Catch Paddy Reagan Wednesday, February 27, at Montpelier's Langdon Street Café with the Kelly Ravin Trio.