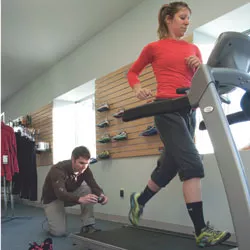 Matthew Thorsen
Erik Elsinger and Ilke Van Genechten
The merchandise on display in the second-floor space at the corner of Burlington's Main and Pine streets might not get the average shopper's heart racing: Clif Shot Bloks, Thera-Bands, SOLE shoe inserts. Some products may even perplex: NipGuards? BodyGlide? But for anyone who's ever pounded the pavement for a 5K, marathon or ultra, browsing in the new Green Mountain Running Medicine Shop can feel like being a kid in a candy store.
Not a very tasty candy store, mind you, but one that feeds northern Vermont's new obsession with the oldest of sports. And for a longtime runner like me, who's struggled with injury and equipment failure, the store provides just what its name suggests.
The shop, which shares the same owners, real estate and employees with Green Mountain Rehab & Sports Medicine, doesn't just sell medicine for runners, it reflects the idea that running itself is a medicine. With numbers of race entrants rising and partnerships with the University of Vermont, Dealer.com and other Burlington businesses, this lofty space has equally lofty ambitions. It even has a 10K race of its own.
"The retail is a by-product of the education we're providing," says Susan Foerster, Green Mountain Rehab's practice manager. "We really want to focus on serving the whole running and walking community."
To be sure, Chittenden County has long been a hot spot for running; the Vermont City Marathon launched in 1989, well before the current nationwide running boom. But only in the last few years has the sport really taken off.
"It's a phenomenon," says Colchester-based runner, race director and coach Sam Davis, who still logs some 60 miles per week at age 50. "Growing up in Vermont, as a young runner looking for races, there were weekends when races weren't held around here and I'd have to go out of state. That's no longer the case — on any given weekend you can find multiple races."
Take a look at the numbers. In 2009, Burlington's New Year's Day FirstRun 5K, organized by RunVermont, had 466 participants; this year, nearly 1000 signed up to run — a 107 percent growth. (Anyone who witnessed the crowds of St. Nicks running in Rì Rà's sold-out Santa 5K Run & Walk can attest to the popularity of 5Ks.) Meanwhile, RunVermont's Half Marathon Unplugged, held in April, has seen a 30 percent growth in two years and sold out in just two weeks in 2011. The number of runners in the Vermont City Marathon is rising, too, from 3092 in 2009 to 3603 in 2011.
"The fact that the 5K distance is the race growing most quickly, followed by the half-marathon distance, is a strong indicator of the number of newer runners we're seeing in the local area," says Leandre Waldo-Johnson, communications director for RunVermont.
At Shelburne-based race organizer RaceVermont, event participation increased by 30 percent from 2010 to 2011, according to race director Rayne Herzog, who points out, "Running is an inexpensive sport."
Well, maybe for some. Having plodded happily in the same style of Adidas sneaks for many years, I struggled with numbness in my feet this past summer and fall while training for my 14th marathon. Some bad advice led to my spending hundreds of dollars on different shoes, inserts and physical therapy. It also led to disappointment with my finishing time — not to mention excruciating pain — after both my feet went numb at mile 12 of the marathon. And I have a lingering hip issue that has me, at 39, complaining about sciatica like a 90-year-old.
But I'm still addicted to the sport, so I was curious to see how the folks at Green Mountain Rehab would treat me. First, I met with physical therapist Christine Hagan, who studied my bare feet extensively (poor thing) before putting me on a treadmill in the store to run shoeless, and then in a couple of different models for slow-motion video analysis.
As Hagan reviewed the film, I couldn't help but notice the store's refreshing simplicity. Unlike sports stores that are clogged with every brand under the sun, Green Mountain carries only the truly nerdy running shoes: Brooks, Mizuno and trail-running favorites Montrail and Hoka. Hagan recommended a pair of Brooks — without trying to push the sale right there — and suggested I return for a free injury screen.
A few days later, another physical therapist, Eric Elsinger, spent nearly an hour listening to my injury woes, studying my gait and squat technique, and determining my flexibility and range of motion. While the "no-duh" diagnosis was that my muscles were too tight, I was impressed by Elsinger's knowledge, his understanding of my compulsion to keep running and his prescription of a few simple stretches — not several pages of diagrams.
Green Mountain Rehab's approach has also impressed Pine Street-based Dealer.com. The two companies have a new partnership that provides more than 20 employees of the latter with running-specific strength and yoga programs, running-form analysis, training guidance, and educational seminars.
"We've gained a tremendous amount through the partnership," says Dealer.com spokeswoman Alison von Puschendorf. "We've found that the participants have reported they're happier, more productive and have an increase in confidence from being progressively challenged. An added benefit is the social component — the program has brought together many people with a common interest who might otherwise not have met."
One of those people is South Burlington's Ilke Van Genechten, who began running to train for skiing and now calls it a passion. Thanks to the attention and advice she received at the Green Mountain Running Medicine Shop, she's sold on the place. "I don't think I will get shoes for my running anywhere else now," says Van Genechten, 30.
Part of that extra attentiveness might come from the fact that customers often have the shop to themselves. "Off-the-street traffic has been a little slow," says Foerster.
Then again, it's January, with many miles to go before May's Vermont City Marathon, and even hard-core runners are a little lazy these days. For me, a week of Elsinger's stretches has loosened up my hips promisingly, and with the recommended Brooks shoes, the only numbness in my feet comes from the cold temps outside.
Foerster emphasizes that Green Mountain's running shop isn't just for serious competitors. "It's really cool when a new runner comes in here and says, 'I don't know anything about running,'" she says.
Those novices may not know yet how much running will change their lives, or how geeked out they'll get about a shop that sells SaltStick capsules and NipGuards (yes, to protect the nipples from bleeding).
"There's a learning curve with running," says Davis. "People starting out find it to be the most dull and pointless thing they've ever done. Others, who have done team sports in the past, maybe in college, and now have a more sedentary lifestyle, find that it's the quickest way to shed off the pounds, and then something happens in the brain; the switch is clicked. It level-sets my entire day when I'm able to go out and run," Davis concludes, "even in 40 below."