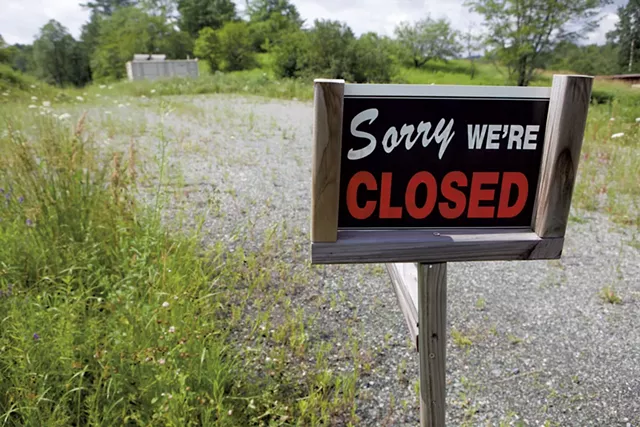 Kevin Mccallum
Parking lot at GreenSpark
A Vermont endeavor billed as the nation's first sustainability park is proving difficult to maintain. The GreenSpark Sustainability Park, which opened in a field along Route 100 in Waterbury Center in late 2017, is struggling to convince people to pay $12 to visit its quirky collection of green technologies.
The park had fewer than 100 visitors last year, its first full year of operation, and has yet to open for the 2019 season.
Cofounder Alex Chernomazov still believes in his vision for an interactive outdoor museum showcasing ways to reduce energy consumption. The network engineer admits the attraction, which includes a wood-powered car and a sail-powered tricycle, hasn't exactly caught fire.
During a recent visit to the park, weeds covered the gravel parking lot and paths between the shipping containers in which the exhibits are stored.
Chernomazov said interest hasn't been strong enough to justify staffing it full time, suggesting the park may still be so new that word has yet to spread.
"It could just be a matter of inertia," Chernomazov said. It's also possible that green technologies such as electric cars, solar water heaters and geothermal cooling are becoming so commonplace that people aren't willing to pay to see them.
Chernomazov doesn't think that's the issue, noting that many parts of the country have yet to embrace green technologies.
He and his wife, former Cabot science teacher Ella Malamud, plan to try operating the park on an appointment-only basis. Many of last year's visitors were out-of-staters who had arranged their visits to the park after spotting it online, so Chernomazov's hopeful that the on-demand model will work.
If not, he and Malamud might need to either find volunteers to help out or another organization with which to partner, he said.
The success of the venture was never going to be measured in huge profits, he noted: "It's never been about becoming a second Google, obviously."