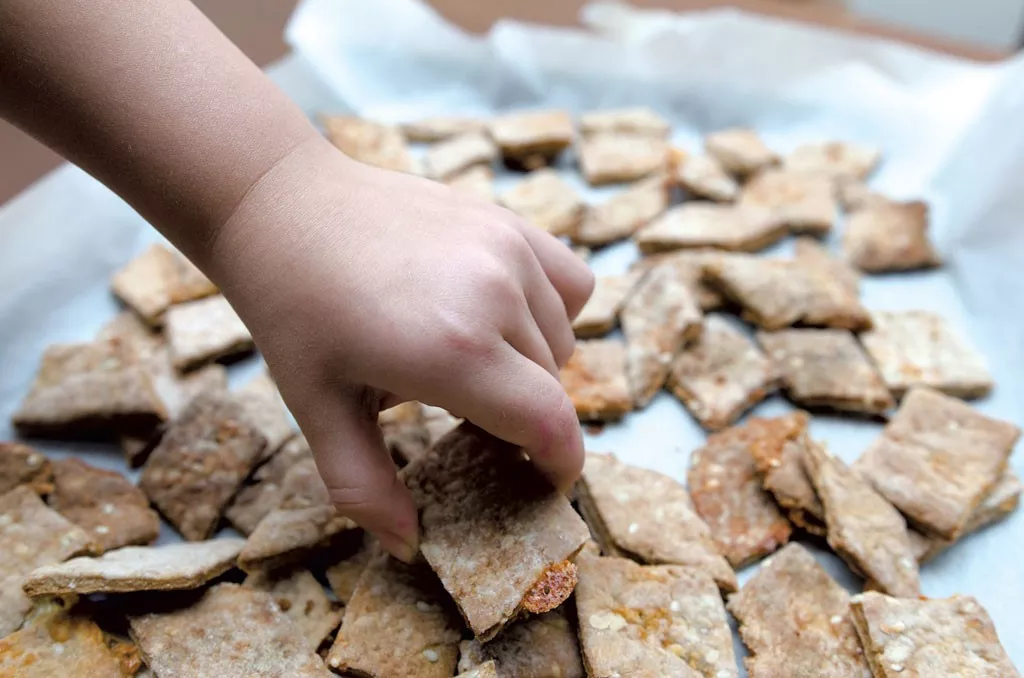 I remember the moment I realized how capable kids can be in the kitchen. It was a late summer afternoon when my son Cal was 5 years old. His older brother, Eli, was in the middle of a complex Lego project, and I was trying desperately to put baby Sadie down for a nap.
Cal was hungry and came into the bedroom a few times to ask when I would be able to help him. At my wit's end, I finally asked him to try and find his own snack. He smiled and took off for the kitchen. I was thinking he'd find something within reach on the counter that required no preparation, like an apple or banana, but he had a better idea. I emerged from Sadie's room 15 minutes later to find him at the table, eating a slightly messy but otherwise perfectly respectable peanut butter and jelly sandwich that he'd prepared all by himself.
I was amazed. It hadn't yet occurred to me to ask him to make his own sandwich. I'd never shown him how. But clearly he'd just been waiting for the opportunity. I started inviting him to help me cook and bake more often. Now, two years later, he's still my most enthusiastic assistant. We even have a plan to open our own bakery someday. "When I'm old enough to have a real job," he says.
Working on cooking projects can be a great way to spend time with your kids. And, as I learned from Cal, it's never too early to start teaching them kitchen skills! Here are a few tips to make the process go as smoothly as possible.
Plan ahead — at least a little: Decide what you're making in advance so you can be sure you have all the ingredients. More than once, I've spontaneously suggested we make something delicious and roped everyone in, only to find we were missing some key component. No fun.
Do the prep: If you're working with kids under 5, it's a good idea to get all of your ingredients and tools ready before you start. If you're fumbling around looking for the measuring cups or baking soda, you're providing the perfect opportunity for your toddler to upend an entire five-pound bag of flour. I speak from experience.
Keep your expectations realistic: If you're making a dessert to bring to a dinner party, you probably don't want your 3-year-old to help. Start out with easy recipes that leave room for improvisation and a few mistakes, and be ready for the final product to come out less than perfect. Muffins, quick breads, cookies and granola are some of my favorites.
Don't forget to have fun: Kids will pick up on your feelings about an activity. If you're enjoying yourself, they will too. Don't worry about spills, messes or some wasted ingredients. The fun of taking something you made together out of the oven and sharing it more than makes up for a messy kitchen.
Here's a recipe from the City Market website that I love to make with my family. These cheese crackers work for kids of all ages; my 11-year-old likes making them as much as my preschooler. The recipe technically takes two days, but the day-before prep is super easy. I like to get these started on Friday night, then set up a cracker-making assembly line after breakfast on Saturday morning.
Overnight Vermont Cheddar Crackers
Adapted from citymarket.coop
This is a flexible, forgiving dough that can stand up to lots of rolling (and re-rolling!) with kids. It's also very moist, so you can feel free to add plenty of flour during the rolling process without drying it out. Omit the cheese or the sesame seeds for a plain cracker. But if you do, add an extra - teaspoon of salt and a few shakes of black pepper for more flavor.
Ingredients:
2 1/2 cups whole wheat, spelt or rye flour, or a mixture of those (I used King Arthur whole wheat flour)
1 cup plain, full-fat yogurt.
1/4 cup olive oil
1 tablespoon sesame oil
2 1/2 teaspoons salt
1 1/2 teaspoons baking powder
2 tablespoons sesame seeds, not toasted
1 1/4 cup grated Vermont cheddar cheese
All-purpose white flour for rolling out the crackers.
Directions:
The night before you want to make the crackers, combine the flour and yogurt in a large mixing bowl to make the dough. Use a wooden spoon to get it going, then form it into a ball with your hands. You may need to add another tablespoon or two of yogurt to get it to stick together. Once you've got a ball, cover the bowl with plastic wrap and leave it on the counter overnight, or up to 24 hours.
When you're ready to make the crackers, uncover the dough. Stir together the oils, salt, baking powder and sesame seeds in a small mixing bowl. Make a deep indentation in the dough and pour the oil mixture into it. Then use your fingers to knead it all together. This takes some work! Have everyone wash their hands well and take turns squishing everything together. When it's well combined, add the grated cheese and knead that in.
Preheat your oven to 375 degrees.
Pick a nice large counter or table space to work on, and flour it well. The dough will be sticky, so go ahead and keep adding all-purpose flour to the work surface as you roll. If you have more than one rolling pin, you can divide the dough into sections and give one to each of your helpers. My kids love this part of the process. Just make sure they don't roll the dough too thin; you're looking for quarter-inch thickness.
Use butter knives or cookie cutters to cut out shapes. Knead and reroll dough scraps as needed.
Arrange the crackers in a single layer on parchment-covered baking sheets. This recipe will make several dozen crackers, so it usually takes us three baking sheets to bake them all. I like to set the oven timer for 10 minutes, then flip them over and give them another 3-4 minutes on the other side so both sides get crisp and golden brown. If you like them even crunchier, give them a few more minutes, but keep an eye on them. It only takes a moment for them to go from perfectly crunchy to slightly burnt.
Let the crackers cool for a few minutes before digging in. They're delicious with hummus, cheese or yogurt dip! Store them in a paper bag on the counter for up to three days.