James Buck
UVM students outside the courthouse after last Friday's hearing
A tense scene played out in Vermont Superior Court last Friday. Judge David Fenster had to decide whether there was probable cause to charge University of Vermont student Wesley Richter with disorderly conduct for allegedly making racist threats in a phone call that was overheard in a campus library computer lab.
After a freewheeling hearing in Burlington about the First Amendment, Fenster delayed a decision, saying he needed time to study the legal nuances before deciding whether to push the case forward or dismiss the charge.
He's not the only one pondering such complexities: Free speech on campus, long a hot issue, is getting even more heated in the President Donald Trump-era of divisive politics and name-calling. It's especially apparent on college campuses, where many students have fought to prohibit high-profile conservative speakers and provocateurs from appearing. And, in classrooms themselves, students brace their peers for controversial concepts by providing "trigger warnings" about potentially disturbing material, while in so-called "safe spaces," differing opinions might not be welcome at all.
Exactly what Richter said in his telephone call is unclear. The UVM police affidavit in the case will not be made public unless Fenster decides there is probable cause for the case to proceed. At last Friday's hearing, Richter's lawyer, Ben Luna, referred to the affidavit and said repeatedly that there was no true threat in the conversation. In fact, according to Luna, Richter was speaking with his mother.
Some say the college's handling of the incident reinforces the stereotype of campus liberalism run amok. Others say Richter deserves punishment.
"We want the law to come down on him," said Rachel Goldstein, a 22-year-old UVM senior who attended the hearing and was frustrated that the judge did not immediately find probable cause. "We want to send a strong message that this won't fly on our campus."
Students disagree about whether free speech is adequately protected on the hilltop campus overlooking Burlington. They also are at odds about what constitutes free speech. But matters involving free speech — and race — have arisen on campus in recent months. On September 29, a group of students marched to UVM president Tom Sullivan's office with a list of demands regarding race relations on campus. Among other demands, they wanted a student who stole a Black Lives Matter flag last year to be expelled, asked the university to hire more diverse faculty and sought to have required diversity courses retooled.
A few days later, UVM vice provost for student affairs Annie Stevens wrote in a campus-wide email that police were investigating an incident in which a person was overheard on a phone call using allegedly racist and threatening language toward African Americans and diversity initiatives at UVM. Police eventually identified Richter as the caller.
The university's initial warning was too vague and left students of color concerned for their safety, said 22-year-old senior Angelica Crespo. "My mom was like, 'Maybe you should come home. Don't walk alone. Be extra vigilant.'"
Crespo, a social work major from the Bronx, is the founder of the Womyn of Color Coalition at UVM. She participated in the diversity protests and doesn't think Richter's case is about the First Amendment.
"I believe all groups should have free speech. I just feel like when lives are being threatened is when you can't really say that's free speech," she said.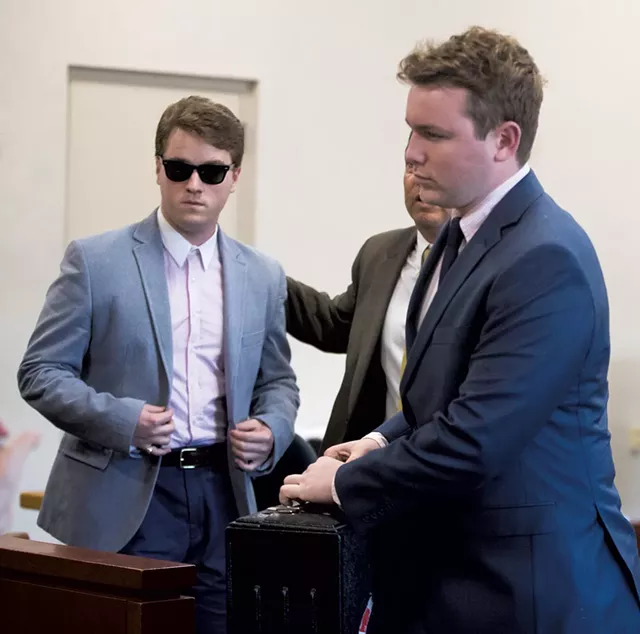 James Buck
Wesley Richter, left
The Richter case is not the only campus free speech test in Vermont to make headlines. On October 26, Middlebury College professor Allison Stanger testified at a congressional hearing in Washington, D.C., about the importance of uncensored speech on campus. Stanger had attempted to moderate a talk by controversial race-theorist and author Charles Murray at the private college last spring; it devolved into a near-riot. The fracas generated national news coverage.
"Dr. Murray was drowned out by students who never let him speak. We were forced to retreat to another location, to live-stream our conversation. And he and I were intimidated and physically assaulted while trying to leave campus," Stanger told the U.S. Senate Committee on Health, Education, Labor and Pensions, which hosted speakers who discussed free speech issues on college campuses.
The professor faulted some of her colleagues for encouraging students to shout down or block speech they don't like, rather than respond with words of their own.
"Why did this happen in the United States of America on a bucolic college campus in the Green Mountains of Vermont?" she continued. "I think there are three reasons. First, any liberal arts college campus is something of a bubble. But Middlebury College is in the state of Vermont, making it a bubble within a bubble. In that context, Charles Murray was a lightning rod that he otherwise might not have been."
The professor isn't the only one with concerns about free speech. UVM junior Ian Nathan, a 20-year-old Republican from Virginia Beach, Va., is a Reserve Officers' Training Corps member and economics major. He emphasized that he has no sympathy for Richter based on what he knows about the case.
But he feels that conservative speech is often stifled on the campus. "Not many people from the right speak up very often, to the point where you would never know that there was a Republican on campus. It's gotten to the point where everyone's like, it's better not to discuss politics because it doesn't lead anywhere good ... We're paying for an education to broaden our minds, yet we're comfortable with not even questioning a thought anymore," Nathan told Seven Days.
Nathan wrote an October 14 op-ed in the Vermont Cynic student newspaper criticizing the "safe space" movement. On campuses, such spaces started out as classrooms or meeting places intended to be free of bias or criticism, especially directed at marginalized groups such as minorities and gay people. But some say safe spaces have become censorship zones where anything that makes anyone uncomfortable is not to be discussed.
"In resident adviser training, we were told to take Trump signs down because of their potential impacts," Nathan wrote. "This is disregarding the First Amendment by censoring views that do not align with the university's left-leaning political culture."
In an interview, Nathan said a fellow student who led the training "explained how he didn't feel safe with Trump signs, and we should probably ask students to take them down."
Nathan thought the suggestion was unfair and ignored it in his dorm, University Heights South. At least one student there did have a Trump sign in his window, Nathan said, and other students repeatedly pelted the window with oranges and rocks, cracking the glass.
That's no way to have a civil debate, Nathan opined: "When we graduate, and we get bombarded with the real world, how are we going to be prepared for it?"
Others say UVM isn't cushioned from provocative, real-world debate. On October 24, three men stood on campus near the Bailey/Howe Library and loudly shouted that homosexuality and premarital sex are sinful. About 100 students gathered, and many made an effort to offer rebuttals, according to an article in the Cynic.
"It made me proud to see that my fellow classmates were responding in a peaceful and what appeared to be a well-thought-out way," Sam Donnelly, a 21-year-old sophomore from Burlington who is president of the UVM College Democrats, told Seven Days. "They were engaging someone in discussion, rather than yelling and trying to be angry."
But Donnelly is no free speech purist. He believes it's OK for resident hall advisers to ask people to take down political signs if they make other people "uncomfortable." Last year, Donnelly took down Hillary Clinton posters that he had put in the common areas of his dorm after an RA asked him to, and he also refrained from putting one up in his room.
UVM director of communications Enrique Corredera said there is no policy on political signs in dorms. Sullivan, the university president, declined an interview request.
Some on the campus are willing to make people uncomfortable and perhaps draw criticism from both the right and the left. The UVM Socialists organization is cosponsoring a November 9 talk by Steven Salaita, a pro-Palestinian author and academic who has been criticized as being stridently anti-Israel.
"I think it's really risky to say, like, a speaker shouldn't be allowed to come on campus, and they need to be silenced and disrupted, because if the administration decides to silence this right-wing speaker, that same tactic could be used to silence a speaker on the left," said Kelsey Aaron, a 20-year-old junior from Norwich who is one of the socialist group's leaders and wants to hear what Salaita has to say.
She thinks it's important to entertain a range of ideas and has no problem with political signs in dorm rooms — including Trump signs. But Aaron doesn't think the same protections apply to someone such as Richter, her classmate. "There's a very fine line between free speech and threatening language ... Students shouldn't feel unsafe on campus," she said.
Ultimately, Judge Fenster will have to decide whether the case is worth pursuing. The complex probable cause determination in the Richter case is "unusual, though not aberrational," according to legal analyst Robert Sand, a Vermont Law School associate professor.
The vast majority of the time in Vermont, if police and the prosecution have decided there is reasonable evidence to believe a suspect committed a crime, the judge agrees and the charges are filed without a probable cause hearing, said Sand, a former Windsor County State's Attorney.
In Richter's case, his defense attorney vigorously challenged whether there is probable cause and convinced a judge to hold a hearing, perhaps indicating weakness in the case or that the judge wanted to study the constitutional questions.
The prosecution insists there is cause. Deputy state's attorney Ryan Richards last Friday compared Richter's actions to someone yelling "fire" in a crowded theater. But Luna, the defense attorney, took aim at the state's sole witness, UVM student Colby Thompson, who reportedly told police that he heard only part of the conversation and didn't immediately call 911 — not the conduct of someone who considered it a viable threat, Luna added.
"The only physical conduct in this case was my client sitting in a chair, talking in a normal voice, minding his own business, talking to his mother on the phone," Luna said. He added: "The state is charging him with a crime for having a conversation."